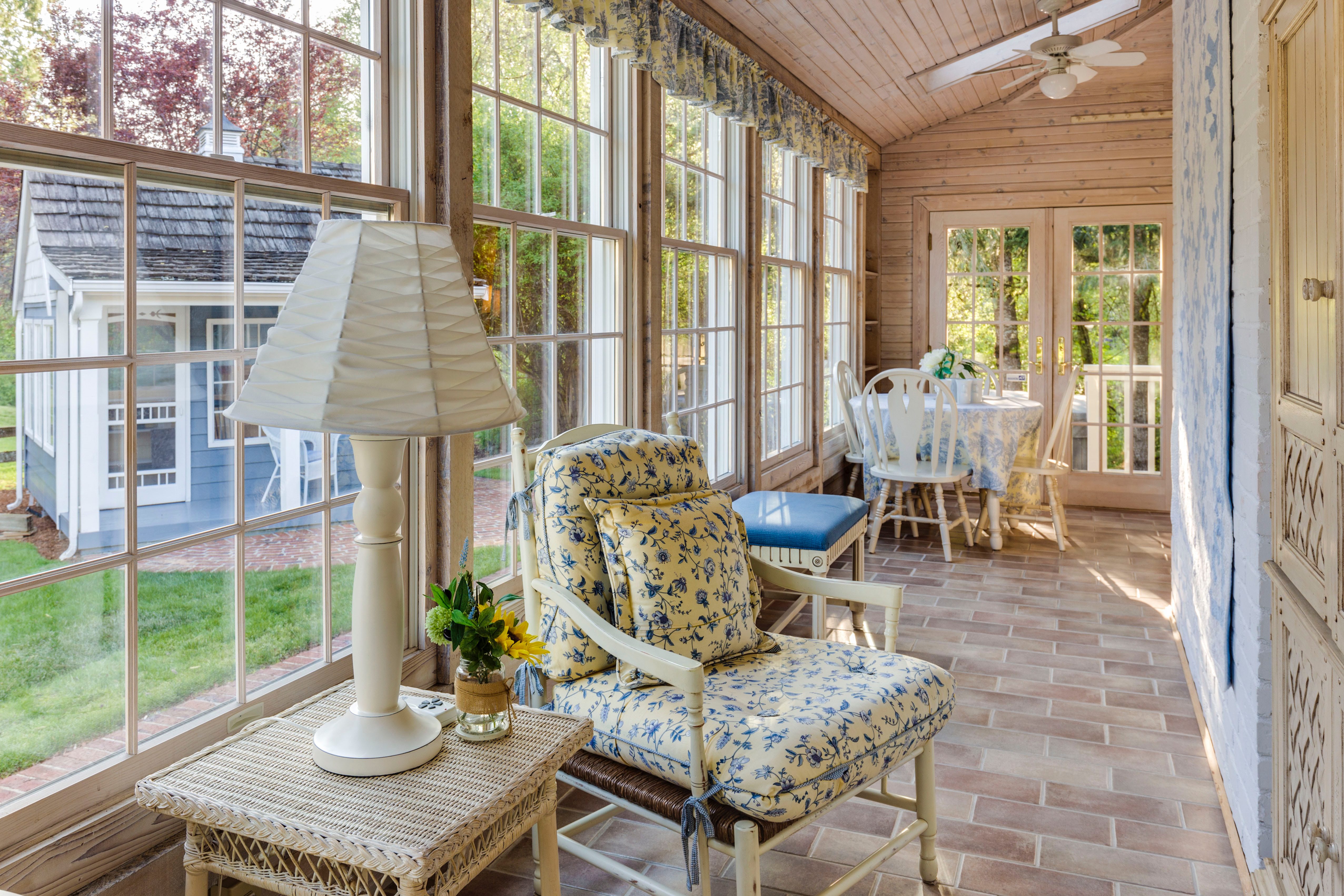 How To Achieve The Farmhouse Look In Your Living Room With IKEA
There's very little to dislike about the farmhouse look.
It's shabby-chic, rustic, yet imparts cosy vibes that makes you want to curl up in that plush sofa in front of a fireplace, hopefully with a cuddly pet and book in hand. 
How better to achieve the farmhouse living room look than with a few pieces from everybody's favourite furniture store, IKEA?
You'd be surprised to know that despite having famously minimalist-inspired pieces (that everyone loves to hack), IKEA does have a good number of farmhouse-worthy pieces that help you pull this look together easily. 
Just so you won't run out of farmhouse living room ideas, we've picked out 13 pieces from IKEA that will help you with creating the farmhouse-inspired space of your dreams.
We've done all the work for you — now all you need to do is add them to your list and shop away: 
1. Make even your wall clock farmhouse-worthy
This will be the perfect piece to hang above your mantelpiece.
Shop it here.
2. Get these 19th-century inspired cushion covers
If your larger furniture pieces are predominantly in neutral shades, then you'll want to balance it out with some lively prints and colours on small decorative pieces, just like this throw pillow with a 19th-century French-style print.
Shop it here.
3. Add a cosy throw to your sofa
The farmhouse look is all about cosy chic – achieve that with this soft knitted throw blanket that not only looks good on your sofa but also against your skin.
Shop it here.
4. Give your dining space rustic touches
Keep your dining table spill-free with this placemat that also doubles as a nice little farmhouse accent. The fact that every piece is handmade just adds on to the charm.
Shop it here.
5. Hang an oversized mirror over your mantelpiece
Whether you choose to hang this in a vertical or horizontal position, the brushed silver colour will complement the rest of your farmhouse living room colour palette beautifully.
We suggest hanging this over your mantelpiece or in the entry hallway for greater visual effect.
Shop it here.
6. Make a boho statement with a rug
Statement and subtle may be two contradictory things, but that's exactly how we would describe the Lindelse rug. This high pile rug is extremely soft and feels lovely underneath your feet while being print-heavy.
Despite that, its neutral colour ensures that it won't look too out of place in your farmhouse living room decor.
Shop it here.
7. Use rattan storage for textural variety
Have kids at home? Then you're probably used to having a fair amount of clutter lying around.
Keep it all away easily in a set of these rattan baskets. They're also the perfect size to be spotted into your Kallax shelves if you already have one at home.
Shop it here.
8. Layer on rustic vibes with pine crate boxes
These crate boxes have a nostalgic design, reminiscent of the ones you see in the farmer's markets filled with fresh produce.
You might not need to fill these with fruits, but you can certainly line them with excess fabric and place decorative items into them for a rustic farmhouse look.
Shop it here.
9. Get hooked on functional versatility
Keep your hallway neat (or green) with these set of hooks, which can be adapted to support your favourite plants, knick-knacks and everyday essentials.
The best part? Each one can be labelled, so everyone at home will know whose coat (or bag) should be hung on its respective hook.
Shop it here.
10. Add bamboo into the mix
This lovely shallow bowl is a gorgeous farmhouse decor addition to your living room.
Use it to display decorative items you love, whether it's a fragrant bunch of potpourri or dried pine cones for a touch of nature.
Shop it here.
11. Give your fresh flowers a rustic home
Every farmhouse-style home needs at least two different vases – but you can always add on to your collection with this pretty Gradvis vase from IKEA. Fill it with fresh or dried flowers to add on to the rustic charm of your farmhouse living room.
Shop it here.
12. Frame your sofa with a charming coffee table
Are you in need of a coffee table in your living room that echoes farmhouse vibes? Look no further than the Liatorp coffee table from IKEA. It comes in a pretty white shade with a clear glass top so you can proudly display those coffee table books you've been collecting.
Shop it here.
13. Complete your look with the farmhouse-inspired Ektorp
Finally, no farmhouse living room is complete without the ultimate farmhouse-style sofa: the Ektorp. It's comfortable, chic, and so easy to change up with our selection of sofa slipcovers in different fabrics.
Shop it here.
If you're looking for more IKEA inspiration from your home, be sure to download our free, Timeless Living: How To Design A Classy IKEA-Inspired Home ebook here: