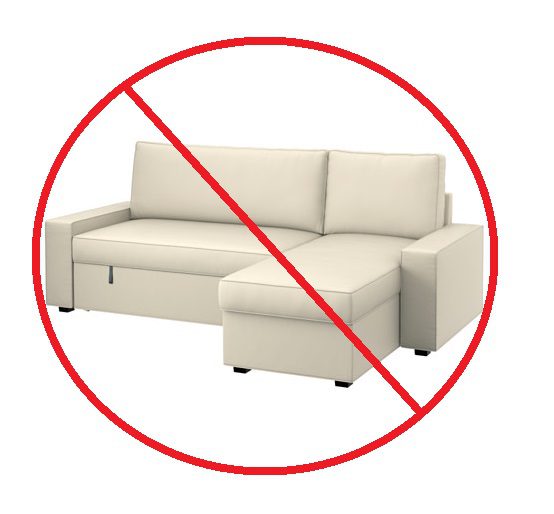 IKEA's Going to Discontinue the Vilasund and Backabro!?
Shortly after their appearance was made circa 2014, the new sofa bed clones (IKEA Vilasund and Backabro) might actually be no longer in production, according to IKEA themselves (USA and Canada).
We actually got this anonymous tip from one of our customers, and we couldn't help but ask IKEA ourselves to confirm this, so I took the liberty of emailing them for answers.
—
Here was the reply:
Hello Chuck,
Thank you for taking the time to contact us.
Unfortunately, both the BACKABRO and VILASUND series have been discontinued by IKEA and are no longer being manufactured by our suppliers. IKEA products are not discontinued based on sales or consumer demand, but on product availability. This process allows IKEA to open space to introduce new products to the range.
Once an item or series is discontinued our store locations sell all remaining stock with no additional deliveries. Once such items have sold out they are no longer able to be purchased.
We apologize for any inconvenience that this may have caused you, and we hope that you will continue to be a loyal and important IKEA customer.
Best Regards,
Monchelle
IKEA Customer Care
IKEA US Contact Center
—
Not sure about you guys but frankly speaking, I'm quite shocked that the IKEA Vilasund and Backabro sofa beds would be discontinued so quickly, especially when these were the first "sectional sofa beds" that came with a removable and washable slipcover.
I guess after sitting on the sofa beds for a bit longer, I did notice that their seats were a little less comfy than we initially thought when we reviewed the Vilasund and Backabro last year, but I doubt this was the reason for ceasing production as mentioned in their response email.
What do you guys think? Were the IKEA Vilasund and Backabro discontinued too prematurely? Let us know in the comments section below!
Update: Looking for slipcovers for the Backabro or Vilasund models? Comfort Works now has them here: