The slipcover that fits any square arm sofa in the world
Is there one magical sofa slipcover that can fit any sofa in the world, AND look great? 
Well, before this – no. But after three years of research and development, 27 discarded designs and many hours spent kicking a wide variety of sofas in frustration, we've found the solution.
At Comfort Works, we're obsessed with getting the perfect fit. When we started researching and developing The One Sofa Cover To Fit Them All, we didn't want to cheat our way there with spandex and elastic. We wanted to design a single slipcover that could adapt to every idiosyncratic sofa out there. 
There's an endless variety of sofa shapes and sizes in the world, so we started (relatively) small: looking for a solution for square-armed sofas. Say hello to the world's first modular cover that can be adjusted to fit any sofa. 
So how does The Square Arm Slipcover work, exactly?
We knew from the beginning that there's no way one single piece of fabric could cover something as complex and three-dimensional as a sofa. Armrest widths, back heights, seat depths and more – just some of the design details that make sofas such interesting and infuriating pieces of furniture.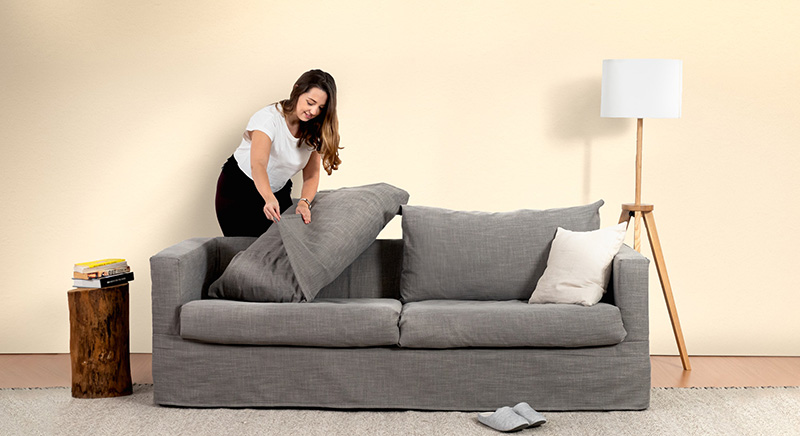 So we went in the opposite direction. Inspired by the traditions of origami, the Square Arm Slipcover from our Origami Series makes use of individual panels (up to 24, depending on your sofa) that allow you to fully customise the fit of the cover to your sofa. This modular design means that the cover can accommodate any 2 or 3-seater square-armed sofa or loveseat, and gives you the freedom to use as many or as few of the panels as you need to cover your sofa. 
Every panel can be adjusted, tweaked and tightened to get the best fit for your sofa. We've used velcro for easy adjustment, discreet zips for tight corners and a belt that holds it all together (but no one will ever know it's there.) Whatever your sofa's peculiarities (and we prefer to call it 'character', actually), we have a creative solution to keep them tucked in, covered, and looking great. 
How do I know if my sofa will fit?
If you've been frustrated by traditional slipcovers and upholstery and the endless measuring involved – we got you. You only need one measurement to find out if The Square Arm Slipcover will work for you. 
If your square-arm sofa, end-to-end, measures anywhere between 53 and 102 inches (excluding the armrests), The Square Arm Slipcover will fit your sofa. That's it. 
How much does The Square Arm Slipcover cost?
The Square Arm Slipcover starts at just USD199. We've got three different packages, and each comes with the right number of panels needed to cover your sofa.
Are your back and seat cushions attached to your frame? You'll need the USD199 package.
Do you have two back and two seat cushions? You'll need the USD229 package.
Do you have three back and three seat cushions? You'll need the USD259 package. 
Okay, but how do I keep it clean?
Throw it in the washing machine! Just like all Comfort Works slipcovers, the Square Arm Slipcover is 100% machine washable. You don't even have to do the whole cover at the same time. Spill coffee on the armrest? Remove that one piece and throw it in the washing machine.
How soon can I get it?
Order it now, and it'll be on your sofa in 3 to 5 working days. Promise. 
PLUS:
The Square Arm Slipcover comes with a 1 year warranty.
Got another sofa in need of covering? Just move the Square Arm Slipcover over. 
The Square Arm Slipcover comes in our bestselling Everyday Tweed, a versatile, practical fabric.