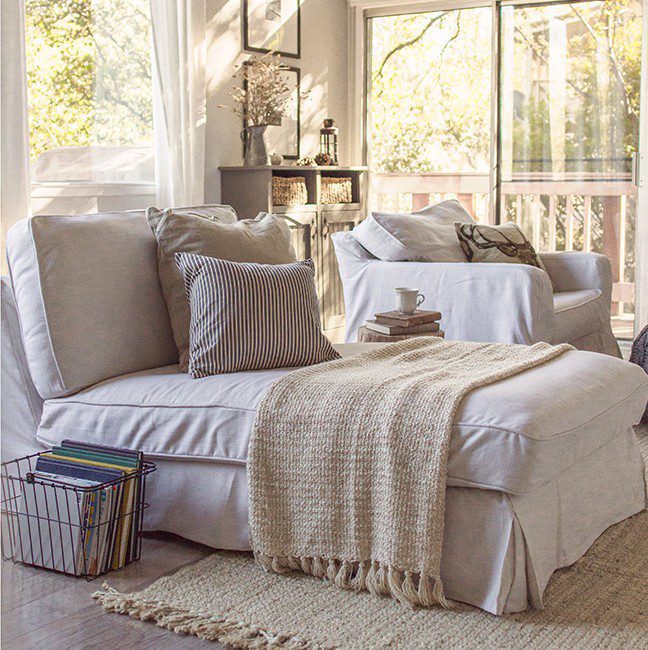 Whether you're redecorating your new bachelor(ette) pad, or just too tired with the kids running around and wreaking havoc, there's really no reason why you wouldn't want to purchase a new slipcover. "Why a slipcover", you ask?
Slipcovers are a good investment, be it a new look or your temporary adjustment for that wine stain you accidentally made 2 nights ago at your housewarming. Well, we're here to provide an alternative to upholstery also and save you the hassle of getting a new sofa or putting blankets over your worn seats just because your cat loved it a bit too much. In this post, we've compiled a few lifestyles to which you'll hopefully be able to find that perfect slipcover to complement it with.
The Cozy Lifestyle
Maybe you're not always lucky enough to get a few days off when work wears you down. Or maybe you're just an ambitious workaholic that thinks vacations are simply a waste of time. Why not bring the vacation to you? Looking at the photo above – all I want to do is grab myself a mug, fill it up with hot chocolate and lay on the couch for the rest of my life.
The key to this look is the sofa and its long skirt slipcover. You'll notice that the cover hides a lot of corners because of its loosely fitting material. Simple elements like sharp edges, or perhaps long pointy sofa legs are usually quite masculine so when all these aren't so conspicuous, your living space achieves a more comfy look that soothes your eyes (and possibly soul). It's probably the same feeling you get if you imagine a room full of beanbags, pillows and fluffy puppies.
This slipcover would look great in cotton and linen fabrics, typically in soft mild tones like white or beige – a feeling that's just beyond cloud nine. And the good news is that we have these fabrics available for you 🙂
The Practical lifestyle
You're either a mom with 5 kids (or it feels like that) or someone who is just extremely busy. Getting chores done have always been on your never-ending "to-do list" but it just seems impossible. Be it kids, cats, dogs and sometimes a husband or boyfriend – all of them occasionally mess up and there goes your sofa and every inch of integrity that it has left.
Worry not as we have a slipcover that might save your day. Get a slipcover in a highly durable and super easy-to-wash commercial grade fabric. You'll notice many hotels with these kind of slipcovers and if you've checked out samples of our Kino fabrics – you'd recognise them first hand. These are the kind of covers you'd want to be able to easily remove and dump into the washer without much added thought. Take a look at the IKEA Kivik sofa slipcover above, your sofa can too be just as protected and stylish.
If you don't mind spending a bit more, you can also opt for our faux bycast leather, which many people find to be fairly easy to clean especially when dealing with spillages or just some pet fur. The biggest problem is that we only have them in 3 major colours: Black, White and Deep Brown but definitely keep a lookout as we'll be getting more colours in for sure. Nothing says premium more than easy-to-spot-clean leather – it's practical and saves you time from cleaning that ice-cream stain your 2-year-old made a week ago. Of course, the best thing to do is to get these messes cleaned ASAP, but ain't nobody got time for that – especially if you're a mom of 5 (or if it feels like that).
The Swanky lifestyle
Imagine yourself in your Burberry velvet coat, walking down Chapel Street in your new leather shoes. You love the way Velvet feels and you love the way it holds you, because that's just you. You enjoy the premium feels, so you don't mind paying for it because your view on life is that you deserve every bit of luxury once in a while. We all do.
You're not going to settle for anything less than elaborate because you've got style. Be it long skirt, loose fit or snug fit, getting your hands and laying on a velvet fabric will always feel pretty good – just because it's so warm and comfy, making life a whole lot better.
Our Rouge fabrics (velvet blends) is probably what you would want if you're looking for a velvet slipcover. Do note that we're also in the works of getting new colours in, so if you have any requests don't hesitate to let us know in the comments section below 😉
The Alpha Male lifestyle
Single? Or you have a family, but still like to spend your Sunday afternoons snuggling in a little nook, to quietly read a book with the hubby?
Ideal for newlyweds, sometimes a slipcover doesn't have to be something that's skirted and loose (you heard/read that right!). A touch of modern with a little bit of simplicity can be brought out by our very own Urbanskin and Modena bycast leather. No, it's not "PU"  leather but split leather with a polyurethane coating on top for that bit of shine, and that super-easy-to-spot-clean surface.
Just sit back and watch a game or two, have some mates over, and pop open a few cans of beers – enjoy your contemporary sofa which sets you at a different level from when you had your first sofa. People will never be able to tell that you had an IKEA Sofa (yes, the image above is a Karlstad sofa with a leather cover). Tufted button finishes and awesome wooden sofa legs? Completely customised and what do you know – we have them too 😉
For this lifestyle though, we'd obviously suggest something in only snug fit as that's the only way leather should be, so if you do get custom IKEA slipcovers from us and ever want a long skirt version, I'm sorry to say that we won't be able to give it to you if we know it's not going to be beautiful.
So which lifestyle relates most closely to you ? Let us know in the comments section below!