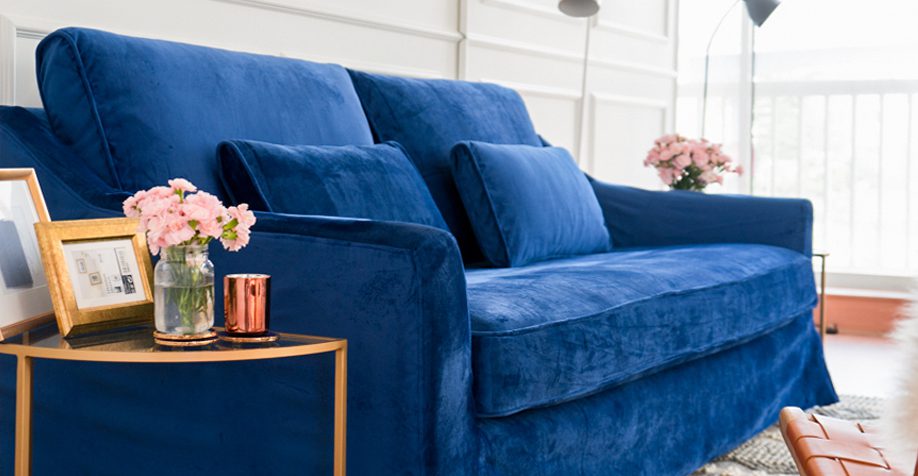 Having a luxurious, velvet sofa is almost everyone's dream. Just the idea of the soft pile and the velvet sheen is so inviting. No one can resist a velvet slipcovered sofa, sitting in a store window. But now, with the advancements in technology, you can just as easily get these coveted velvet sofa covers online.
So, why is it that shopping for your velvet sofa covers online is better?
We've got five reasons why. Let's check them out, shall we?
#1 Convenient
Everyone is rushing for something in this day and age. And, with such a busy lifestyle, almost no one has the time to walk around a store to shop for their velvet sofa covers. Buying your velvet sofa covers online would be your best bet because you wouldn't need to leave your house to place an order and your velvet sofa covers would be delivered right to your doorstep! You don't even have to do anything more than click on a few buttons on the computer screen and voila, perfectly made velvet sofa covers. That's a big win, if you ask me.
#2 Reviews
Online reviews are probably the most insightful thing about shopping for velvet sofa covers online. People who have previously purchased items from that particular online store would have their experiences made readily available for you online, sometimes even with photo proof of the actual product. This will help you make an informed decision when shopping for your velvet sofa covers.
#3 Competitive Prices
Online stores have a lot of other competitors so they've always got to keep their prices in check. You'll usually find that the prices for velvet sofa covers online is much cheaper than a store-bought, velvet sofa slipcover. Not only that, some online stores even have yearly and seasonal sales, so you can plan your velvet sofa cover purchases around these times to get the best value for money. A handful of stores also have flash deals with huge prices cuts on their products so that you can save even more!
#4 Variety
The Internet is a vast, interconnected network. And, it houses so many different online stores that you'd be spoilt for choice. You can find almost any type of velvet sofa covers online, in any color that you need to match the decor or look that you have in mind. Buying online also allows you to weigh all your possible options and compare different stores so that you get the best deals and quality.
#5 Coupon Codes
When you shop for your velvet sofa covers online, you have the opportunity to maximize your savings by using online coupon codes or online vouchers. Online coupon sites such as Groupon and LivingSocial are updated daily with coupon codes and online vouchers that can be used at a multitude of different online stores. Some online stores even offer their own store coupon codes, just like how we send you a coupon code with your sample purchase.
Just A Few Last Words
We're all busy bees and store-bought velvet sofa covers? Ain't nobody got time for that! Getting your velvet sofa covers online is the way to go. Just a few clicks of the button and you can shop for any kind of sofa covers, be it IKEA sofa covers, Pottery Barn sofa covers or even made-to-measure, custom sofa covers. So, get on your computer and take your pick of the never ending choices of velvet sofa covers that the Internet has to offer.
Speaking of velvet sofa covers online, we have a little surprise coming up for our velvet fabric lovers! And, it's coming real soon so, watch out for it. Let us know in the comments your thoughts on buying a velvet sofa cover online.