Announcement: Comfort Works has recently launched a new line of sustainable fabrics under our Sustainable Collection: the Eco Fabrics! There are 4 new eco-friendly fabrics under this line: Eco Weave, Eco Twill, Eco Basketweave and Eco Chenille.
TABLE OF CONTENTS
1.Eco Weave
2.Eco Twill
3.Eco Basketweave
4.Eco Chenille
5.What's so good about our Eco Fabrics?
Get to know each fabric better
Eco Weave
The Eco Weave is soft, light and breathable, with natural slubs that are similar to what you can usually find on natural linen. Slubs are raised lumps caused by "imperfections" of the woven fabric which give our Eco Weave a more textured look and some character. It's common to see slubs on denim, T-shirts and sweatpants nowadays. Even though the Eco Weave is made from 60% recycled material, the texture is great and so natural-looking that you wouldn't even know that it's made out of recycled plastic.
The colours that are currently available are "White" and "Dark Denim". Due to its linen-like texture and white-coloured fabric, the Eco Weave White reminds you of the casual, relaxed times in life – great when you're going for the Farmhouse style sofa slipcovers for your home. Furthermore, using a white sofa as the centrepiece of the living room helps to brighten up small spaces.
On the other hand, "Dark Denim" is a colour that reminds you of your favourite pair of denim jeans that you just want to wear over and over again. Slip it on your sofa and we promise you'd never want to leave.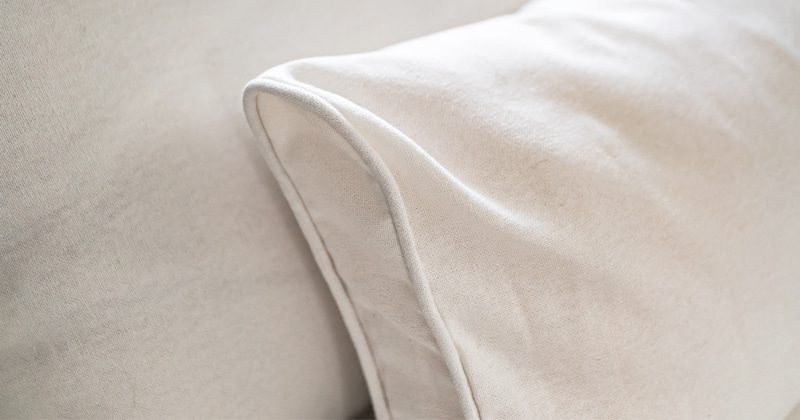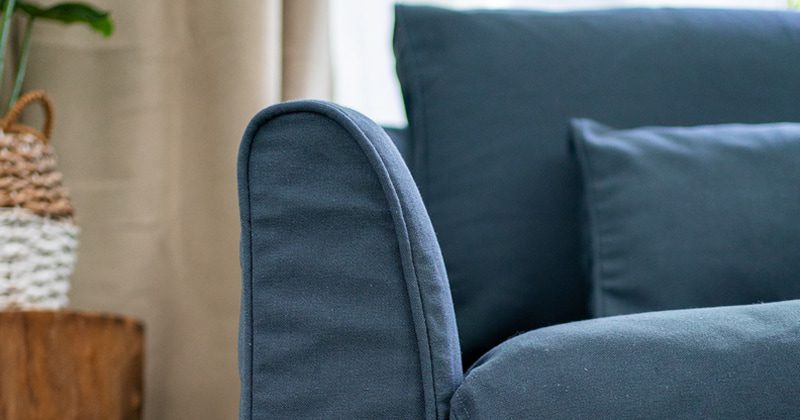 Eco Twill
The Eco Twill is made from 50% recycled material but its looks say otherwise – premium quality. Soft to the touch, this fabric is richly textured and very comfortable to lounge and sleep on for the whole day. Each batch of fabric has subtle tonal variations and a slight luxurious sheen that elevates its look. This fabric is also wrinkle-resistant, so there's no need to regularly iron it.
The colour, "Amber" is now available for Eco Twill. It has a sharp mustard-orangey colour that's bound to make your living room look warmer in an instant. Perfect for the summer.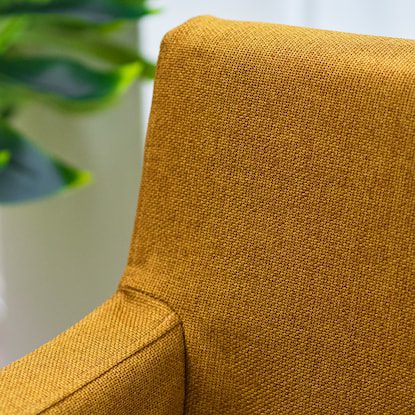 Eco Basketweave
Also another wrinkle-free fabric, the Eco Basketweave is densely woven, resembling a classic understated basket weave look. This fabric stands out with its clear, grid-like weave and a slight sheen when the light hits on it.
The colour "Oatmeal" is a classic warm beige, with hints of white and cream running through its weave. Subtle tonal nuances are expected to be seen on the Eco Basketweave. This neutral colour suits any style of home and decoration as it gives off a sophisticated yet warm feel to the space.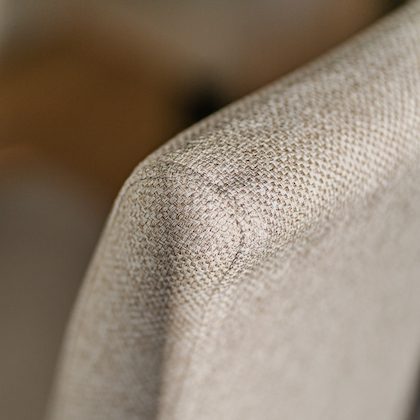 Show me more of the Eco Basketweave
Eco Chenille
The Eco Chenille is soft and plush with a subtle heathered effect, so you can see little specks of lighter tones on the cool grey-toned fabric pebble. Thanks to its colour, the Eco Chenille Pebble fits in any home regardless of your house having a modern, industrial or rustic interior design. You could further style this luxurious-looking sofa with pillows, blankets or throws of any colour because the light grey helps to create a balance among the colours.
It also has a good drape, so if you're thinking of getting a long-skirted sofa slipcover, the Eco Chenille would be ideal as the material just falls beautifully against the floor.
Super breathable and made from 50% recycled material isn't exactly common, but we've made it work with Eco Chenille. And because it's breathable, the Eco Chenille works for any season. It keeps you warm during the colder seasons and keeps you cool during summer days. It's the best of both worlds, especially for those of you who don't like changing slipcovers often.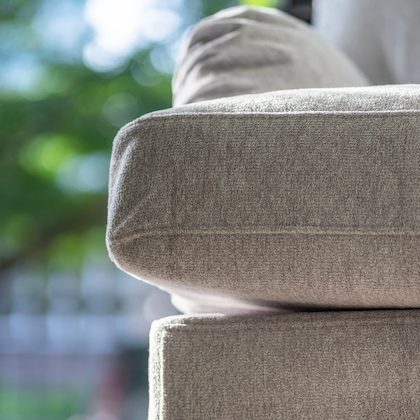 What's so good about our Eco Fabrics?
There are several good reasons as to why we've chosen and decided to launch this series of Eco Fabric.
Better for the environment
Part of the reason why we named this collection the "Sustainable Collection" is because all these fabrics are partially made out of recycled materials, specifically recycled plastic bottles.
The process is actually pretty interesting – after the plastic bottles are collected, they are compressed and shipped to the processing factory. The bottles are then shredded into chips, melted and sieved to produce threads to be used as fabric. And that's how they become fabrics used in our Sustainable Collection. This process requires 30% less energy than regular clothing made from polyester, which also means less carbon footprint, so that's better for the environment. We call them our Sustainable Collection for a good reason.
Furthermore, our Eco Fabrics are Global Recycled Standard(GRS)-certified, which is a voluntary product standard used to track and verify content of recycled materials in a final product. It applies to the whole supply chain for products that contain at least 20% of recycled materials.
It's good to know that the plastic bottles that we heavily use and throw away are turned into gorgeous fabrics for sofa slipcovers. And, come on, their being beautiful is a bonus!
Skin-friendly
Apart from the fabric texture being really soft and breathable, almost all our Eco Fabrics are sourced from suppliers with the OEKO-TEX Standard 100 certification, which means that they have been tested for harmful substances, so they're safe for human health.
For those who are concerned about the fabrics coming in contact with sensitive skin, especially children, can now obtain sofa slipcovers from our Sustainable Collection with peace of mind.
Withstands high traffic
As soft as the fabrics are, they are equally durable to hold out against high traffic and active households, such as those with little kids who're always climbing up and down the sofa. With our Sustainable Collection, you can enjoy every moment with your family and not be concerned of their ruining the sofa slipcovers easily. The Sustainable Collection is definitely made with sustainability in mind.
Machine-washable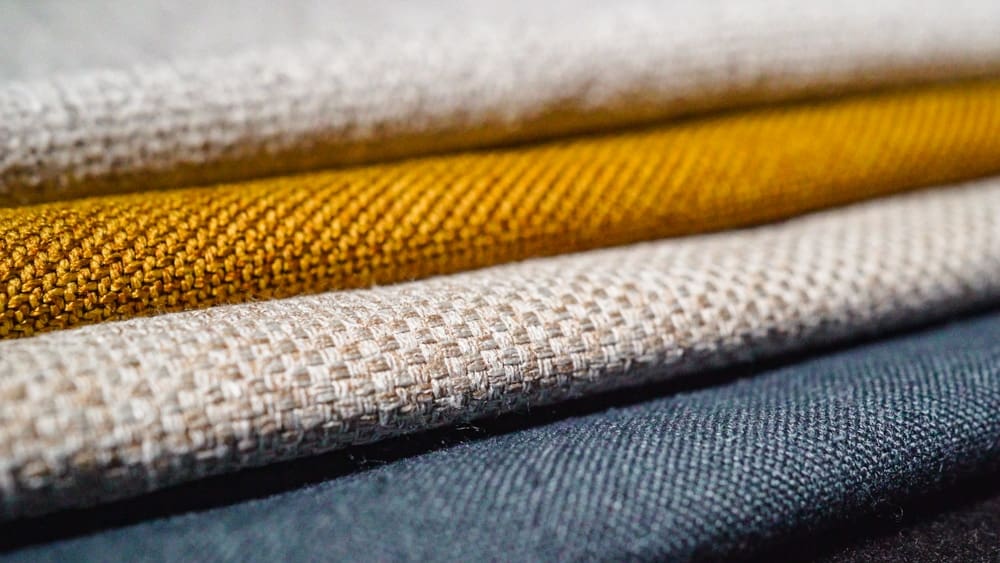 Whenever it comes to sofa slipcovers, we expect them to get dirty one way or the other, because we know, life happens. Therefore, our Eco Fabrics are machine-washable just in case any sort of accident happens on your couch. After washing, just drip dry them in the shade until they're almost completely dry, then slip them back on to your couch again.
Read this guide on how to care for different types of sofa slipcovers.
These beautiful fabrics aren't only transforming your sofa, but they're transforming the world as well with our sustainability efforts. The launch of Eco Fabrics is Comfort Works' first step towards being more sustainable, and it's just the beginning because there's more to come! If you'd like to give our new eco-friendly fabrics a try, order free samples now.