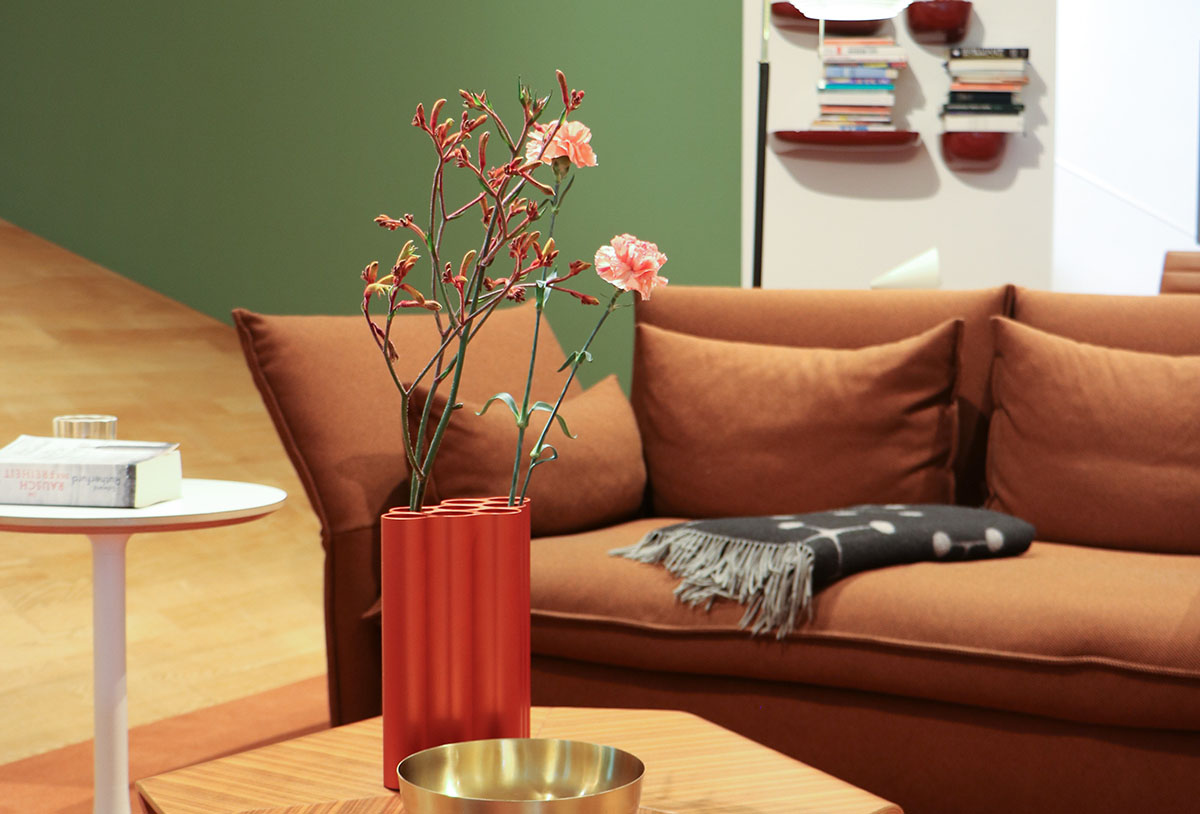 How to create a contemporary brown home interior
It was the colour of the seventies and nineties in both fashion and interior design. Today, brown is the go-to neutral if you're looking to create a comfortable living space that invites you to slow down, relax and unwind. A timeless classic, brown represents nature – with varying shades including chocolate, tortilla, cognac, saddle, and mocha.
Below, we explore ways in which you can use this weighty and robust colour to create a contemporary, relaxing home interior.
Finding the right shade of brown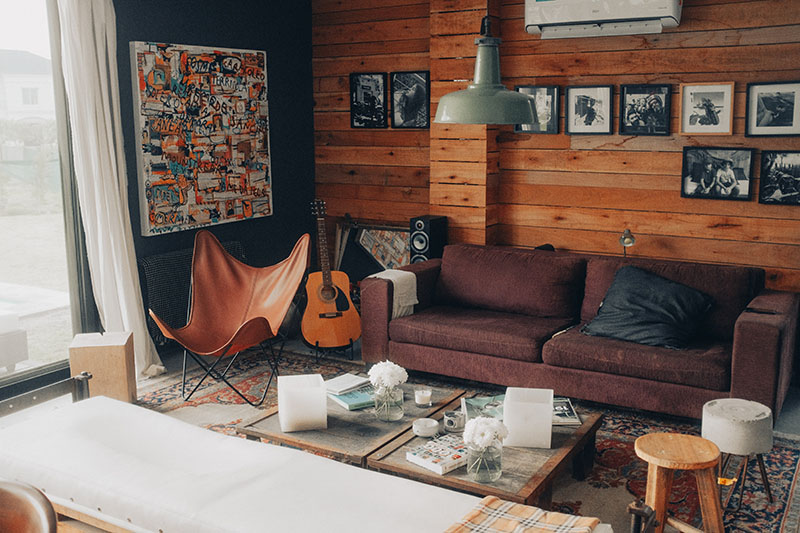 The colour brown isn't known to steal the spotlight – often overlooked and considered lacklustre. But is this warm-toned hue blah and boring? Definitely not! On the contrary, it is just as versatile as grey and white and creates a sense of calm and cosiness. Brown comes in many different tones and shades, offering the variety you need for friendly warmth and immense depth.
This elegant colour evokes charm, confidence and a non-flashy vibe that can work well in a lot of rooms, especially in living rooms where it makes sense to anchor the space with neutral and wooden furnishings.
The addition of a brown couch can make your living room feel more intimate and inviting. Choosing the right shade of brown to incorporate into your interior space depends largely on how you want the room to feel – and trust us when we say the right shade of brown can boost a room's style factor!
Decorating with different shades of brown
Brown sofas are a practical living room staple and act as the perfect canvas to build your colour scheme, using soft furnishings like cushions, rugs and curtains. Brown can feel rustic and earthy without sacrificing modern elegance.
Dark brown

Whether you desire an uber-contemporary aesthetic or a classical vibe, a dark brown sofa infuses elegance into a room. It is cosy, luscious, and meshes well with most colour palettes and design styles.
Light brown

Often thought of as the ideal neutral for rooms without an abundance of natural light, light brown feels calming and peaceful. When working with lighter tones, incorporate a mix of textures and patterns to keep your living room visually interesting instead of bland and flat.
Reddish-brown

Hues like auburn, mahogany, copper and chestnut are some of the most sought-after shades of brown with a red undertone. Depending on how much boldness you aim to evoke, you can team a reddish-brown sofa with hints of sophisticated green to infuse a nature-inspired vibe in your home.
Greyish-brown

Greyish-brown lends an air of sophistication. Taupe is a hue that falls right in between the properties of dark brown and grey. A greyish brown leather sofa makes for the perfect subtle accent for traditional, contemporary, modern, and vintage-inspired living rooms. It can create a warmer atmosphere teamed with hints of red, or a cooler ambience with accents of green, making it incredibly versatile and timelessly popular.
Finding the right brown fabric and texture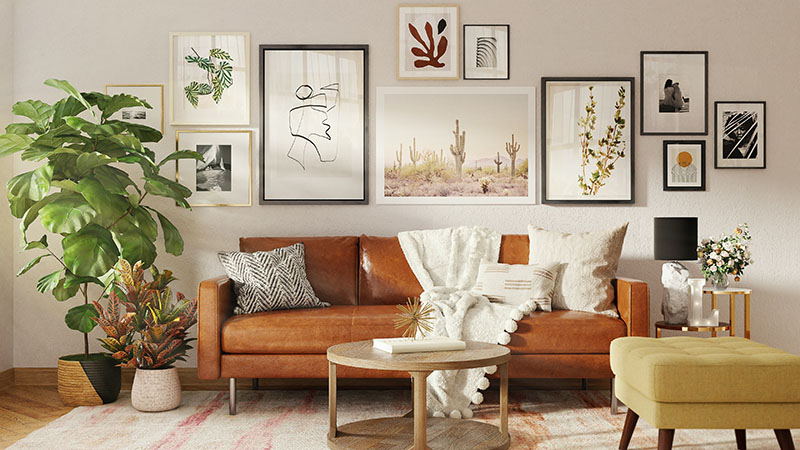 There are certain fabrics that have a timeless quality for brown sofas. Putting durability, comfort, and style first means you won't have to shell out extra for maintenance or upkeep. A quality brown leather sofa that ages well and cleans easily is an obvious example, but other fabrics also offer an understated visual elegance. Linen and brushed cotton have a laidback, casual quality, with their natural fibres and softer look. For a more luxurious finish, velvet adds sumptuous opulence and makes the space feel less trend-driven.
Regardless of where your design sensibilities lie, a brown living room is a comforting backdrop that works with almost any hue you want to play against it. As a statement piece, a neutral sofa should be given a warm welcome with a complementary colour scheme. When paired with the right soft furnishings, a brown couch can easily become a striking focal point of your living room.
Transform your space with sofa slipcovers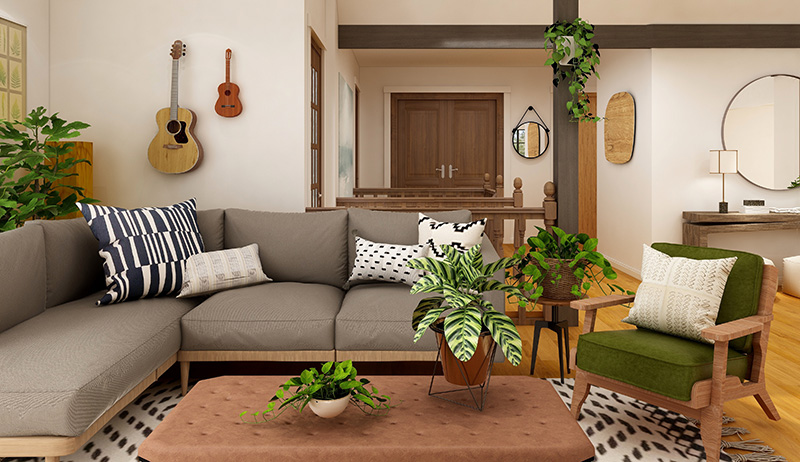 If you're looking for a quick transformation but don't want to spend so much on reupholstering an old couch that isn't working for you anymore, slipcovers are the easiest way to completely give your living room an instant refresh.
Earth tone palettes are always a safe bet when working with brown sofas, and can elicit feelings of refined elegance or impart a sense of natural simplicity. A natural-coloured area rug and wooden floor are the ideal base for Vegan Leather in Saddle, and the additional of natural indoor greenery provides amazing contrast. Keep the walls crisp white to create a harmonious backdrop that prevents your overall scheme from becoming too muddy.
When working with similar shades of brown, incorporate different textures for added depth and dimension. A cognac leather sofa couples up brilliantly with reddish-greyish-browns such as champagne, burgundy and claret. The subtle, rustic nature of a cognac brown leather sectional can be accentuated with tan, rouge, raw umber, and royal purple. For a bold, lively contrast, pair with deep indigo and dark greens possessing a trace of blue.
There is an incredible focus surrounding copper fixtures and accents right now; and when teamed with neutral seating, say Textured Weave in Walnut, Acorn or Espresso, both the dark brown tone and the metallic sheen work together in harmony. A cool grey backdrop rather than the traditional and obvious cream is sure to keep things fresh and modern.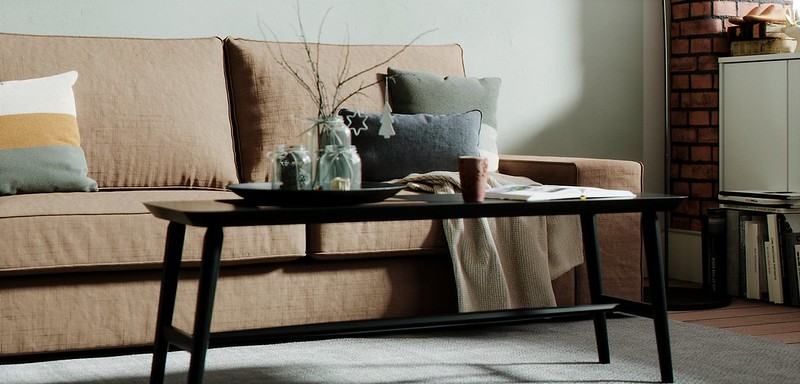 Linen is a tough textile with a luxe feel, which makes it a desirable sofa material choice. A grey and brown living room can look subdued yet trendy and contemporary. Everyday Linen in Hazel can be visually cooled by bringing in a grey area rug and grey accent chairs. You can keep your space fresh and up-to-trend by introducing funky throw cushions in muted tones for a natural, effortless vibe.
100% cotton sofa covers can be luxuriously smooth and lend so much charm to the scheme of things. Brushed Cotton in Sand, which falls in between brown and grey, can transform your living space when coupled with pale grey walls, soft furnishings in bold pops of colour, antique decorative pieces, and flooring from rustic wood shades.
Take your living room to the next level with custom-made slipcovers in your choice of colour and fabric. Our sofa covers are handmade to fit your sofa – perfect fit, guaranteed. Undecided? Take our samples for a spin and see how you like them!