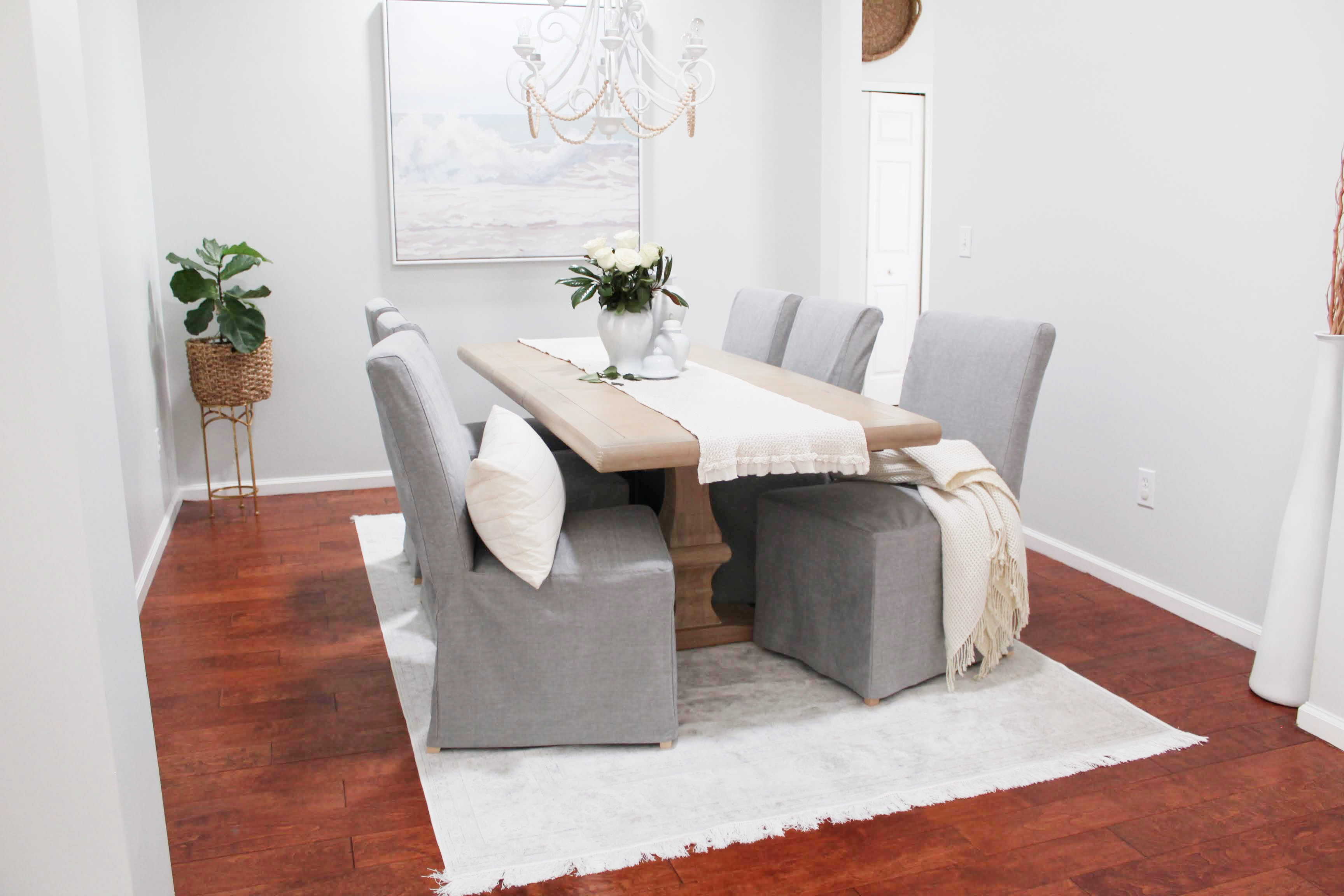 Why do you need dining chair slipcovers?
You've heard about sofa slipcovers, but did you know about dining chair slipcovers?
A slipcover is a piece of fabric that goes over your dining chair (or sofa) as a layer of protection or for aesthetic purposes. Our slipcovers are made to fit perfectly on your chair with easy installation using Velcro straps.
Watch this video to see how simple it is to install our dining chair slipcovers:
How some dining chairs look like with our slipcover designs:
Why in the world would you want to slipcover your dining chairs, you ask?
Here are some of the reasons to get dining chair slipcovers:
Set up the party atmosphere
If you often organise house parties, switch up the look of your home and impress your guests. Whatever your theme may be, get into the mood of the party with new dining chair slipcovers. A good setting makes the event more memorable and the photographs will turn out great too.
Better relationship with your children
Are you really going to nag or scold your child for every drop of soup on the dining chair cushion? Avoid stressing over little things like this which can cause your child to be more cautious around you. Dining chair slipcovers protect the cushion and you can machine-wash them when they get dirty. Skip the upset dinner times and look forward to enjoyable evenings with people closest to you.
A fresh interior
Bored of the old look that's been the same for years? Brighten up the dining room interior design with new dining chair slipcovers. There's no need to change your dining room furniture, save on that but spend on new, beautiful slipcovers instead. Come home to a warm and delightful dining space every single day.

Change with the seasons
Swap the dining chair slipcovers according to the season. During the colder months, cosier fabrics such as our Classic Velvet will keep you warm and comfortable during family dinners or even your WFH sessions. When the weather gets warmer, opt for cool, temperature-regulating fabrics like Pure Linen or Comfort Chenille to keep out the heat.
There's more than 1 type of fabric
From heavy-duty fabric to pure linen and vegan leather, achieve the dining room design you've always wanted with Comfort Works dining chair slipcovers. Our fabric options include Claw-proof Velvet, Performance Weave, Pure Linen etc., and each of them serves a function for your lifestyle.
For example, the Claw-Proof Velvet is best suited for families with pets as it's very tightly woven so that your pets are unable to sink their claws into the fabric.
If there tends to be spill accidents in your household, then our liquid-resistant Performance Weave would be perfect because you can easily wipe off liquids with a cloth.
For a more sophisticated and relaxed design, go for our Pure Linen range that can keep your friends and family sitting at the dining table for hours.
Check out more fabric colours and styles we have here.
If you prefer to have a little flair to your dining chair slipcovers to make it uniquely yours, you could add customisations to them such as pipings, bows, buttons, flanges and skirts of different lengths. Just send an email to us beforehand because we don't want to promise what we cannot do and in turn, disappoint you. 🙁
The list of slipcoverable dining chairs go on and on. Our core lies in creating beautiful, custom-made slipcovers for almost every sofa and dining chair in the world.
We've been covering IKEA's most popular dining chair models – the Henriksdal, Harry, Nils, Bergmund and Sakarias for years. If you have these dining chair models, lucky you! Placing an order is much easier as you do not need to measure the chairs. We have years of experience plus a team of talented seamstresses to help us make the perfect fit for these dining chairs.
Even if your dining chair is from other brands like Pottery Barn, Crate & Barrel, Restoration Hardware and even names that are unheard of, we've got you! Just a few extra steps:
1.Measure your dining chair (we need the right measurements to create the right fit)
2.Send us a few photos of the chair (it helps us determine the best way to sew your customised slipcover)
It does take a few emails back and forth to make sure the measurements and style are correct. But, remember, we're both working on this to get the best results to beautify your dining room. So, let's do this together!
While we can cover many, many types of dining chairs, there are certain limitations to the kinds of design that we are able to accommodate. Read on to see what kind of dining chairs we can cover and cannot cover.
We can do it!
Your dining chairs are pretty safe to be slipcovered by us if they have the characteristics described below:
1.Dining chairs that come with an original slipcover
2.Dining chairs with a straight back
3.Bar stool
Unfortunately, we can't make everyone happy.
1.Dining chairs with a curved back, together with legs that extend above the seat and are connected to the back cushion can't be slipcovered.
2.Unless you want a long skirt slipcover that covers the whole dining chair, we can't make it because of the wooden arms that hinder the way we make the slipcover fit perfectly.
3.The little pointy part of the armrest that juts out is the reason we don't cover it because it complicates the measurements.
Slipcovers need some TLC too
Most of our slipcovers are machine-washable, making your life so much easier. However, they should never be tumble-dried because this would cause them to shrink or lose their function. Drip-dry them in the shade and put them back on while still a tiny bit damp is the best way to maintain them for a longer period of time. Our leather range cannot be washed in any way, using only a dry cloth to wipe it down should do the trick. Click here for more information on how to care for our fabrics.
That's what she said (about our slipcovers)
If you'd like to know more of how we work with you, take a look at some of our customer reviews:
"They fit really well. The Ikea slipcovers have little pieces of velcro on the inside that attach to the chair frame to keep the seat part of the slipcover in place. I did not even think to ask Comfort Works about adding something like that."

"I like that tailored look, and the fact that they have been on the chairs for a solid month and I can't see any grubbiness whatsoever – in my house that is amazing!"

-Lisa from Shine Your Light



"I tend to notice any imperfections, and these covers are made with perfect seams and tailored very well to my chairs. They are not quite as tight as the IKEA Henriksdal covers, but it's definitely a bit easier to get these on without breaking a nail tugging and pulling them over the chair! I like the slightly relaxed fit and the warm feel that the textured fabric gives, especially for this time of year! I know these are going to look perfect with my neutral, glam holiday decor too!"

-Jessica from House Full Of Summer
Click here to read more reviews from our customers around the world.
Now, before you make a decision to cover your sofa, it's best to order free fabric samples (shipping fee excluded) from us so that you know how each fabric would look and feel like before you actually purchase the whole set of dining chair slipcovers. It will take about 2-3 weeks for the fabric samples to arrive for your viewing.