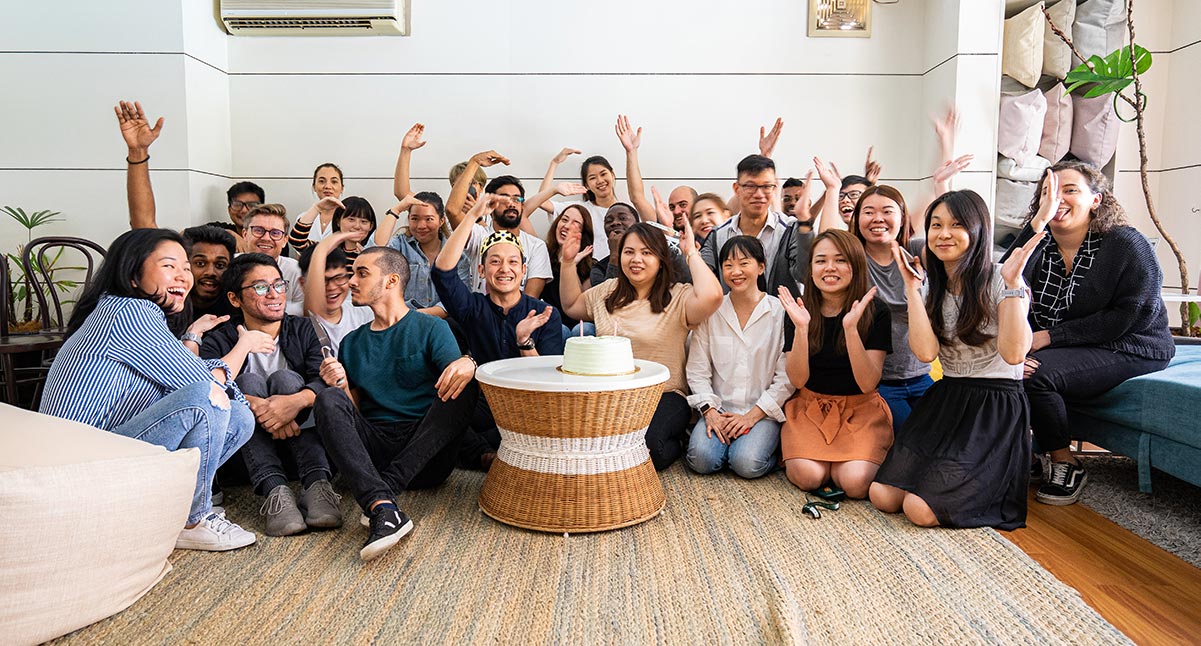 How we hire at Comfort Works
Recruitment process is different from one company to another. Sometimes, it can get overwhelming. Our recruitment team aims to bring a seamless experience to our candidates. From entry level to leadership, everyone should have access to the same information about how we hire. 
Comfort Works is known for our culture and we believe that our recruitment process is an important element that shapes our culture. We care about building an inclusive and enjoyable workplace, and that starts with hiring. 
We want to share essential information (bonus with some tips!) to anyone who's interested to join us.
Job searching and application
This is the time where you learn about who we are, what we do, and what it's like to work with us. 
We try to ensure that you know us a bit better and you feel sure enough that you've got enough information to apply for the right job. Check out our career page. View our YouTube channel or Instagram page. Read our blog to get to know our team better. 
Once you feel that the job you're eyeing intersects "who you are" and "what Comfort Works is", click that apply button. 
Unless you apply through internal referral, you don't have to write a cold email or even a cover letter to us – we treat all candidates from all platforms equally. Just be sure to include your complete CV and/or portfolio in your application, and you'll be in our funnel right away!
We carefully consider everyone who applies to us, and we try to make every bit of our interaction as personal and positive as possible. We believe that people deserve to have a good experience when applying to us regardless of the hiring outcome.
Your CV, portfolio, and anything in between
Your CV is the first source of information for us to learn about you. We view your resume as an ideal place to highlight your achievements and background.
Depending on the role, you'll also be required to showcase your portfolio/past work samples. Whether it's a project you took part in during your internship, a side hustle with a couple of friends, or the most recent campaign you worked on in your last role – feel free to present any of your proudest work in the past and tell us more details about it! 
Don't worry, we don't really look at how pretty the presentation is. We just want to get a sense of your best work. So, do make sure that there's no misalignment in your design on Behance or an error/typo in your strings of code at GitHub. Well-thought-out work shows a lot about your conscientiousness, and is enough to land an interview with us.
Cover letters aren't required, so it's your call on whether to include one. If you choose to include it, keep it simple and concise. Tailor it to the job you're applying for and tell us how you've made an impact, using data to back it up. 
Having a huge following on your LinkedIn profile doesn't guarantee a job here. But, it'll be nice to see a dusted-off LinkedIn profile with synchronised information to your CV. 
Down the recruitment funnel we go!
If a recruitment team member believes you might be a match for a job you've applied for, you'll be looped into our hiring process.
While the process may differ slightly for different roles, the same basics apply, whether it's a Customer Experience Officer job or a Tech job, an entry level or a leadership position. 
Not all of these may apply for your role, but here are some of the ways we assess candidates in our hiring process:
Online assessment(s): You may be asked to do a brief online assessment in an email interview format. For some roles, there may be additional online assessment in addition to the email interview. The online assessment will be very role-specific and assess your strategic thinking and hard skills required for the role.


Short chat: Before diving into more in-depth interviews, you'll typically have a short conversation over the phone. This will usually be with a recruiter to assess or clarify additional information about you.


Project work

: Especially for senior or leadership roles, we sometimes ask candidates to complete a small project.



For instance, prepping a product roadmap for our website interface. It's mostly to help us understand how you think and your approach towards problems. We'll let you know about any additional materials needed early on.


In-depth interview(s)

: Behind an invitation email to your interview, there's a whole recruitment team dancing to "I Gotta Feeling" by Black Eyed Peas. We're excited to interview our candidates and take it seriously because, at the risk of sounding cliché, Comfort Works is what our people make it. 
The process can be rigorous (typically 1-2 interviews, and we keep it virtual during the pandemic), but it's also meant to be friendly, warm, and welcomes you to know us better too. In the end, we want above all to assess your skills and see if you and this role are a match. 
Finally, reference check: We include this at the last bit of our hiring process. We'll speak to your previous employer or supervisor, people you've worked with, or even your lecturer back in school if you're a fresh graduate. We just want to learn more about you through the lens of other trusted sources.
Do we assess culture fit?
We don't only look for people who fit into our culture, we are also serious about hiring people who add to our culture. As we celebrate diversity, people who can bring fresh perspectives and positive experiences to our team will have their spot saved with us.
So, take the time to check out our career page and evaluate how you can embody our culture in your daily life. It's far better if they are authentic and reflect who you are as a person. Give us examples of how our values resonate with your personal values. 
Comfort Works holds a strong emphasis on our customers. Whether or not you're in a customer-facing role, understanding how our product works and which market we serve is useful in the interview process. 
We strive to bring great user experience and our UI/UX & tech team love to promote that concept. Empathy and customer-centricity is a great asset that we welcome in our team. 
Decision and offer
After we complete the whole hiring process, the recruitment team together with the hiring manager will put everything together and review your application.
We take into account a number of factors to come to a decision. If we decide that you're the best candidate for the role, our recruiter will reach out to you with an offer – and we promise you that our call will make your day!
Once you've accepted the offer, we'll bring you through the onboarding process to officially welcome you as our "Rookie"! Roll up your sleeves and get comfortable with what's next — we are thrilled to have you.
A few more tips
Now that we've laid out the formal information about our hiring process, here are some bonus tips:
Be kind to your recruiter and all the people that help you along the way

.




This is not only applicable for Comfort Works, but also anywhere you interview. We are more interconnected than you think, and you never know when your kindness will come back to help you.




Be realistic in your expectations and feedback

.




We receive hundreds of applications for each role. We try our very best to provide feedback for people who ask for it. If you want to learn more about how you can improve or what makes you fall short, write to us and we'll be happy to answer you.




Be kind to yourself

. We all (myself included) get our hopes up, and if things don't work out, we may feel crushed. It's a global pandemic, an incredibly competitive job market, yet you had the courage to apply for a new role. Acknowledge that as your strength and put that energy to find your dream job. It may be with Comfort Works, it may not. Whichever your path leads you to, remember that you won't be there without your hard work. 
We wish you all the best in your job search and, truly, thank you for your interest in Comfort Works. We look forward to seeing you in our recruitment funnel and getting to know you better.