You're probably wondering how long does a couch last.
Typically, a couch can last anywhere from 7 to 15 years.
To every beginning there's an end – not even the trusty couch can escape these philosophical words.
Through years of parties and movie nights, your couch has faithfully served by your side and now it's looking a little worse for wear. Teary-eyed, you know what must be done.
In classic Marie Kondo fashion the time has come to thank your couch for its service, say your goodbyes and prepare to see it off… except it's not quite that simple this time.
It's a hulking piece of furniture after all – you can't simply put it in the bin. So what exactly are you supposed to do with your old sofa?
That's exactly what we're going to answer today with a list of ways you can get rid of that old sofa, or if you're lucky, find it a new life! 
TABLE OF CONTENTS
1. Give it away to friends & family
2. Donate it to chair-ity
3. Reupholster it
4. Search for takers online
5. Schedule a large item pick-up
6. Leave it on the curb (responsibly)
7. Bring in the professionals
8. Break it down
9. Restore it with a custom slipcover
1) Give it away to friends or family
If you ask around, I'm pretty sure there are people who are waiting to pounce on the offer of a free couch which can still be used. The couch is often the most expensive piece of living room furniture and could be greatly appreciated by someone in your immediate circle of contacts if it's in good condition.
There's no tedious research involved and no dealing with strangers. To top it all off you'll know your couch is going to a better place.
2) Donate it to chair-ity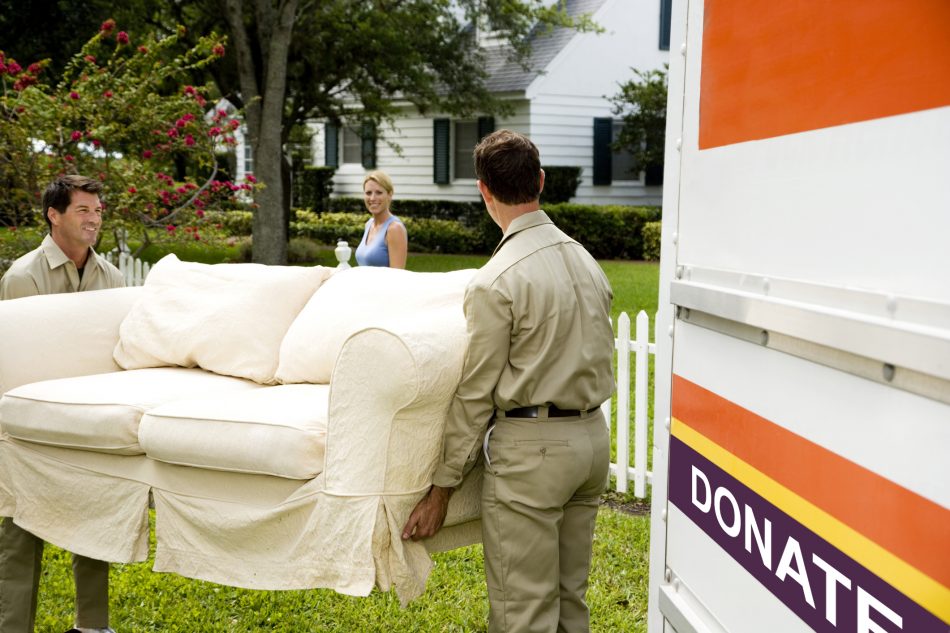 Even if nobody you know needs a couch, there's someone out there who does. That's where the Salvation Army, Goodwill or your local equivalent comes in. Provided the couch is in half-decent condition, you'll find that they will be willing to pick up your couch donation free of charge in many cities.
Other options include scouting out local orphanages and churches to find out if they can use what you have. A couple of calls is all it takes to know if this is possible, and you might discover that you'll be doing someone a great service at the same time.
3) Reupholster it
Saving your couch instead of sending it to the landfill is a great way to reuse what you have and it's great for the earth as well. Upholstery is expensive but there are some cases where it can make sense to splurge on it for your couch.
They don't make couches like how they used to anymore so if you've got a quality couch from the days of bygone craftsmanship, it might be worth going the reupholstery route. Cushions deflated? Get them stuffed! Fabric tearing? Let them refabric (now a word) it. Upholstery really can fix just about any problem your sofa might have if you're willing to pay the price.
Should you reupholster your sofa?
4) Search for takers online
It's the 21st century and some of the quickest and most convenient ways to get rid of an old couch are to list it online. There's no shortage of people looking for a usable couch especially if it's dirt cheap or free. Bonus: they'll usually even agree to pick it up themselves.
If you just want the couch gone, listing it as free on Craigslist or Facebook Marketplace is a sure-proof way to get your couch snatched up in no time at all. The key is to include some good-looking photos and it will be fought over like TVs on a Black Friday.
5) Schedule a large item pick-up
A neat option that's available to property owners in most cities in the United States is to schedule a large item/bulky item pickup with the city's waste management. This way, everything will be taken care of conveniently, and for free.
Getting rid of your couch using this method is one of the most straightforward and should be one of the first choices if there's no one else to give it to and you can't repair it. All it takes is a quick call to the city's waste management and to set a day and time.
Plus, as a property owner you're entitled to a couple of these a year so don't let those credits go to waste if the option is there!
6) Leave it on the curb (responsibly)
It may be basic, but it really does work surprisingly well. Simply leave your couch out by the curbside on a sunny day with a sign advertising it as free and there's an excellent chance that junkers or someone in need of it will pick it up.
Just make sure to be mindful of local laws since this is completely illegal in some states. Also be prepared to haul it in before it rains as nobody wants to deal with a soggy, heavy mess of a couch.
7) Bring in the professionals
Sometimes, the couch in question is simply damaged beyond repair. The frame may have given way or the bonded leather may have peeled into a flaky mess. Nobody's going to want that.
Times like these you can always rely on the furniture/junk removal services operating in your area. These are available almost everywhere globally and a sure way to get rid of the couch, if you're willing to shell out.
The typical costs for couch removal in the US range from $50-$100, but may be well worth it if you need that couch gone and need it gone now.
8) Break it down
Got some pent-up stress that needs to be released? Solve both your problems at once by breaking down the couch (or disassembling it if possible) and bagging the parts up. Yes people do this, especially in high-rise apartments where getting the couch out any other way would be something that belongs on the anti-bucket list.
Sure it's physically intensive and not the most appreciated option for the aching back, but many hands will make quick work of it. Invite a couple of strong friends over for a beer and pizza party… and an extra couple of hours of surprise manual labour 🙂
9) Restore it with a custom slipcover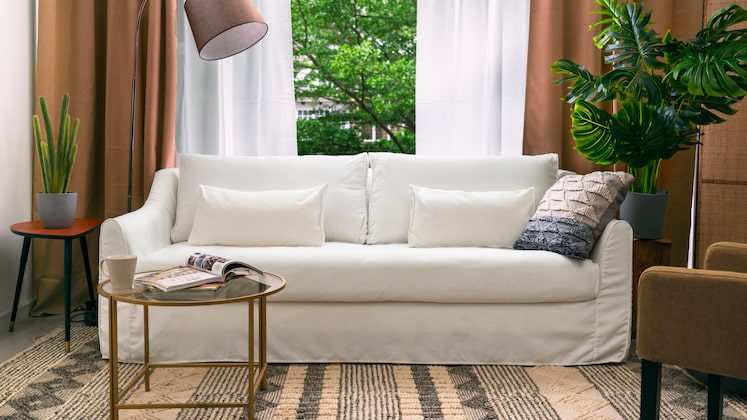 Got a couch that's still going strong in the frame and cushion departments? Bring it back to life with a tailor-made slipcover!
Just like upholstery, a slipcover can reverse time on a sad-looking couch, but is far more affordable. Think of it as paying only for the fabric portion of the couch.
You can even customise everything from the colour, material, and style of the slipcover to completely overhaul the look of your couch. It's like getting a new couch without buying a new one.
The best part? To make sure your "new" couch remains pristine, the covers are machine-washable (except the leather ones) to keep them looking great.
Interested in saving your couch? Visit our website to learn more on how you can renew your couch affordably with a slipcover and keep it from becoming landfill: