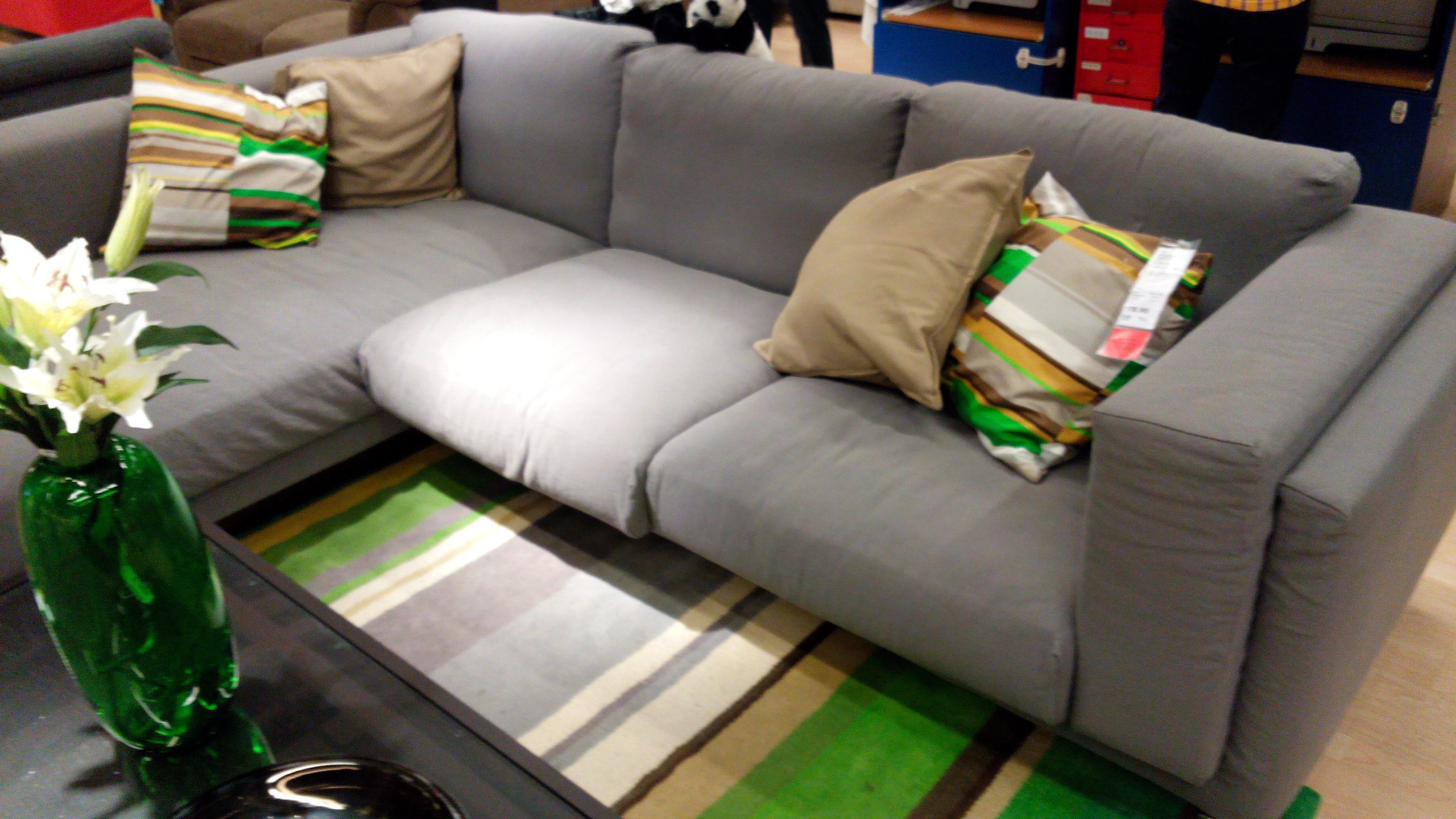 [sg_popup id="3″ event="onload"][/sg_popup]
Overview and Prices
We actually spotted the IKEA Nockeby sofa in stores around early May this year, but IKEA only got around to update their website a month later. Here's what I gathered:
The IKEA Nockeby comes in 3 different sizes:
1. The 2 seater sofa version – $799
2. The 3 seater sofa version – $899
3. The 2 seater + chaise sofa version – $1299
All of the above also comes with the option of 2 different default slipcover which are the dark grey and a light beige.
On top of that you also get to choose from 2 different legs, a dark wooden leg or the chromy metal. This photo below has the metal legs (sorry i know you can barely see anything shiny there).
Aesthetics and First Impressions
Well, firstly it's not exactly a unique design, in fact we didn't even realise it's a new ikea couch until after a few rounds of walking about in the IKEA's Living Room section. It's somewhat squarish as per the IKEA's Kivik sofa with taller armrests. Fabrics texture offered is actually identical to the Gaia 100% cotton fabric we carry in our custom slipcover shop.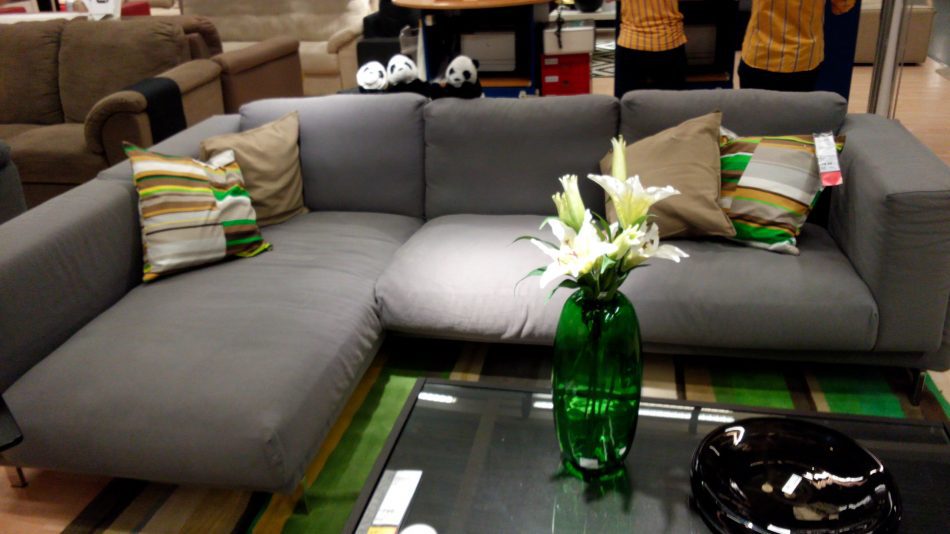 The Comfort Test
Well, I do what I always do with the new couch, a Free-Fall test where I allow my bum to fall abruptly onto the cushions (hoping for a comfortable landing somewhat); Boom. What can I say, it has to be one of the best "Just Right" feeling between soft and springy. It's not as mushy as the Kivik, and it's not as hard/stiff like the new IKEA sofa beds (Moheda, Friheten) or even the newly released Vilasund and Backabro.
I continued to laze around for 5 minutes while at the same time typing notes onto my phone describing which exact sensations my back-side is going through right now (ok ok, it wasn't that dramatic). But after a few minutes, I felt quite sunken in by the back cushions, this is the exact same feeling as the Kivik's back rest really, seems like they both use the polyester/polyurethane foam, light and inexpensive. These however will compress over time and eventually get flatter.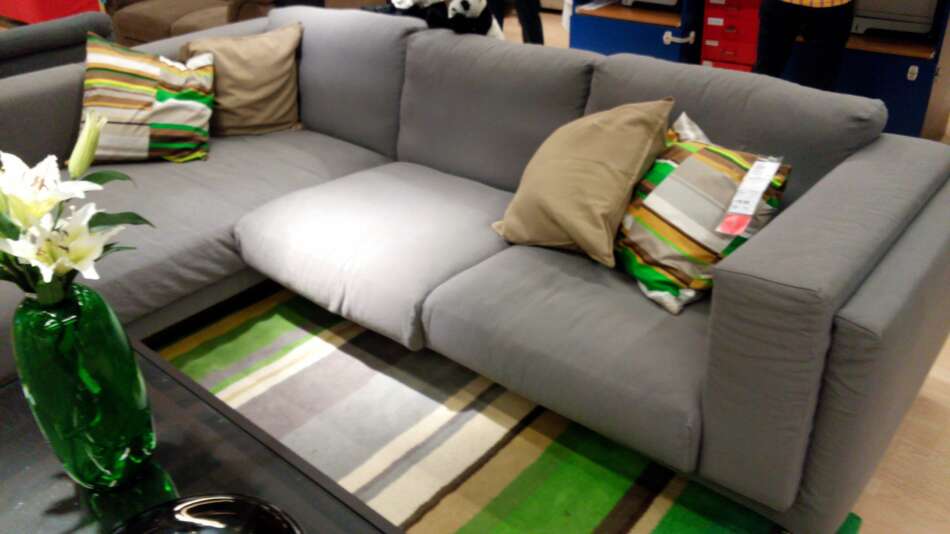 Pros:
1. Bulky cushions for soft rear landing, and it's actually abit springy
2. Can be a con, but the 3 seater is really wide at 250 cm, or 2.5 meters. The KIVIK 3 Seater in comparison is about 30cm shorter.
3. Option for wooden vs chrome plated legs, which isn't really available for any other sofa apart from the Karlstad.
4. Squarish Blocky Design which will be timeless and modern but not too avant-garde.
Cons:
1. Not customisable/modular like the Tylosand, Kivik and Karlstad where you can lego in other pieces.
2. Very bulky, 2 seater is around 2+ Meters and 3 seater at 2.5+ Meters. Typical 2 seater is around 1.7-1.8M and 2-2.2 M for 3 seaters. Warning: not for small apartments.
3. Non Sit-able Arms; the arms are made with wooden frame on the outside and the cushion sitting between the seat cushioss and the frame, so yes you can't sit there.
4. Armrests are simply too tall. Don't you always feels a bit smuggy when you put your arms up at the shoulder level?
5. Pricey compared to the other IKEA sofa lineups, but yet it isn't any more Premium feel like the Stockholm.
The 2 seater starts from AU$799 and a 3 seater starts from $899 (both in Grey or Beige). Note that both 2 and 3 seater only has two cushions but a lot wider. The combo with the chaise is significantly dearer at $1299.
Overall Conclusion
So to buy or not to buy?
Personally I'd opt for a no, looking around at the other options on the showroom floor, you can actually get a 3 seater kivik or a 3 seater karlstad around the $699 mark. Placing this as the most expensive sofa line-up from IKEA after the Stockholm series.
Having said that, it is a very wide sofa and if that's what you're looking for, then by all means. After all, it is actually very comfortable on the seat.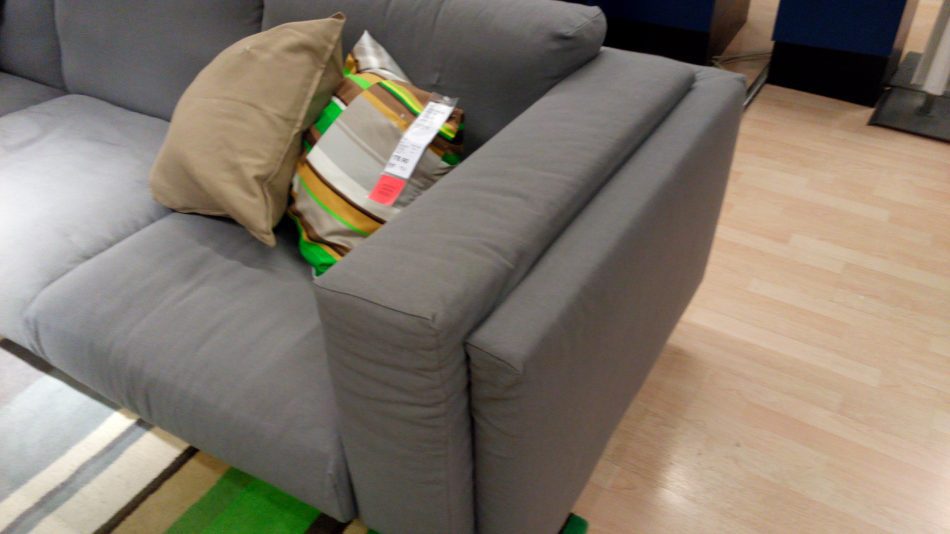 *Looking for Nockeby replacement slipcovers? Click on the link before or contact us: info[at]comfortworks.com.au
Cheers!