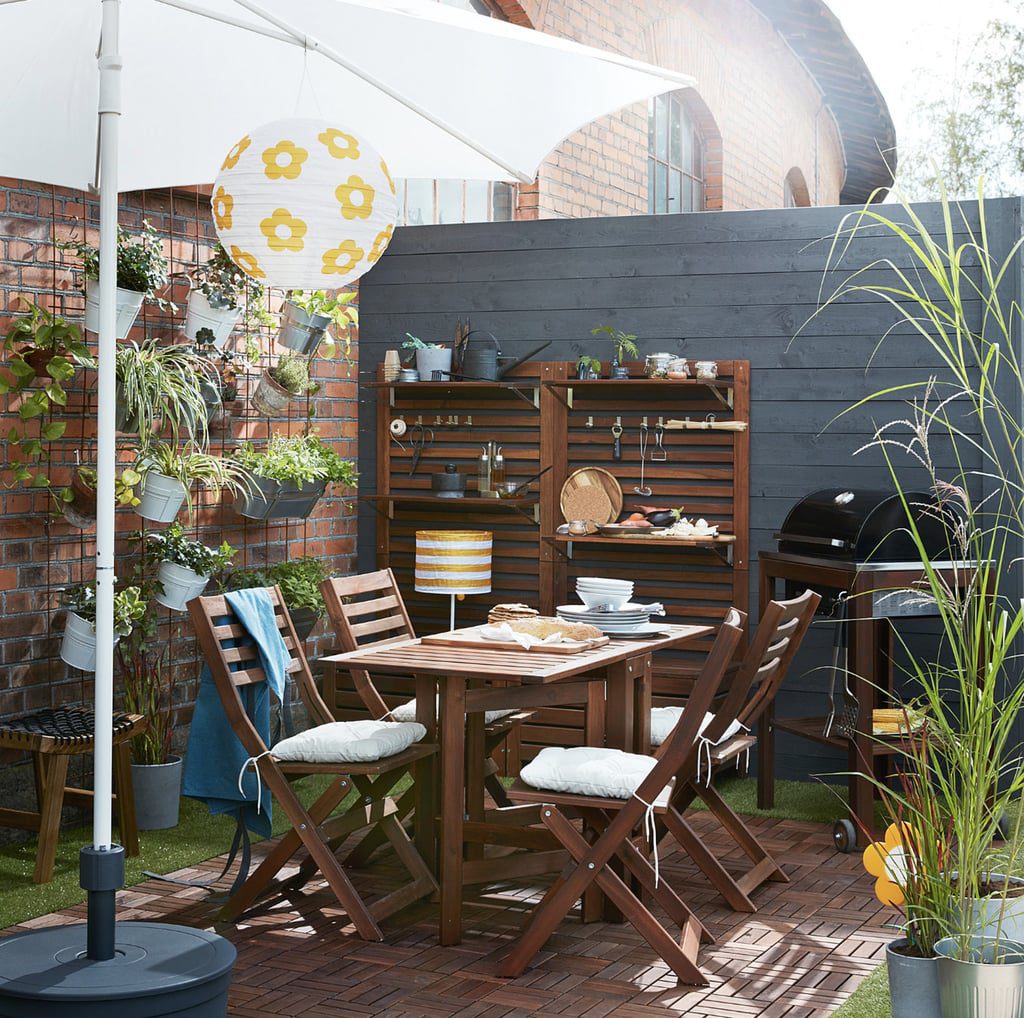 If you weren't able to plan a getaway trip with your friends or family this summer, you can still enjoy the warm weather and long summer days by making the most of your time at home with a magical staycation by turning your own backyard into a magical getaway. Here are some of our favourite IKEA finds to help you do just that.
Work up a summer tan with the IKEA BROMMÖ lounger

What better way to enjoy the sunny weather and warm heat other than chilling out on a comfy lounger with an icy drink and a good book? Thanks to the BROMMÖ's solid wood frame laced with stretchable rope, the lounger gently cushions your back and bottom — making it a lounger you'll want to stay in the longer you sit on it.
For those who want to be economical with their spaces, another plus side for the BROMMÖ lounger is that it can be folded and stored away whenever it's not being used.
Have a space that can accommodate multiple guests

If you want to have friends over at your place this summer, but you lack the furniture to comfortably seat them in your space, then the ÄPPLARÖ sofa set from IKEA is exactly what you need to turn your backyard into the go-to hangout spot this summer.
The modular sofa set allows you to arrange the sofa in any configuration you like to suit your outdoor space, and it's soft back cushions are filled with a hollow fiber that's made out of 100% recycled materials — making it a great addition to any backyard that's lacking furniture and a place to host guests.
Add some shade to cool your backyard

While it can be nice to spend your summer days out under the sun, having some shade nearby can come in handy for those extra sunny or rainy days.
The IKEA OXNÖ patio umbrella provides excellent protection against rain as well as the sun's UV rays, and even has a built-in mechanism that allows the umbrella to be positioned in different angles to let you enjoy your outdoor time longer.
Spend your summer days "hanging" out in your backyard

Rocking in the IKEA FREDÖN hammock can be one of the most relaxing things you can do during your staycation this summer.
Thanks to a small pouch located on the side of the hammock, you can keep your books, magazines, sunglasses, and maybe even a couple of snacks within arms reach so you won't have to get off the hammock when you get hungry.
If you don't have any trees to help hang up the FREDÖN hammock, the GÅRÖ hammock stand will help you conveniently set up a hammock anywhere you like in your backyard space.
Light up your garden with solar- powered lights

Take your garden lighting to the next level by swapping out your regular lights for these solar-powered LED flower lights.
All it takes to install the SOLVINDEN LED flower light is to use its ground stake and "plant" it in the right position— ideally a place with lots of direct sunlight to sufficiently power the light throughout the night.
Add some texture to your backyard flooring

Old, tired-looking floors that are stained, cracked or peeled can take all the magic out of a space.
So if that's what's making your backyard look run-down and uninspired, try turning to IKEA's RUNNEN floor decking collection, which offers a variety of decking styles, including those that could easily pass off as parquet flooring or real grass (minus the need for regular watering).
Nifty? We think so!
Want more ideas on how to transform your space this summer? You'll want a copy of our FREE 'Timeless Living: How To Design A Classy IKEA- Inspired Home' ebook: