Before we begin, do not confuse the IKEA Harlanda with the IKEA Karlanda (this model has already been discontinued).
The IKEA Harlanda became available (only in the US) in 2020 as a successor to the IKEA Grönlid. In other parts of the world, the IKEA Grönlid still remains as it is. In this Harlanda sofa review, we'll be talking about its characteristics and how it is almost similar to the IKEA Grönlid.
TABLE OF CONTENTS
1. Overview, technical details & price
2. Slipcoverability
3. Design, aesthetics & comfort
4. Verdict
5. Assembly guide
Overview, technical details and price
When we compare the IKEA Harlanda and Grönlid, the Harlanda's size is much bigger than the Grönlid.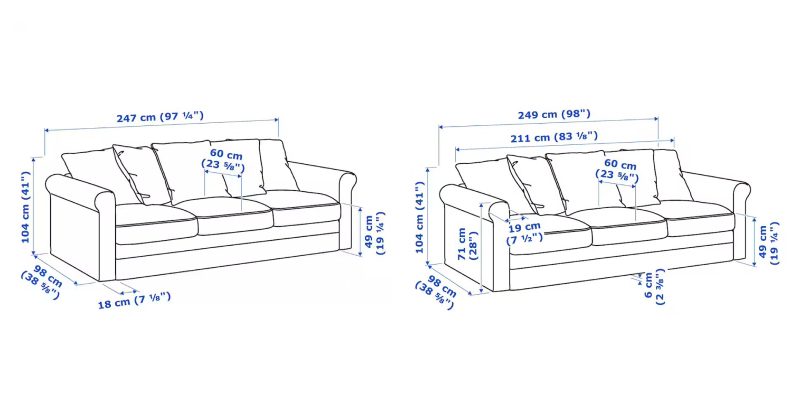 As you can see from the image, the only difference between these 2 is the width of the sofa. The Harlanda is 249cm whereas the Grönlid is 247cm for the 3-seater of both series. We can safely say that the Harlanda is just another version of the Grönlid that is exclusive to the US only.
The Harlanda comes in many models:
Loveseat: USD849 – USD949

3-seater: USD949 – USD1049

3-seat sleeper sofa: USD1249 – USD1349

3-seat sleeper sofa with chaise: USD1349 – USD1499

4-seat corner with chaise: USD1499 – USD1599

4-seat sectional with chaise (1 chaise only): USD1449 – USD1599

4-seat sectional with chaise (2 chaises side by side): USD1849 – USD2049

4-seat corner sectional with chaise: USD1899 – USD2099

5-seat corner sectional: USD1999: USD2199

5-seat corner sectional with chaise: USD 2399 – 2649

5-seat corner sleeper sofa with chaise: USD2799 – USD3049

Chaise (on its own): USD680 – USD770
As you can see, the almighty Harlanda comes in 12 models, and what's more – it's also a modular sofa that you can configure in many different ways.
With IKEA's Harlanda planner, you're able to fit different pieces from the same series together and form it into a shape that you're happy with. Have fun while you're at it, but don't forget to make sure the measurements fit into your existing space.
Hackability: 9/10
Slipcoverability
The Harlanda sofa is slipcovered and it comes in 6 colours from IKEA:
Inseros White

Ljungen Light Green

Ljungen Light Red

Ljungen Medium Grey

Sporda Dark Grey

Sporda Natural
6 colour options might just not be enough, how does 70 styles of different colours and fabrics for your Harlanda sound? Then, you can transform your room into any kind of design just with the use of slipcovers of a certain colour or texture.
Please note that you will have to disassemble your Harlanda sofa in order to remove and also put on the slipcovers.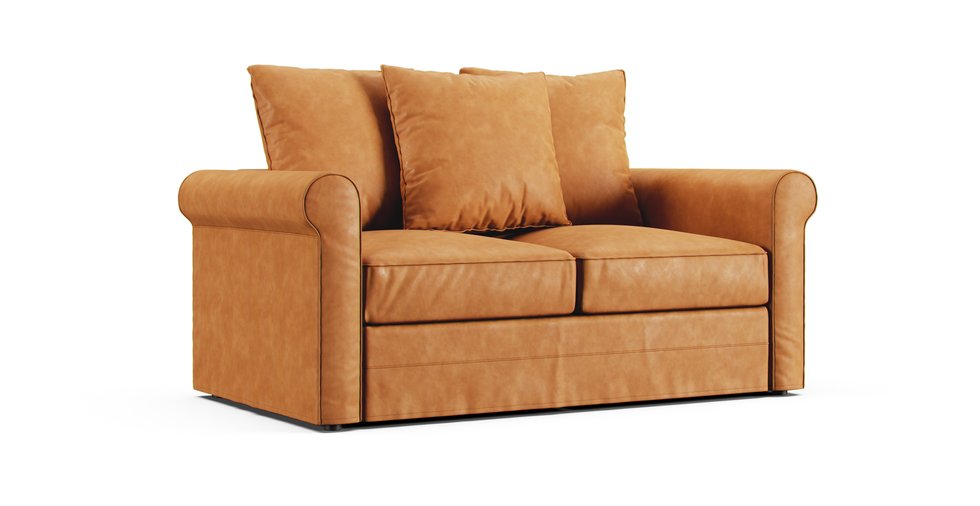 Design, aesthetics and comfort
We wrote a post about the Gronlid being a baby of the Vimle and Ektorp. Now the Harlanda just looks like a bigger child of both the sofas mentioned. The IKEA Harlanda has rounded arms just like its mama, the Ektorp, and it has thick, bouncy-looking cushions just like its papa, the Vimle.
You may have measured the IKEA Harlanda via online sources before looking at the real deal, but it is a big sofa when you see it with your own eyes. With a seat height that's 19¼" (49cm) and a seat width that's 49⅞" (119cm) for the chaise, this one-seater takes up quite some space in any room.
The Harlanda may seem big to you, but not without a good reason. It has a huge storage space under the chaise where you can keep a whole lot of stuff such as blankets, throws and pet toys.
Design: 8/10
The armrests of the IKEA Harlanda are on the higher side and they have a medium width – not ideal if you're planning to use it as a pillow or headrest while you lie horizontally across the sofa. Its seat cushions can be a little stiff when you're just starting to use them, but they will soften over time and can be comfortable after a while. The back cushions are fluffy and very plush to sink your back into – this is definitely good for long hours of lazy sitting. I do find that the back cushions can occupy quite a bit of space on the seat as without them, I could have sat further inwards with more depth. Nevertheless, this could probably be adjusted when you get creative with the arrangement of the back cushions.
Comfort: 8.5/10
Verdict
Overall, we'd give the IKEA Harlanda sofa a rating of 8.5/10.
The Harlanda is a pretty comfortable sofa to sit on and sleep in (for the sofa bed). If your room is not one with a low ceiling, the Harlanda sofa would fit better due to its height. A gigantic sofa like the Harlanda can easily make the room look smaller, so do consider the space before you make your purchase. If you have pets, and they are always around or on your sofa, the original IKEA slipcovers may collect pet dander easily. For less to no work on the assembly and disassembly, perhaps our leather slipcovers might be a better choice for your lifestyle.
Assembly guide