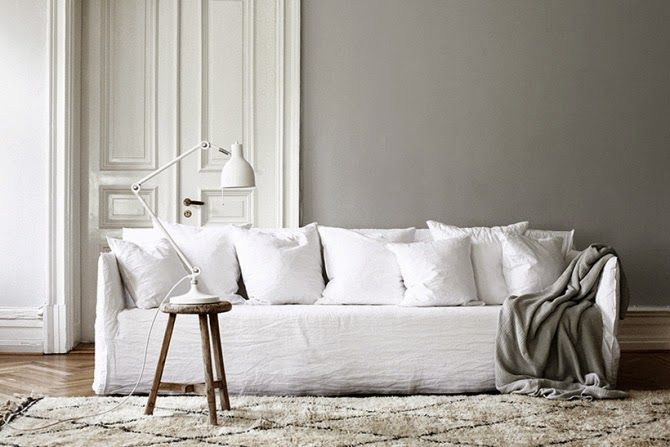 Hacking the Ghost Sofa with the Ikea Soderhamn Sofa Part 1 of 2: The Idea
Ever since the Ghost sofa collection was showcased at the Salone del Mobile, Milan in 2004, it's been a cult success and an international bestseller. Designed by Paola Navone for the family-owned Italian furniture makers Gervasoni, it was meant to be an unconventional textile project that challenged the traditional sofa styles of wide armrests and practical cushions.
Even more than 10 years since it was first introduced, the concept behind the design is more relevant than ever. There have been a couple of similar designs remade by a few major furniture companies but the idea remains the same, hence the sofa's elevation into the cult classic status. And like all cult items, they don't come cheap. According to our research, the Ghost 12 sofa retails online starting from €2448 on AmbienteDirect.com (about US$2715 according to today's exchange rate) for a 3-seater sofa although there seem to be quite a few different distributors out there.
What is it about the Ghost Sofa?
"Ghost", depending on your interpretation, may refer to how the sofa is visually light. There are no bulky armrests, no obvious seat or back cushions. It's just the upholstered sofa frame covered with a light, wrinkly slipcover with a pile of throw pillows that serve as back cushions. The arms are skinny and there are fairly evident seams along the armrests and backrest, almost like it's sewn inside out.
Additionally the slipcover seems to be wrinkled on purpose, and seeing some of the images makes me want to plug in the iron and steam out all the wrinkles. The signature images are also an extremely impractical white linen – clearly this isn't meant to be for homes with pets, toddlers or even clumsy adults!
To summarise the sofa's features:
White, wrinkly slipcover for the sofa frame, floor-length
Thin, straight armrests and backrest
Throw pillows instead of back and seat cushions
Inverted seams where possible
The Idea is Spawned
You know how you dine out sometimes and when you taste the dish you ordered, then you think to yourself, "I can make this myself at home for half the price."?
We (the team at Comfort Works) thought the exact same thing. As people in the slipcover business, we like slipcovered things. Slipcovered chairs, slipcovered sofas, slipcovered benches. But let's face it, the real Ghost sofa is probably out of reach for my Ikea, Target and Kmart-loving bank account, so like every DIY-er out there, I set out to make do with what we have.
Considering our successes with creating custom slipcovers from scratch, I knew the jackpot had been struck during a leisurely afternoon stroll at our local Ikea showroom. Every once in a while we hit up Ikea to explore their showrooms, check out the new products and of course, eat a plateful of Swedish meatballs followed by their fabulous soft serve ice cream.
The Ikea Soderhamn sofa is one of my favourites. With its snugly fitting slipcovers and modular design, its rise to popularity is mainly because of its contemporary design and flexibility to fit most spaces. Of course, its price point is pretty great as well, starting from AU$179 for the one-seat section to AU$549 for a three-seat section.
Let's look at the Ikea Soderhamn 3-seat sofa:
If I could just swap out the rectangular back cushions for square throw pillows, it's one step closer to the Ghost sofa style and look, it's got skinny armrests! All I'd need is the frame slipcover and… wait a second.
Upon closer inspection, the armrests for the 3-seat sofa are actually shorter than the front base. It's probably a design feature but it's such a wet towel on our grand plans because the sharp, clean lines of the Ghost sofa can't be achieved if the base juts out from the sides.
Fortunately, all is not lost, because we found the Soderhamn Corner Section:
Do you see it? The skinny backrests are nicely aligned with the base!
So logically if we put two corner sections next to each other, and rotate one 90 degrees clockwise, secure them together, we'll have a basic sofa frame featuring a flat base for the seat and thin armrests and backrest. Add a custom slipcover and a few throw pillows and maybe we'll get close to that Euro-chic Ghost sofa look.
So here's the Plan:
Step One: Assemble 2 Soderhamn corner sections (check!)
Step Two: Measure and make a custom slipcover for the 2 corner sections
Step Three: ?????
Step Four: Success!
Ready for Part 2?
Check out how we created a custom slipcover for the 2 Soderhamn corner sections in 'our' signature Ghost sofa style.
Image credits: Gervasoni and Ikea