We've had people asking if it's possible to dye slipcovers, especially using the fabrics we have.
As we know you guys love decoration as much as we do, and want to discover new ways to improve your sofa or even customize it more – we wrote this piece 🙂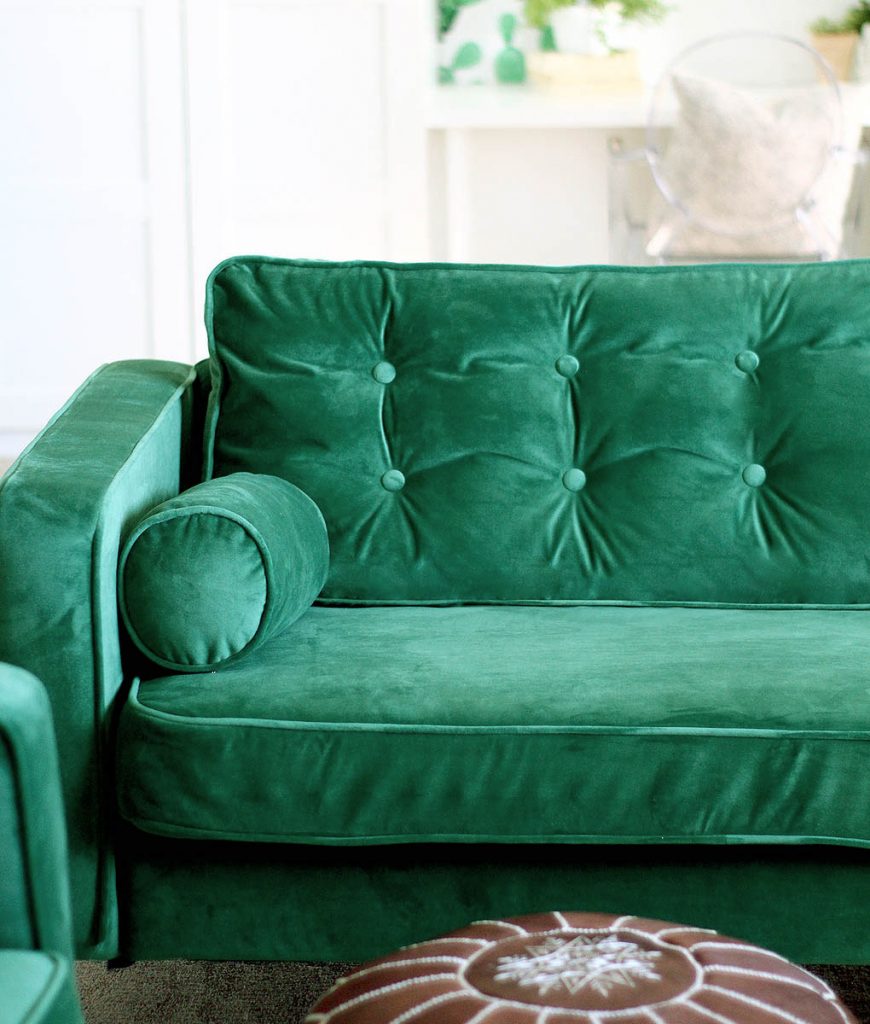 1. Check your fabric
Yes, it's totally possible to dye your slipcovers but first of all, you need to check the fabric composition of your slipcover.
For example, fabrics made of Bycast Leather or Polyester are not recommend for dyeing.
Polyester: one big advantage of polyester over natural fibers is its ability to resist stains and durability but the downside would mean that this fabric doesn't get along well with dyeing.
Velvet: normally velvet fabrics are manufactured mainly with polyester fibers, so as we said before, it's not recommended to dye them.
Cotton: this is an excellent natural fiber for hand dyeing. Its porosity facilitates the absorption of colour – good news for cotton slipcovers owners!
Wool: this natural fiber is also very good for dyeing. Remember that wool is the weakest of all natural textile fibers, so you need to pay special attention to the dyeing process.
Silk: there are not many sofa covers made with silk, but if you want to dye this fabric we can confirm you that its fibers accept the new colours very well.
Rayon: also known as artificial silk. This fabric is normally manufactured with cellulose fibers. Rayon is very fragile when its wet, that's the reason why its often labeled as "dry clean only". If you want to dye this fabric, it's recommend to go with Hand Dye.
Nylon: this fabric is made with synthetic fibers, but it can be perfectly dyed due to its unique chemistry.
Linen: linen is a durable fabric made from flax plant fibers. It is up to three times stronger than cotton and its light colour and natural fibers makes it very easy to dye.
Bycast Leather: the characteristics fo these fabrics make impossible to dye them. If you have a Bycast Leather slipcover and you want to change its colour, you can check all the leather fabrics we have available on our website and order new sofa covers.Check out our fabrics and order some samples here.
If you have a garment made from 60 percent dyeable fiber, like cotton, then you can usually dye it with a chemical dye even if the remaining fibers are not dyeable.

Note, however, that the colour will be much lighter than it would be with 100 percent dyeable fabrics.

If the Fabric is labeled as "dry clean only", it won't be recommended to dye it.
2. Choose the Dye Product
Now you know a little more about the fabric of your slipcover and you are ready to choose the Dye and the Dyeing Method you are going to use.
Let's start with some general information about the most common types of dyes:
Natural Dyes: these dyes are derived mainly from plants. Fabrics with natural fibers are the best ones for a natural dye. Recommended for cotton, silk, wool and linen.
Acid Dyes: these dyes are highly water soluble, and have better light fastness than basic dyes. Recommended for silk, wool, nylon and some acrylic fibers. Note that acid dyes don't mix well with cotton cellulose however.
Direct Dyes: these are of a class of coloured, water-soluble compounds that have an affinity for fibres and are taken up directly. Recommended for cotton, leather, wool, silk and nylon.
Reactive Dyes: this is the most important and most recommended method for the colouration of cellulose fibres. This is because the reactive dyes attach permanently to cellulose fibers.
When choosing the Dye and the Dyeing Method, always compare the temperature of the water you'll need for the dyeing with your Fabric Care Recommendations. In most of the cases you'll need hot water and fabrics can shrink. Check this info carefully!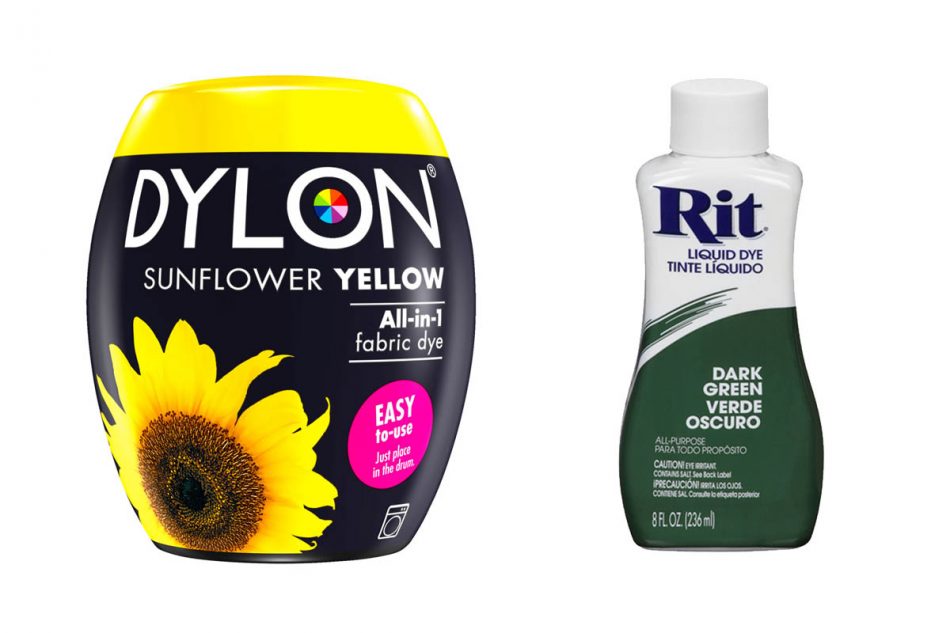 If you want some specific brands to dye your slipcovers, we have found out that Rit Dye, is a good brand and it's very easy to get on Amazon. They have a varied range of products with different characteristics and colours. If you want to dye your slipcover, this is definitely a brand worth checking out..
Dylon is also another good brand to dye sofa covers. It's from the UK and it's also available in Australia. The quality of their products is very good and it's also a very good option to consider.
3. Choose the Dyeing Method
Now comes the fun part – choosing the dyeing method. Basically, you can choose between two options for home dyeing: machine dye and hand dye. Depending on the dye product you choose you'll be recommended to use one method or another, but we'll shed some light on the matter.
Machine Dye: this option gets a more uniform dye but it can damage your fabrics. Always check the fabric care guide and the product instructions before doing a machine dye.
Hand Dye: especially recommend for fragile fabrics like silk or rayon. Instead of using a washing machine you'll need to have a big receptacle to add the water, the dye product and the slipcovers.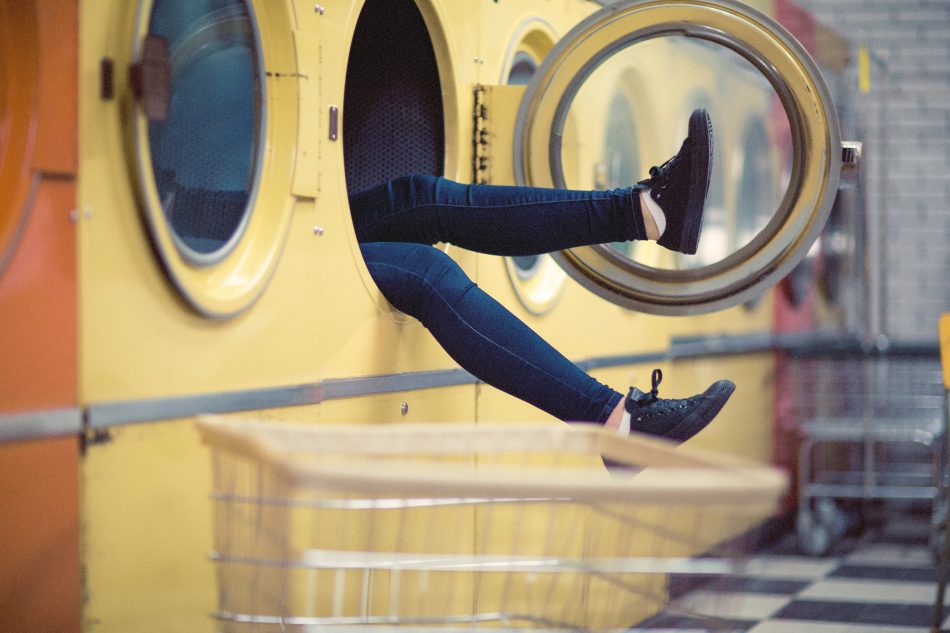 4.Wash the slipcover
It's important to have a clean slipcover before starting with the Dyeing Process. Just wash it as usual so you have a clean fabric without dust or dirt which can affect the dye (unwanted clumps).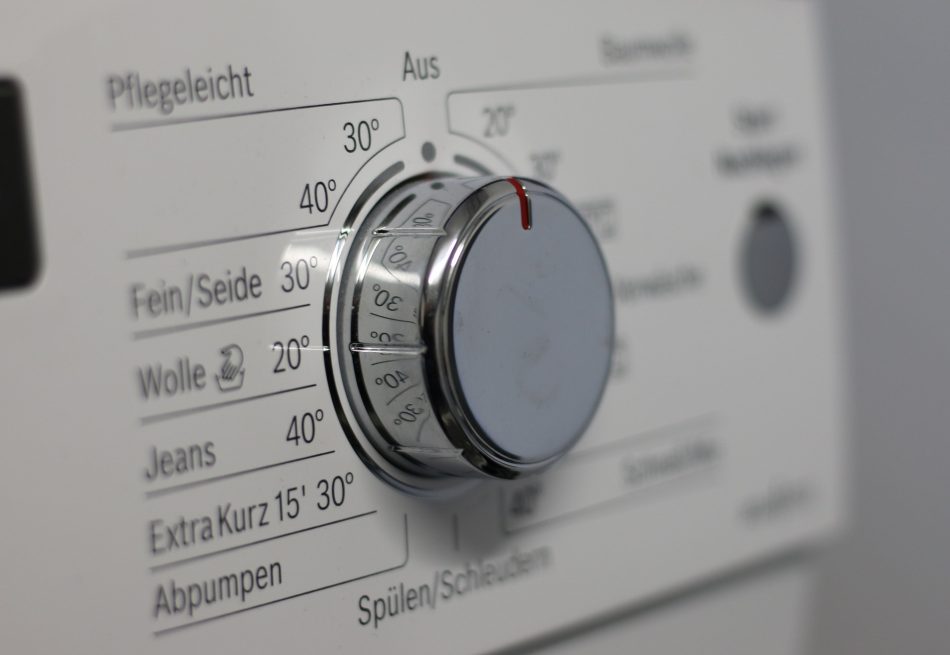 5. Remove the colour of the fabric
After washing your slipcover, use a colour remover or pre-dye product. These products are similar to bleach, but non-damaging. This will whiten or lighten the fabric so it can take on the new colour. It's also helpful when you want to achieve a lighter colour.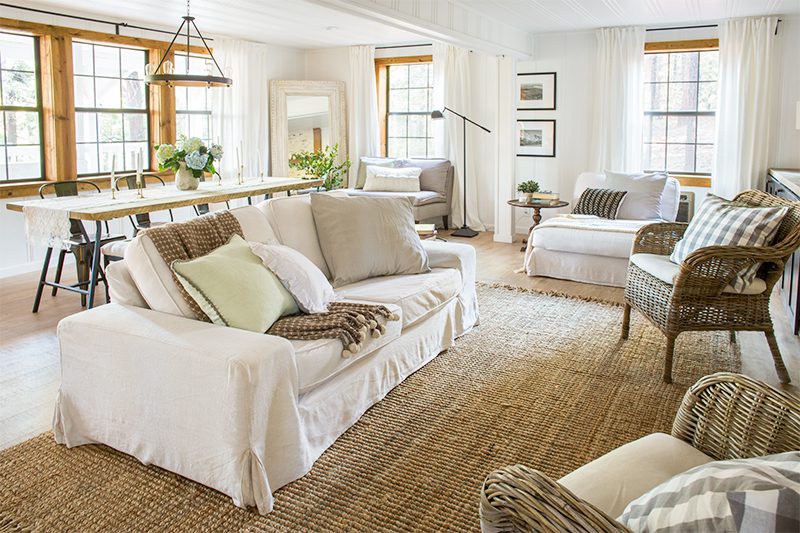 6. Follow your dye product instructions
You have already washed your sofa cover, lighten the fabric and now its time to apply the dye product. Just follow the product instructions. In most cases you just need to add the product to water, mix it and then add the sofa covers.
Add salt to the dye bath for a better result. Salt is a catalyst in the dyeing process and helps to achieve long lasting and intense results.

Adding one cup of white vinegar after the fabric has been in the dye bath for 5 minutes will also help dye the colours out more evenly.
7. Dry the slipcover and… Voilá!
And that's it! You just need to dry the slipcovers and you'll have your newly dyed slipcover! We recommend washing it again before using it. This way you'll assure that the colour is properly dyed and get rid of any excess dye. Of course, double check this with the Dye Product instructions.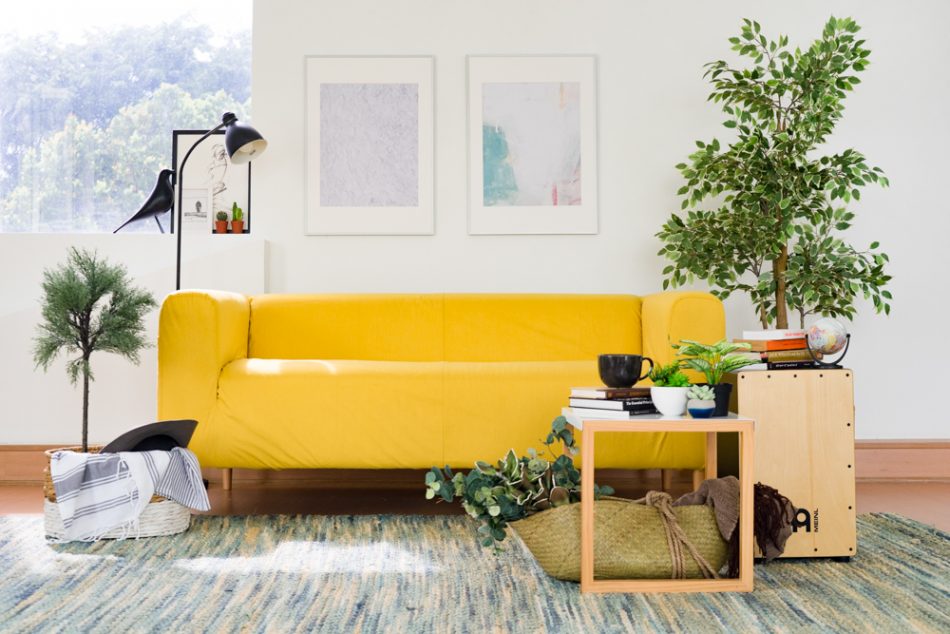 We really hope we have helped clarify your doubts on "how to dye slipcovers" and we'll love to know what do you think about this topic.
You can leave us a comment in this post or on our social media accounts on Facebook, Instagram and Pinterest.
If you're thinking of a sofa makeover or considering upholstery, check out our alternative way to restore your old couch!
Happy designing!