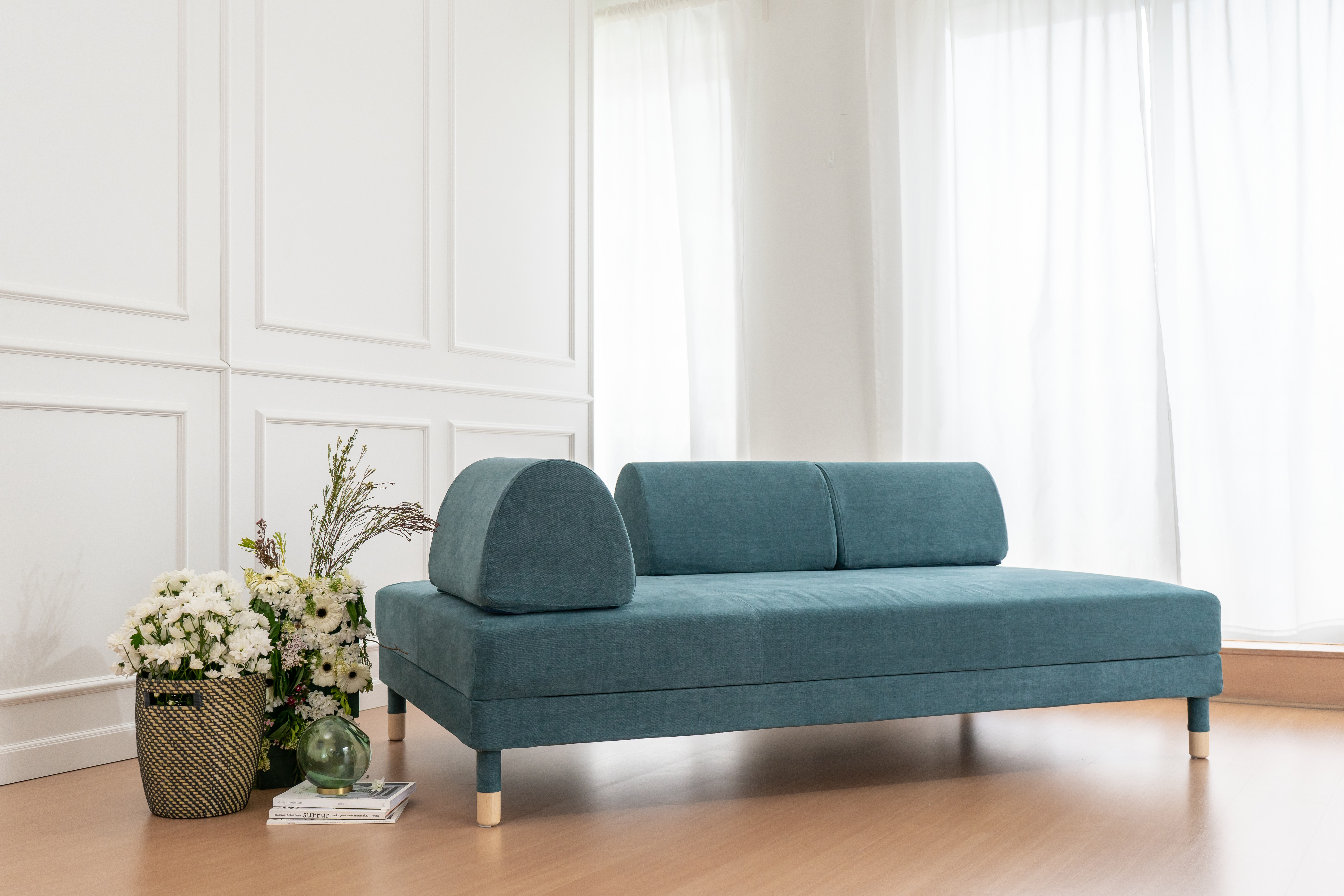 Our top 6 IKEA sofa beds review
In times when you find yourself with a few extra guests to accommodate, sofa beds can act as the perfect "guest bedroom". And who do you turn to for emergency furnishings? IKEA. Which is why today we have brought you the ultimate IKEA sofa bed review.
Sofa beds get a bad rap for being uncomfortable and ugly, but the good news is that there are a few IKEA sofa beds that are not only easy on the eyes but also easy on the back.
(Pro tip: If you've found the perfect sofa bed that checks all the right boxes in function and comfort, but you just don't like how it looks, know that you can buy IKEA sofa beds without their slipcovers.)
Without further dallying, let's jump into the top IKEA sofa bed list:
The Holmsund is one of IKEA's newer sofa bed models, with throw pillows and wedged arms. This sofa bed comes in two different configurations: the 3-seater sleeper sofa and the corner sofa bed.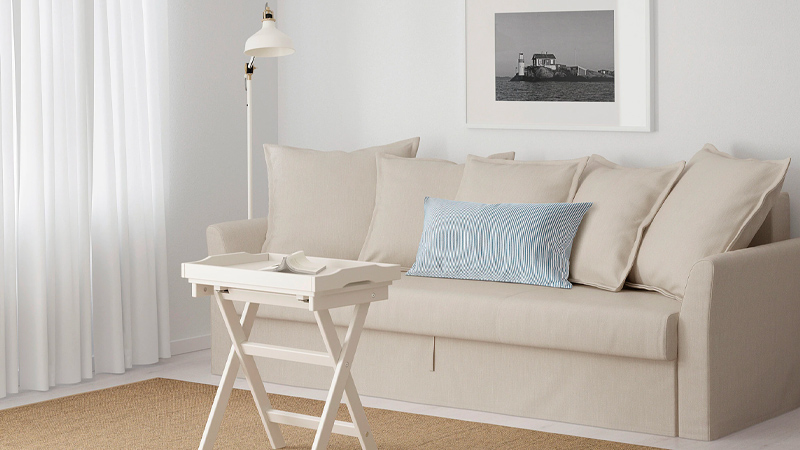 Value for money
The price tag on the Holmsund 3-seater sleeper is US$949, while the sectional sofa bed is US$999. The higher price for the sectional sofa bed is due to the additional storage chaise, which is perfect for storing the sofa beds linen and pillows.
Comfort
While the mattress cushions on the Holmsund are a little firm for me, I do love the fact that the five back cushion pillows can be moved around and readjusted to suit your needs. It's nice that subtle details like these can easily make it comfortable for both sleeping and sitting on for everyone.
Design
I love the overall design of the Holmsund with its wedged arms and five back pillows. The sofa is pretty deep, which allows you to put layers of throw pillows and blankets to dress it up, making it even comfier. The fun thing about the chaise is that you can place it on either left or right of the sofa, and switch it at any time.
Hackability
If the colours available on the original Holmsund do not appeal to you, don't fret as this sofa bed is completely slipcoverable in both configurations. The slipcovers also allow for the switching of the chaise.
Find custom slipcovers for your Holmsund here!
This sofa bed is essentially the upgraded Manstad with slimmer, shorter armrests and a versatile chaise. It comes in two sofa bed models: the Friheten Corner Sofa-bed and the Friheten 3-seater Sofa-bed!
Value for money
This sofa bed is priced at US$649 and does everything you could ever want a sofa bed to do. There's a storage compartment in the chaise and the bed compartment is easy to pull out, as well as store.
Comfort
The cushions are quite firm, so if you are using this regularly I would recommend getting a mattress topper. Although if it's just to be used on the odd occasion that drunk friend needs a place to crash – then it's comfortable enough.
Design
I find the overall design and look of the Friheten sofa pretty decent for a living room space. The lowered armrest is definitely a plus if you are on the taller side and need more leg room to stretch out.
Hackability
If you're interested in getting a slipcover for your Friheten sofa we offer slipcovers in both configurations and different styles.
Find custom slipcovers for your Friheten here!
If you want a sofa bed that is different and will definitely be a statement piece in your living space, I'd say check out the new Flottebo sofa bed.
Value for money
This unique sleeper sofa's price tag is US$799 and it also comes with the option of an added side table for US$829. If you plan on working or perhaps having snacks on this, I say yes to getting the side table!
Comfort
The cushion on this sleeper sofa is thick, which makes it a firm but comfortable to lay down on. However, I found that there is not enough back support to sit up straight. It's definitely more of a bed than a sofa.
Design
The Flottebo's design is unique and untraditional, unlike the majority of IKEA's other sofa beds. In my opinion, this sleeper sofa would be a very cool addition to the right modern living space. It also lifts up for storage space which is perfect to store pillows and extra bedding.
Hackability
The positions of the back-pads can be moved around and adjusted. Ikea offers lamps and armrest tables to accompany this model. If you're not a fan of the original bright green cover, we have over 70 fabrics to choose from for your Flottebo Sofa Bed Cover.
Find custom slipcovers for your Flottebo here!
The Vimle joined the IKEA's sofa family a few years ago, and soon rose in the ranks to become one of its more popular models. (If you're based in the US, the Vimle has been discontinued but replaced with the nearly identical Finnala.) With its square arms and neutral, versatile aesthetic, the Vimle is perhaps not the most exciting sofa to look at, but it gets the job done.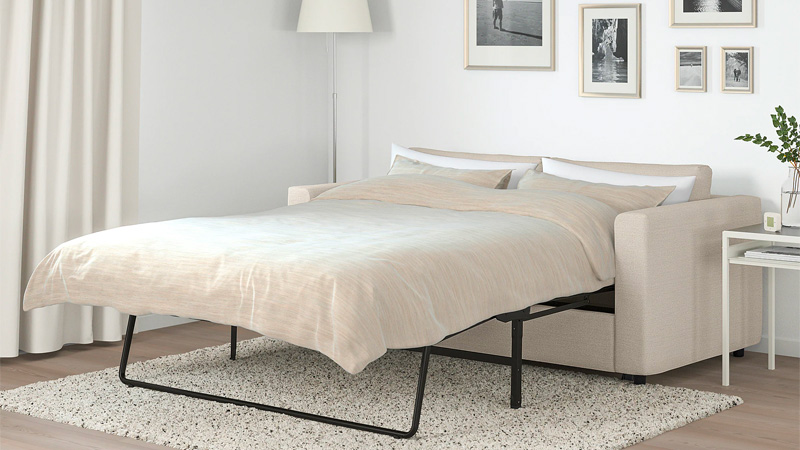 Value for money
The Vimle comes in at GBP950 (or US$1249 for the Finnala) for the two-seater sleeper sofa, which definitely puts it in at the higher end of IKEA sofa beds.
This comfortable sofa has pocket spring seat cushions with high resilience foam and a top layer of wadding.
Comfort
The Vimle is a solid sofa, and we mean that in the best way possible. A combination of pocket spring seats, high resilience foam and a top layer of wadding make this a very comfortable sit when it's in sofa mode. And when it's in sofa bed mode, a 12cm thick mattress makes for a pretty decent night's sleep.
Design
It has to be said that the Vimle will not set your heart racing on first sight. But it is a classic in the modern style, with slim, square arms and a robust geometric appeal.
Hackability
There is a lot of customisation available for the Vimle. IKEA themselves offer it as part of a sectional, so you can combine different modules and elements until you hit on the perfect combination for your home. There's even a headrest you can add onto the sofa for extra neck and back support. It's available in six different neutral shades on IKEA, but you can completely change up the look and feel of your Vimle sofa bed with bespoke slipcovers.
Find custom slipcovers for your Vimle sofa bed here!
The first on our list is one of our personal favourites due to its multiple functions: the discontinued IKEA Fagelbo.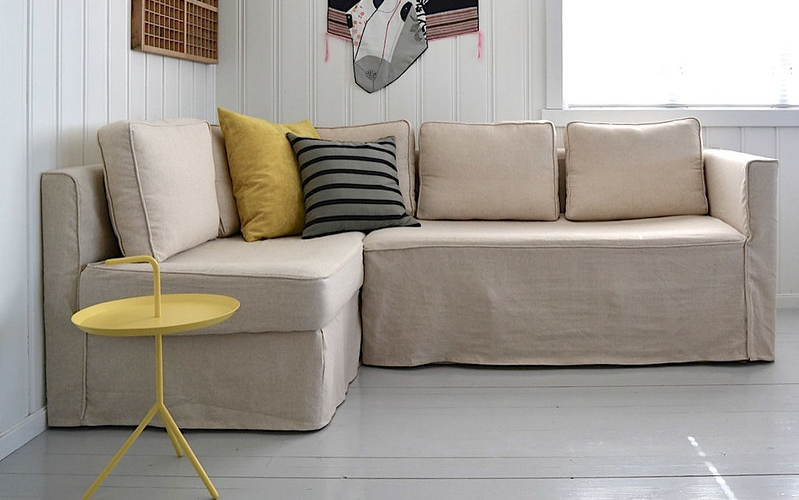 Value for money
This sofa bed definitely packs a lot of punch – it's a sectional sofa, a bed and a storage unit. Unsurprisingly, this was on the pricier end of IKEA at USD$899 (in 2021). Now, the Fagelbo is a rare gem that can only be found at secondhand places since it's a discontinued IKEA sofa model!
Comfort
Comfort is all too important when it comes to a sofa bed and in my opinion, the Fagelbo is fairly comfortable. The seat cushions also act as the mattress and many owners would agree that you can actually get an extremely good night's rest.
Design
The Fagelbo is an efficient use of space but it's also quite boxy and big. When you convert the sofa into a bed it ends up being somewhere in between a full and queen-sized mattress. So it's a struggle to put a nice looking fitted sheet on the mattress.
Hackability
The original IKEA Fagelbo did not come with a slipcover, but we put in the work and have created the perfect fitting slipcover for the Fagelbo. We even have a slipcover for the hidden bed compartment!
Find custom slipcovers for your Fagelbo here!
This is the perfect sofa bed if you're on a tight budget or you just would like a simple no-fuss function of reclining. Perfect to put in an office space or a game room in the house. (IKEA has now discontinued the Beddinge.)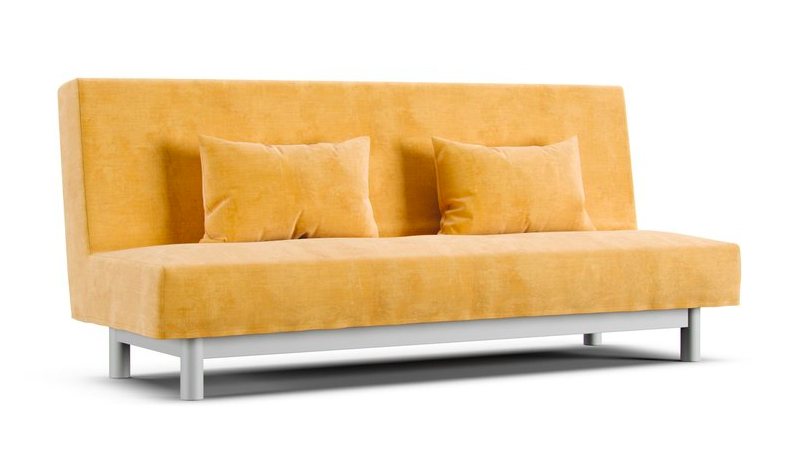 Value for money
The price tag on this was US$280 (in 2021), which puts this bad boy as a steal in our books. It's definitely the right choice if you are after a sofa bed that functions super well as a simple bed and a simpler sofa.
Comfort
The mattress quality of the Beddinge is pretty good and you can definitely get a good night's rest on this one. The only downside is because of its futon design, there are no armrests and this for me makes it uncomfortable as a sofa.
Design
Design-wise, it's not the best looking piece of furniture and is definitely not a statement piece. I'm also not the biggest fan of the reclining function that makes it feel a little bit like a hotel's rollaway bed. It's very easy to use sofa bed function though.
Hackability
Even though it's not the prettiest sofa beds, you can definitely spruce it up with some Beddinge slipcovers. Can you imagine how a velvet slipcover will completely transform this sofa bed?
Find custom slipcovers for your Beddinge here!
Bonus content: The IKEA Sofa Bed you should avoid!
Sure, IKEA has a lot of stylish, modern and comfortable sofa beds. But there are also some you should definitely stay away from.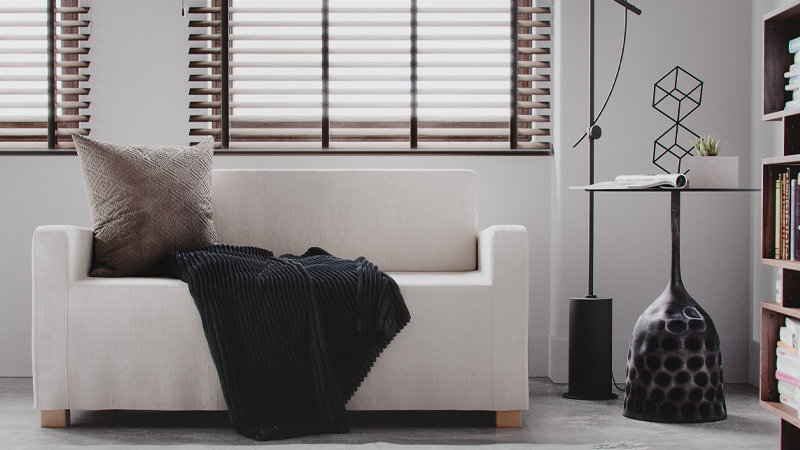 The Solsta looks cute and is small enough to fit in your spare room. Plus, it is easily the cheapest sofa bed at IKEA – but don't be fooled by its affordable price tag. While the Solsta is fine when it's in sofa mode, it's terrible as a bed.
Sleeping on the Solsta is like sleeping on a plank of wood – literally. When you fold the cushions out to use the bed, it's two-thirds cushions and the other third of your body is laying on the wooden frame.
(One positive about the Solsta is that it is somewhat slipcoverable. Although it won't give you a good night's sleep, you can still turn it into a stylish waiting room sofa.)
Verdict
We're not going to lie and say that you'll have the best night's sleep on an IKEA sofa bed. But there are some really nice ones on the market, which are perfect for a guest room or office space. If you have a guest that stays over often, I recommend getting a memory foam mattress topper to improve the overall comfort.
If you'd like a new look for your sofa bed, we make custom slipcovers for a huge range of IKEA sofa beds (including all the models mentioned in this article!)
Want to find out how our slipcovers look and feel in person? You can order up to eight fabric samples for free!