It's a new year and although we won't be getting any IKEA Catalogues from 2022 onwards, we are still continuously inspired by IKEA's digital brochures and never-ending trendy looks, just like how we're here to guide you on our 10 best IKEA sofas this 2022!
To help us narrow down our top picks for this year, we focused on these criteria in our IKEA sofa reviews:
Popularity: How long has it been on the market?
Variety: How many sizes and styles are there to choose from? How does it fit in different rooms and spaces?
Aesthetics: How pretty is it?
Comfort:

Which is the most comfortable Ikea sofa?
(Dishonourable mention: the Knopparp "sofa". A little fabric on a frame does not make a sofa. Even an outdoor lounge chair has more integrity this metal monster.)
TABLE OF CONTENTS
1.Äpplaryd
2.Grönlid
3.Farlov
4.Stockholm
5.Kivik
6.Söderhamn
7.Landskrona
8.Ektorp
9.Friheten
10.Vimle
If you prefer watching a video, take a look at our "10 Best IKEA Sofas Of The Year [2022 Edition]" here:
10. Äpplaryd
The stylish Äpplaryd comes in several variants, colours and fabric material. This sofa does not only look chic in all of its colours, but is also comfortable enough to be sat on for long hours. It's poofy and bouncy cushions make it nice for you to plop down anytime. And if you're feeling tired, rest your head on the pillow-like armrest and wander into dreamland.
With a width of 167cm, the loveseat is pretty spacious for 2 people. There's also the 3-seater and 4-seater with chaise lounge that are as wide as 198cm and 273cm respectively.
The IKEA Äpplaryd comes in suave grey/black and light grey colours, with a material made of cotton, polyester and viscose/rayon. It also comes in classy velvet dark blue and velvet red/brown, which gives any space a touch of personality and sophistication.
Status: Available!
Read the full Äpplaryd sofa review.
9. Grönlid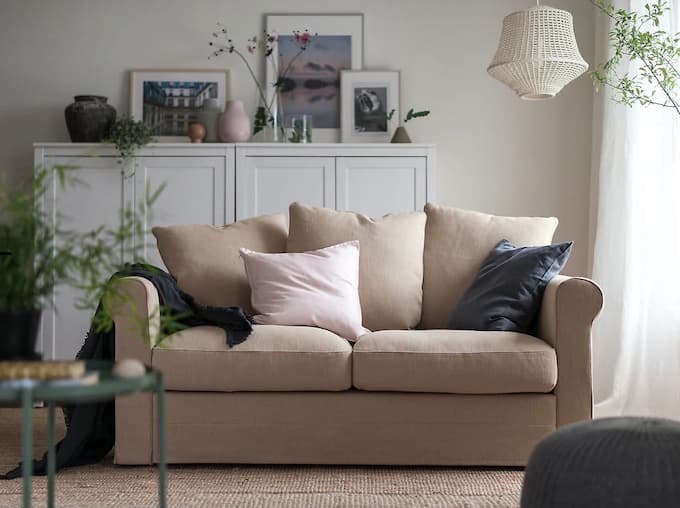 The Grönlid is all about comfort. It sports thick, overstuffed cushions that make you feel like you're sitting on square clouds. Thankfully, they are also very supportive to prevent you from being sucked into the couch.
Mixers and matchers would be pleased to hear that the Gronlid has all the footstools, corners, and lounges needed to really grow the sofa. Though it's size and clunkiness takes up space rather fast.
Compared to its direct rival, the Ektorp, the Grönlid's deeper seating is well welcomed for a more relaxed sitting session. It goes well with the cushy cushions and makes the Grönlid one of the ultimates in IKEA comfort.
Despite coming in ninth place in this list, we're still big fans of the Grönlid for how comfy it is, though IKEA US was apparently not as much of a fan as we were. It's been slightly "adjusted" into a newer model called the Harlanda to better accommodate the western market but the good news is that the Grönlid still remains available pretty much everywhere else.
Status: Replaced by Harlanda in the US. Available elsewhere!
Read the full IKEA Grönlid sofa review.
8. Farlov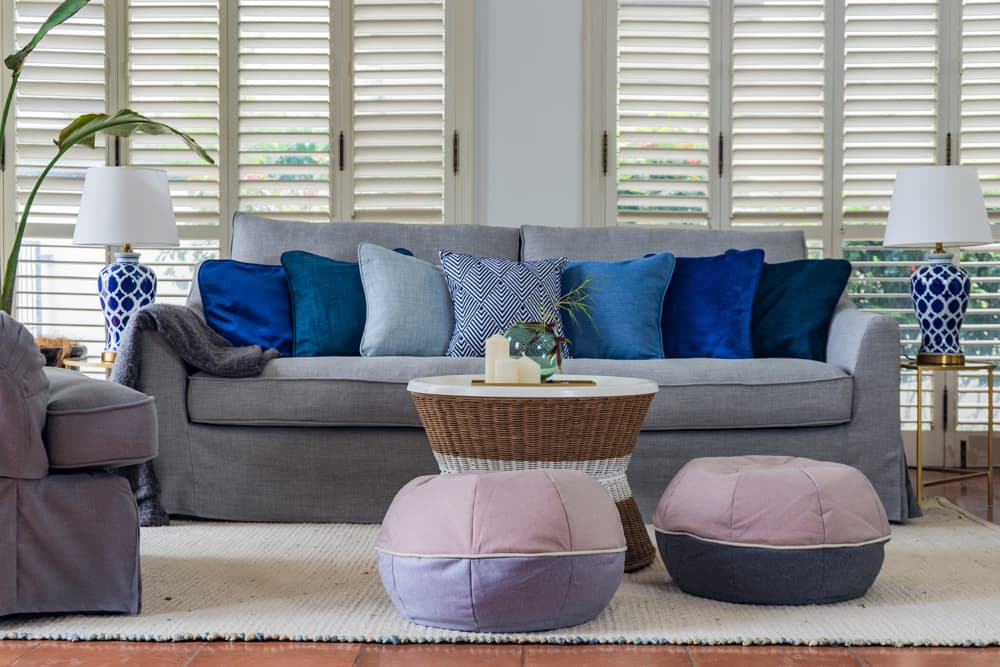 Elegant and fancy-looking, the Farlov's design isn't what you'd be expecting when walking into an IKEA showroom. Low banana-shaped armrests with generously sized cushions give it a classy yet traditional feel rivalling the looks of some of IKEA's more upmarket competitors.
The series has a few variants – loveseat, 3-seater, sofa bed and armchair. Deep seating with plush cushions make it very appealing to lounge and sprawl out on. Furthermore, the lumbar cushions help support the back when more upright seating is wanted and can even be propped on the low-sloped armrests for great nap times.
Its yarn-dyed fabric (white) and velvet fabric (olive green and dark grey) are good additions to a simple interior design.
Status: Available!
Read the full IKEA Farlov sofa review.
7. Stockholm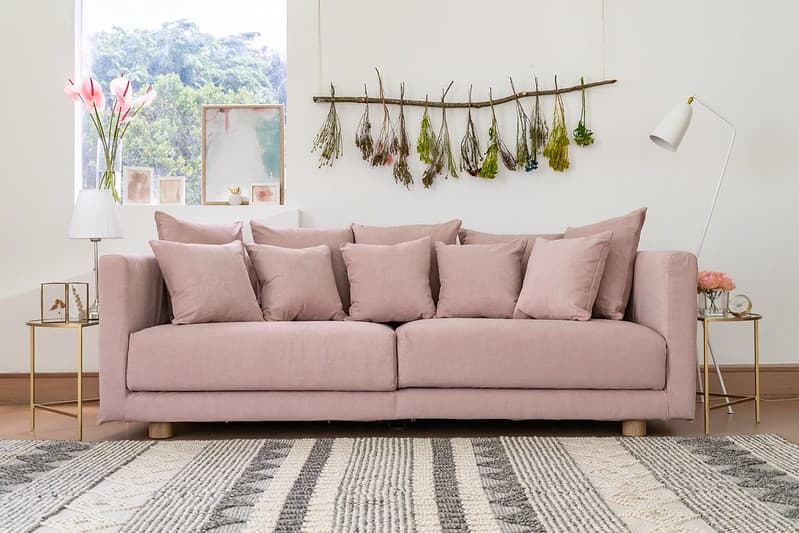 Coming in at seventh place is this stunning sofa from IKEA's Stockholm collection. Specifically, the Stockholm 2017 version. It looks absolutely beautiful with its contemporary style that visually conveys comfort.
As the IKEA sofa with the deepest seating depth, the Stockholm is practically made for lounging (but not great for those who prefer more upright seating).
It comes with original velvet slipcovers in dark blue and dark grey, which offers a look of comfort and masculinity to the room. That's not all – the Stockholm also has aniline leather covers in dark brown and "natural", a beautiful orange-brown that adds a pop of colour and luxury to your living space.
Read the full IKEA Stockholm sofa review.
6. Kivik
We love the Kivik in all its various incarnations. It used to score higher in our IKEA sofa reviews, but recently we've found that the seat cushions have been updated to be a lot firmer.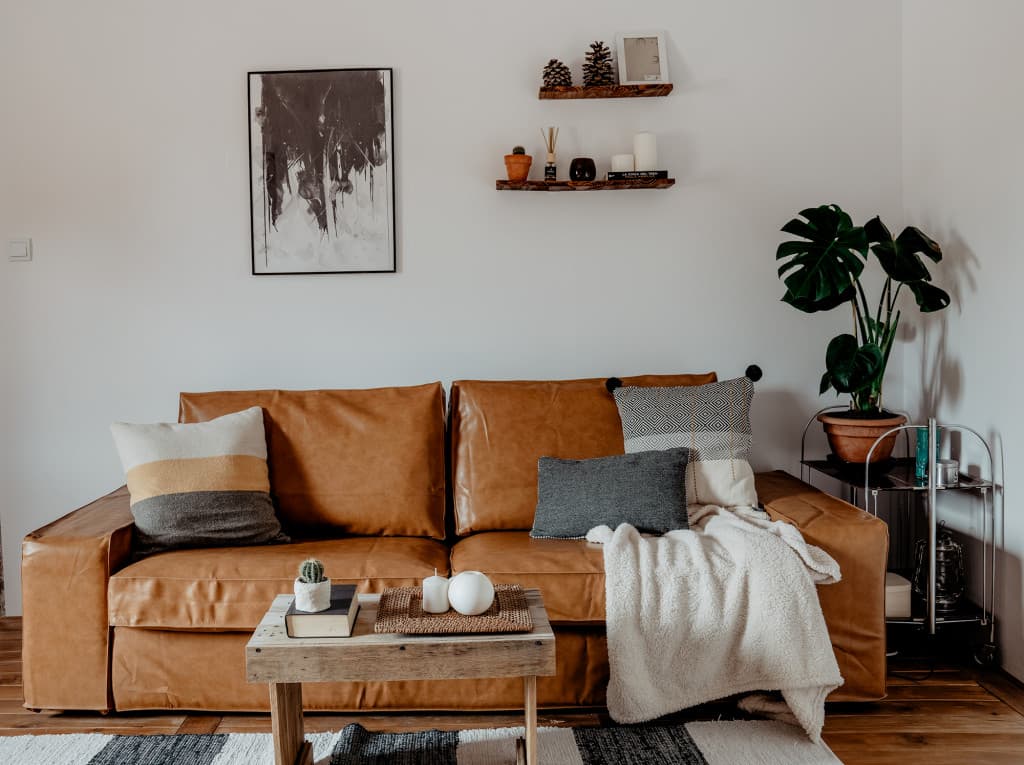 Subjectively, we're not big fans of the comfort – which is why it's dropped in the rankings.
Comfort aside, it's a pretty and practical sofa: wide with deep seating, and a modular configuration so you can switch up your look whenever you want.
Washable slipcovers make keeping it clean easy, and the wide armrests balance out the look. You can even sit on the armrests in case you run out of seating space.
Status: Available!
Read the full IKEA Kivik sofa review.

5. Söderhamn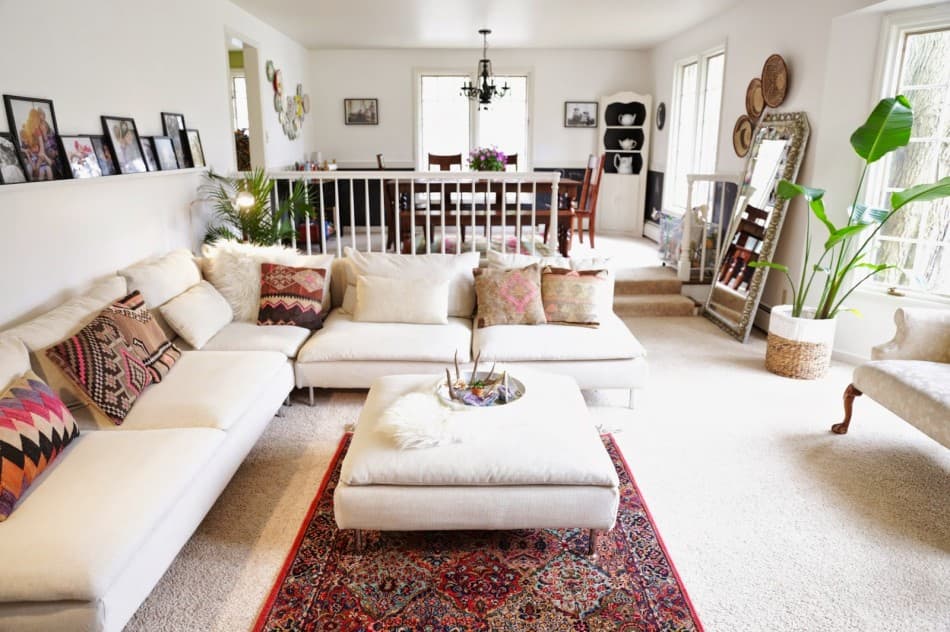 We've written about the Söderhamn quite a bit on our Söderhamn resource page and IKEA sofa reviews, and we've even hacked it to resemble a designer piece.
This collection is modular, so you can just go with the regular 3-seater (armrests optional) and build up to a larger sectional if you have a big space. With just the chair/one-seat, sofa, corner and chaise pieces, you can mix and match to build the sectional of your dreams in your space.
It certainly comes close to being one of the most comfortable IKEA sofas (by comfortable we also mean "sleep-inducing"), that's why it's earned its spot in our 10 Best IKEA Sofas In 2022. It's a lot more suitable for a casual family room rather than a formal living room due to its deep seating depth and low height, but a major plus point for this range is how it looks – quite a departure from the traditional sofa styles we see from IKEA.
Status: Available!
Read the full IKEA Söderhamn sofa review.
4. Landskrona
As the couch that ended the Karlstad in 2015, the Landskrona had big shoes to fill. We say it did a pretty good job at it too!
While not as affordable as the Karlstad, one look at this couch will let you know it conveys some visual punch – especially in golden brown leather. A clean silhouette with sharp lines and beautiful tufted cushions seal the deal as one of IKEA's classiest couches.
With comfort on par and an included chaise to sink into for nap time, it's easy to see why the Landskrona has won the hearts of so many IKEA fans – us included.
Those looking for the Landskrona in the US will find it better known as the Morabo, which has ever so slightly different dimensions but is practically the same thing.
Status: Replaced by Morabo in the US. Available elsewhere!
Read the full IKEA Landskrona sofa review.
3. Ektorp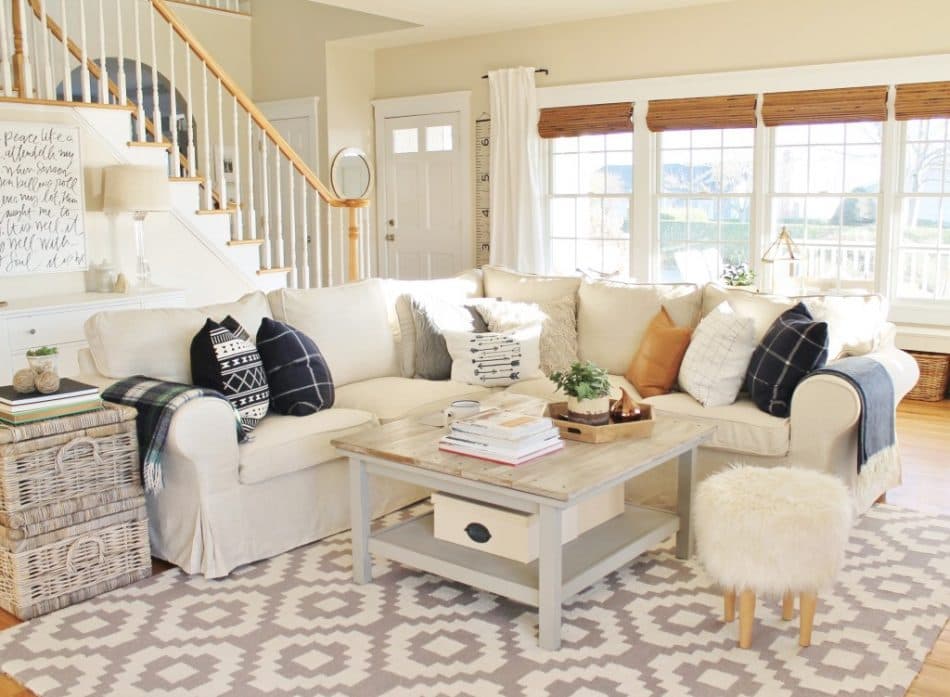 Where do we begin with IKEA's cult favourite? The classic round armed design makes the Ektorp a hit among those who want a traditional style, and it's clearly popular with the relaxed, modern farmhouse homes.
The slipcovered style with the long skirt and corner pleats play a big part in how the sofa is perceived as a more classic sofa, but once upon a time IKEA did sell leather Ektorps, complete with exposed legs and a skirtless, upholstered look.
We've also hacked the Ektorp, and aside from its timeless style and versatility, the comfort factor puts the Ektorp amongst the top for most comfortable IKEA sofas out there.
Status: Replaced by Uppland in the US. Available elsewhere.
Read the full IKEA Ektorp sofa review.
2. Friheten
After the massively popular Manstad sofa bed was discontinued, a few models with similar mechanisms rose up to fill the void in our hearts. The one that has lasted through the years and came out on top was the Friheten, an L-shaped sofa bed with storage under the chaise and a hidden bed compartment.
Even though it's not the most comfortable IKEA sofa, it definitely earns its points for its versatility as a sectional sofa, the roomy storage compartment, and the pull-out bed that can transform your sofa into a double bed for guests.
The Friheten series consists of a 3-seat sofa bed (sans chaise and storage), corner-sofa bed with storage and armchair.
Status: Available!
Read our IKEA Friheten sofa bed review to know more.
Find custom slipcovers for your Friheten here!
1. Vimle
The Vimle deserves top spot on the 10 Best IKEA Sofas list for many good reasons.
Firstly it looks great. There's a good reason why square arm sofas do well – the look is timeless and never gets old, so it works well for almost any living space.
A quick test of this sofa will make you realise it's super comfy (not as comfy as the reviewed Gronlid sofa but very close). The frames are exactly the same, only the arms (and seemingly cushions) are different.
To top it off, it's very practical because the ottoman and chaise come with storage AND each part can be easily combined together to form a giant sectional, just like the Norsborg. You can even get it as a sofa bed or expand it with a sofa bed module. Talk about functional.
What's there not to love about the Vimle? It can do everything!
Status: Replaced by Finnala in the US. Available elsewhere!
Read the full IKEA Vimle sofa review.
Do you own any of our 10 best IKEA sofas? Let us know in the comments!
If you've fallen in love with one of these sofas, but hate the colour selections it comes in, pro tip: you can buy IKEA sofas un-slipcovered. Pick up a naked sofa, then get a custom slipcover made in your choice of fabric for the ultimate personalised sofa.