The best sectional sofas of 2022 and how to pick them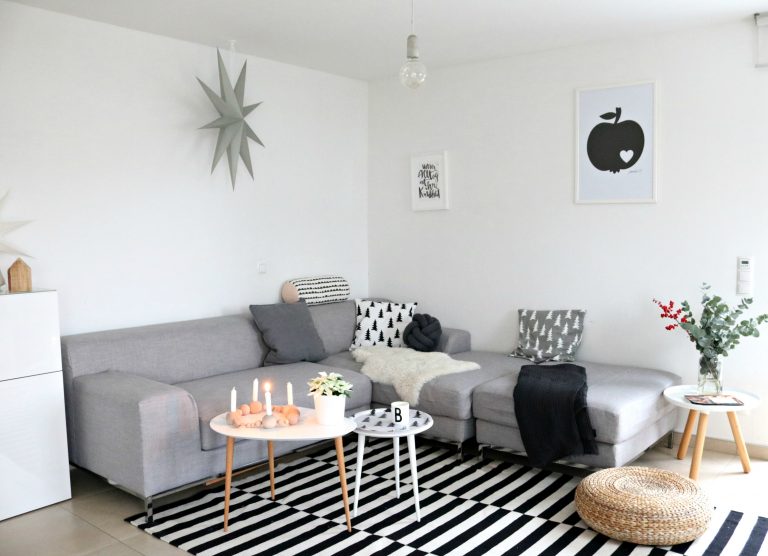 Need extra storage space? They can also do that.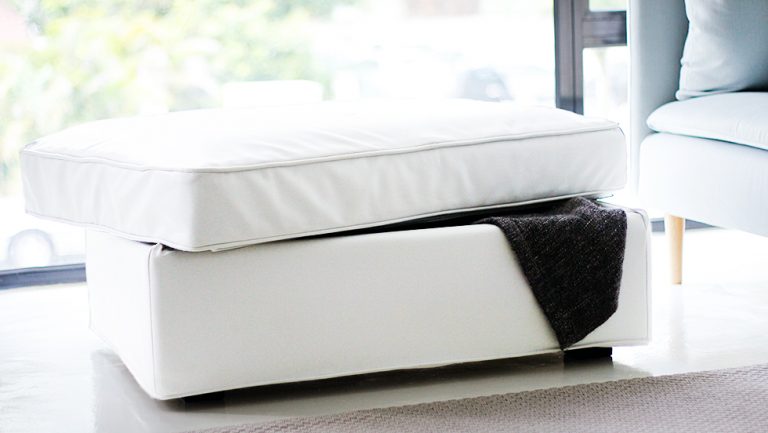 Need a makeshift armchair or coffee table? Just bring out the corner unit or footstool.
How much are they?
One of the biggest appeals of sectionals is the fact that many of them are modular sofas. This means that you buy the pieces as needed to achieve your desired outcome.

In turn, this generally means that the bigger the sofa, the more expensive it is.

The stock form of the majority of sectional couches will come in a three-seater configuration with a chaise.

Like this:
Good budget sectionals in this configuration typically range from $800 onwards, while more upscale brands sell these for $3000+.

And that's without the extra parts you may want to build your dream couch with. These also don't come cheap.

But there are various ways in ensuring that you combine the pieces in the most efficient way to reduce the cost. We'll get into that in the next section.


Building the sofa: How to avoid a headache
Sectionals are complicated, and the increased customisability sometimes just adds to the headache. It's the paradox of choice.
The first thing to know is that only modular sectionals can be built upon. Lots of sectionals come in standard configurations with no additional modules available to purchase.
If you want to build your dream couch, it needs to be modular.
Here's what you need to know to look out for.

Picking the shape
If you're already looking at sectionals, there's a good chance that you already have an idea of what you may want.
For anyone on the fence however, here's whats up:
Some of the most popular configurations for this type of sofa are L-shaped and U-shaped.
L-shaped sectionals are very flexible and can be used as a divide between the rest of the room and the seating area. This works wonders for creating a cosy and private corner for social events and family time.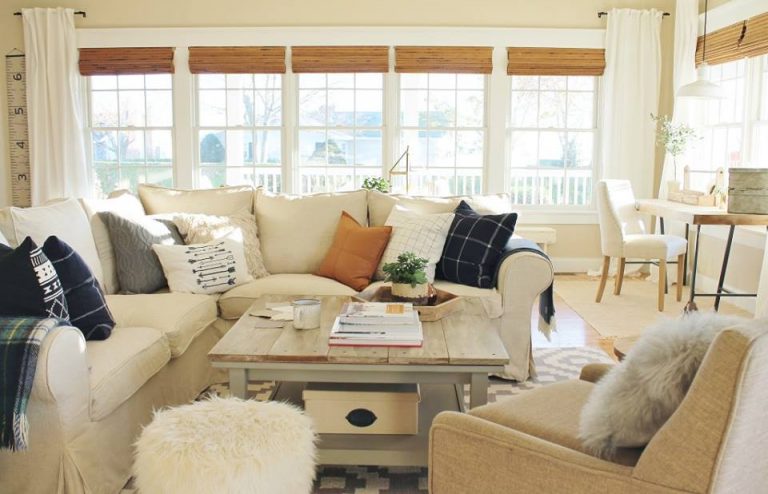 They also excel at making rooms more spacious, creating more space for other items and decor. Simply fill in the corners with it and revel in that sweet room real estate.

U-shaped sectionals on the other hand are great at filling in space.


They are wonderful for large families and frequent hosts with scores of guests as the "U-shape" design carves out an area for socialising, movie-watching and games.
So what's next?
Picture it in your room
When it comes to sectionals. Picturing the finished product in your room is important.
And here's why.
There's a big difference between these two images: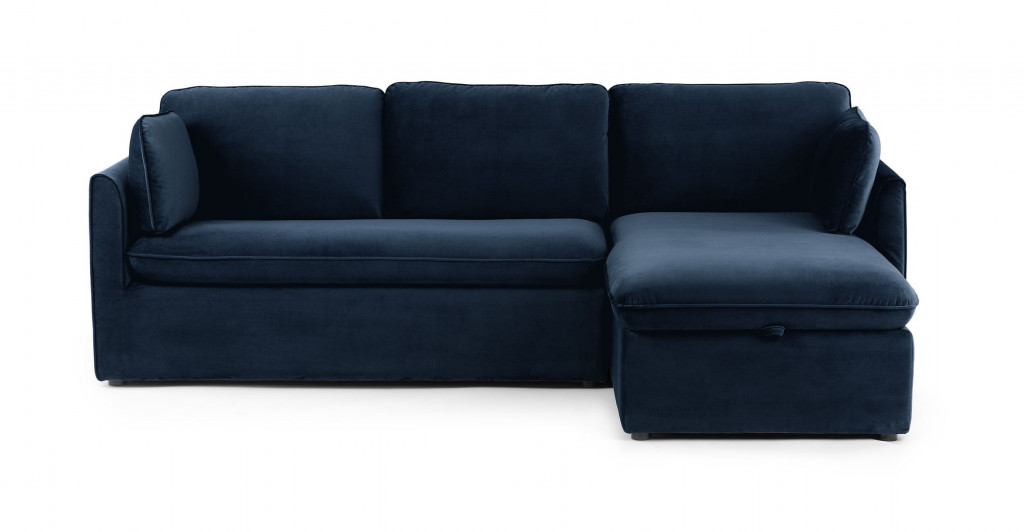 The difference here is that the first picture is constructed of a right arm facing loveseat, with a left arm facing chaise.
The second picture is the opposite. A left arm facing loveseat with a right arm facing chaise.
If this sounds like mumbo jumbo, the important take-away here is that the sofa arms are a huge consideration, as they will determine what and how you can build from there.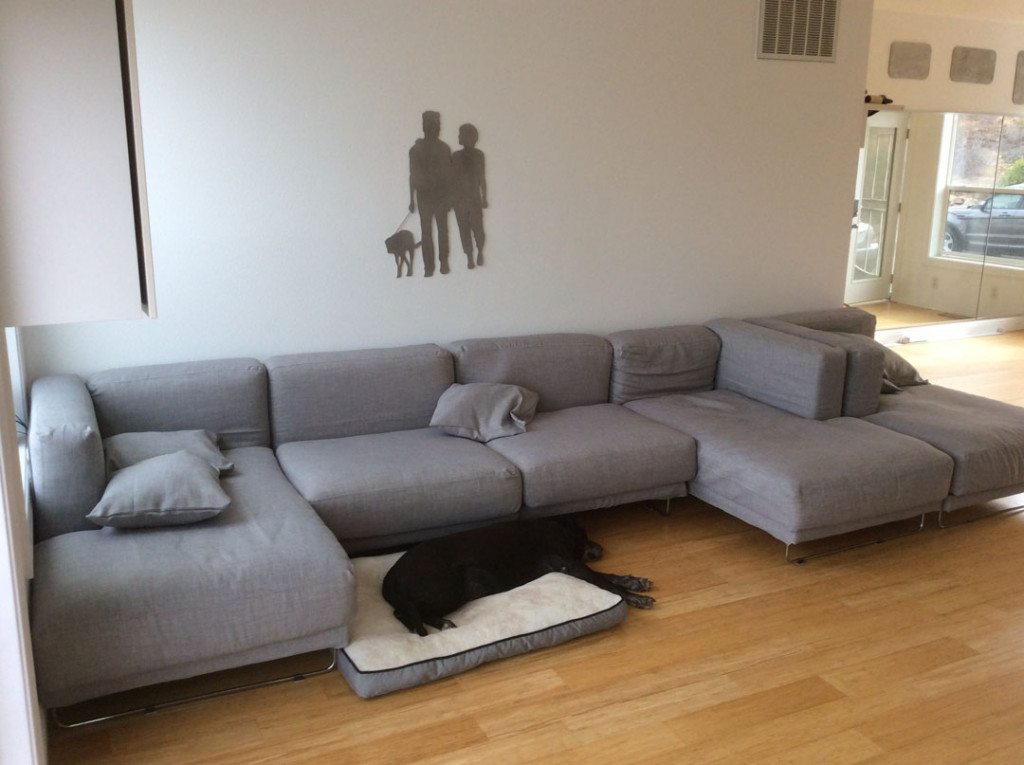 Remember: You are restricted to what modules you can attach to the sofa wherever there is an arm.
Which is why some brave folk pick armless sectionals. They can fit just about anywhere and in almost any configuration. (Though, while the flexibility is wonderful, the thought of not having an armrest would make some of us squirm.)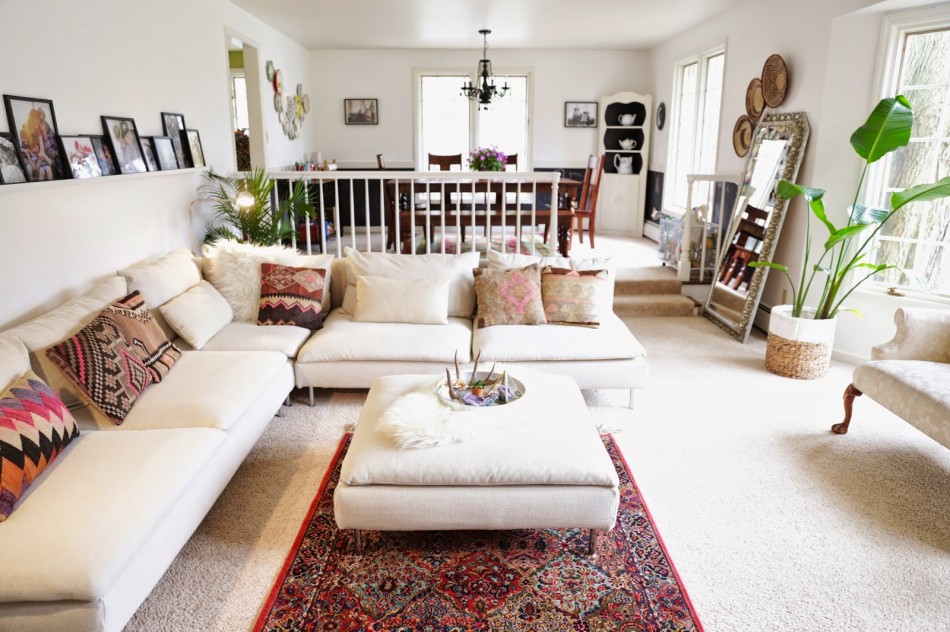 Choosing the parts
Figured out where to put your sectional and how you want it to look?
Great. Now it's time to choose the parts to construct it. While there are already hosts of ready-to-order configurations, you may want to customize it to your exact taste.
Here's what you need to think of:
Using as few parts as possible
If you've ever shopped around for mattresses, you'll know that ordering two single units is more expensive than one queen-sized. It's the same when it comes to sectional couches. The fewer parts used in the configuration, the cheaper.
Look at these two photos:
One is constructed with a corner unit with two loveseats (three parts).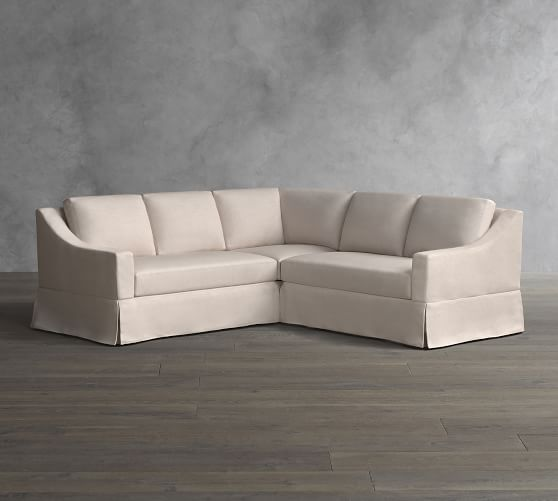 And the other is made of a loveseat and a 3-seater sofa (two parts).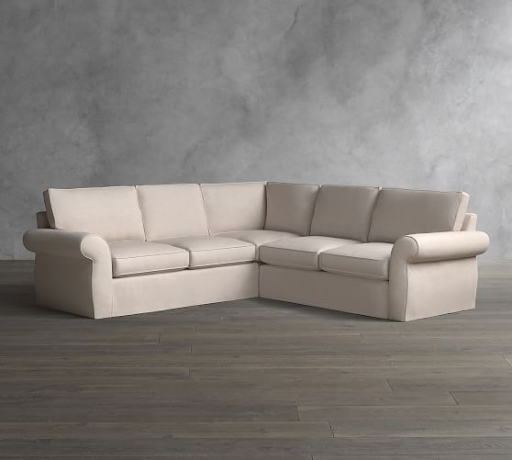 Generally, the three piece sectional would cost more. So unless you specifically want the corner unit (perhaps as a means to pull it out as an armchair), it would be best to go for the cheaper option.
Parts, parts, parts
Chaises
Wanna know what people go crazy for? Sectionals with a chaise. Chaise sofas are a dream come true for hosts and nappers alike! Need a bed for a guest or just need to sprawl out after work? These have got you covered.
The best thing is, many sectionals already come with a chaise in the standard configuration.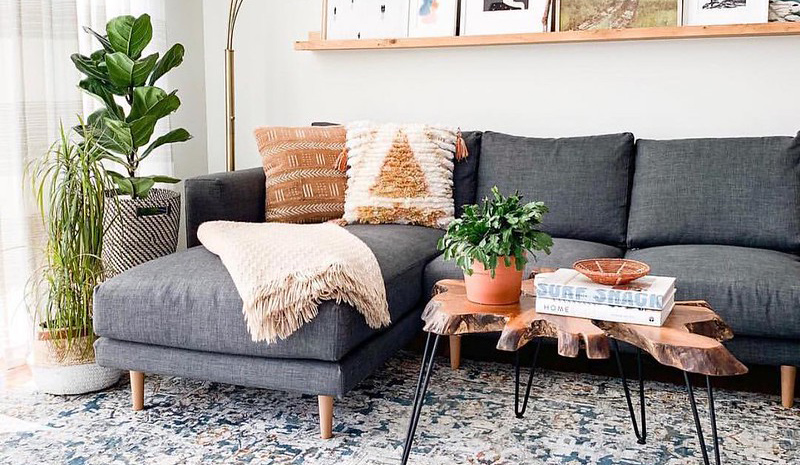 Ottomans
Need something more versatile than the chaise module but want to achieve a similar effect? Try attaching an ottoman (footstool) to extend the sofa.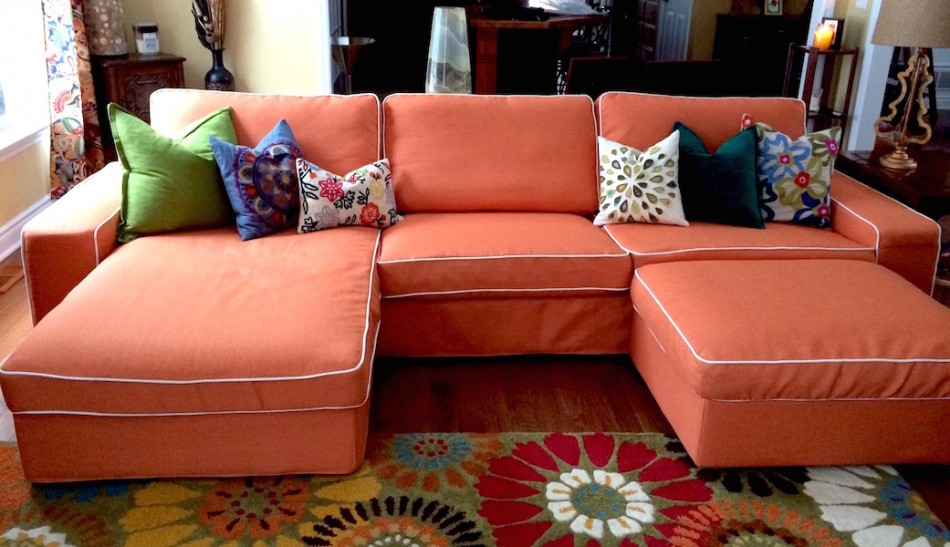 Did we mention you can get footstools and chaises with built in storage?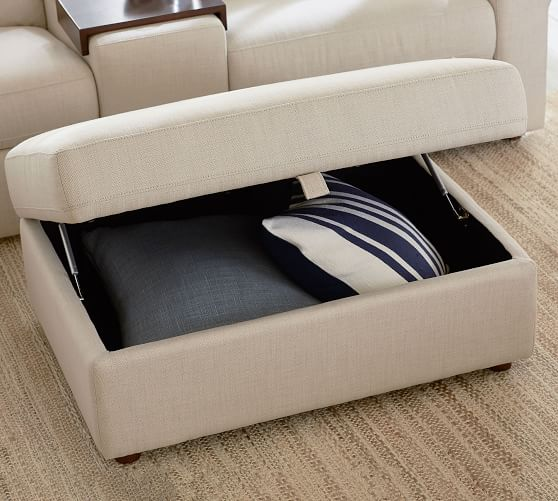 In fact, some sectionals are designed to maximize storage space. Talk about functional furniture.
Corners
What about corner units? Naturally, they are very important in extending the sofa.
When it comes to corners, remember that most of them come box-shaped. This leaves little room for the legs and isn't really a fully functional seat.
The boxed corner is handy for giving the sectional an angular and classic "L" appearance and is great for sectionals intended to fit snugly into the corner of a room.
The rounded corner on the other hand provides more seating and is a great solution for rooms without much space to work with. They aren't very common though.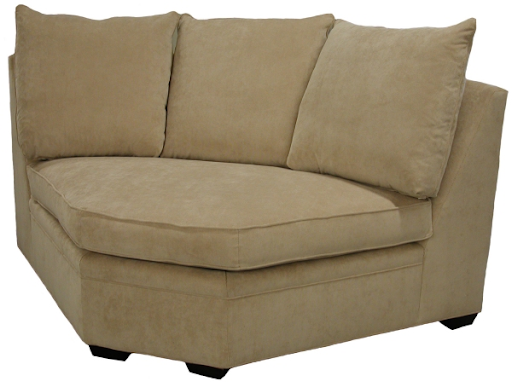 Sofa beds
Wish you had extra accommodation in your house but don't have the space? Just pop open the sofa bed and you've got an extra room.
This module isn't very common but is useful to turn your sectional into a full-fledged sofa bed. They also have the added benefit of being discreet, tucked away without a trace into the sofa.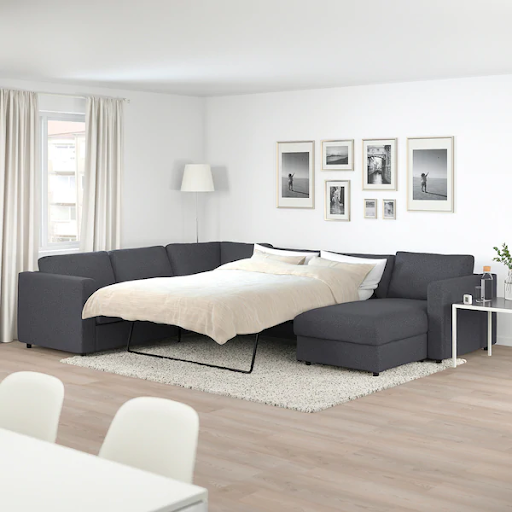 Recliners
Quality recliner sectionals aren't easy to get right. They are also much less common than the standard configurations. Yet, they are gaining popularity for reasons, and it's not hard to see why.
Doesn't that look inviting to sit on? Some are even electric powered for some over the top extravagance. Powered variants are especially great for the elderly.
Got all that? Great! You are now informed enough to choose a sectional.
Just remember to read through this again and measure the floorspace you have to work with before making a final decision. Remember sectionals, especially the large ones, are a nightmare to move. The sectional configuration must also be able to work in the destination you're planning to move to.
With that out of the way, we are officially done with the technical stuff. Here come some of the best sectionals you can buy in 2022.
Best sectionals you can buy right now for any living room
Here's our list of the best sectionals you can get right now – broken down by category.
The list puts huge emphasis on the "overall package" you can get for the price. Value for money, comfort, construction, durability and user experiences are leading factors. (So don't be surprised that grand sectionals in the $5000 and above range don't make the final cut.)
Best Overall Sectional: Vimle

Best IKEA Sectional: Ektorp

Best Small Sectional: Rivet

Best Cheap Sectional: Honbay

Best Large Sectional: Lounge II

Best Leather Sectional: Sven

Best Sectional Couch Covers to customise and renew your sofa
Note: The Vimle has been replaced by the Finnala in IKEA US but they are almost identical.


It's no secret that we love IKEA products. In fact, we make products to hack their sofas.
They are affordable, of good quality, and easy to buy. The Vimle is no exception.
We even have a full review written on it.
In summary:
The Vimle is by no means the ultimate sofa. Then why is the Vimle our pick for best overall sectional?
Because it's so good at being a sectional.
The Vimle has a huge selection of modules to grow it exactly how you want. Sofa beds, chaises, corner seats, headrests, armrests, ottomans, etc.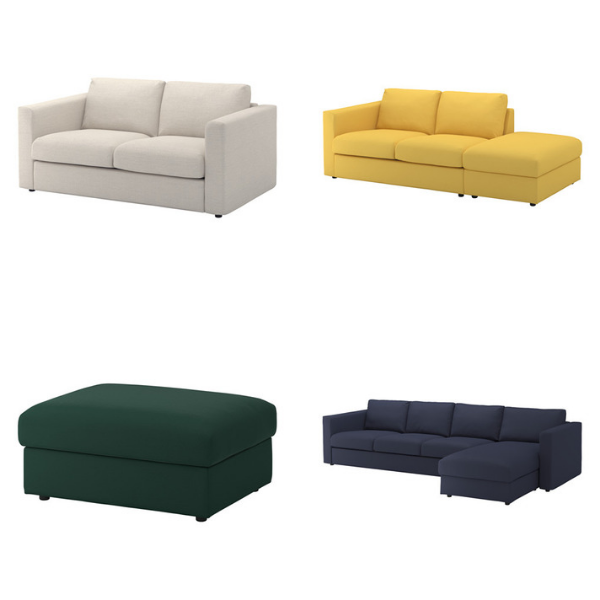 You get it, the sofa is extremely versatile.
Did I mention the chaise module and ottoman come with storage space? There's also a really neat hidden sofa bed module for all your guest needs. Who even designed this thing? It's like an all-in-one Swiss army knife sofa. It's so functional.
Heck, even the couch covers can be swapped out and washed for easy maintenance. This emphasis on functionality is also reflected in the contemporary design. It's a safe, versatile design that blends with so many looks.
In essence, the Vimle really is a sectional for just about everyone. It's easily available, adaptable, comfortable, well-built, stylish and delivered at the non-exclusive price point that IKEA is known for.
Plus, almost anyone can get their hands on one since it's available in so many countries around the world. And that makes it our best sectional sofa.
After all, it is also one of IKEA's most popular sectionals for a reason.
Find custom slipcovers for your Vimle here!


Update: The Ektorp has been replaced by the Uppland in IKEA US. The Uppland is taller and deeper to accommodate the Western market and is equally inexpensive. It's another a great sectional!
The IKEA Vimle has already taken the spot for the best overall sectional. By default, it is the best IKEA sectional too.
However, this doesn't mean IKEA's other sectionals are lacklustre by any means. Not feeling the Vimle and want more options? Take a look at the IKEA Ektorp.
Like the Vimle, we have a full review of the Ektorp.
Not looking for a whole ton of extra features? Just want a tried-and-tested comfortable sectional without breaking the bank? The IKEA Ektorp is your choice. This couch is possibly IKEA's most successful offering, an international best seller.
Why?
Because in essence, the Ektorp basically has no flavour. It was designed to be the sofa for the mass market.
Is that bad? Of course not. It's built to be a great sofa and that's what it excels in. Unassuming with a very classic round arm sofa look, you'd be surprised that the Ektorp is the ultimate in IKEA comfort.
The highly resilient foam in the cushions are plush with just the right amount of support to prevent that feeling that the couch is eating you. Numerous customer experiences vouch that these cushions hold up over many years of hard use. Surprising quality for a budget couch.
There are also several configurations to choose from. You can find both the three-seater L-shaped sofa and 4-seater corner sofa at prices that are hard to argue with.
Unfortunately, the only downside is the fact that the Ektorp isn't modular and cannot be expanded. It can't be configured either. You won't be playing Tetris with this one. The lack of choice is pretty much the only downfall.
In other words it's the opposite of the Vimle, a supremely safe choice for those who want a sofa (or sectional in this case) without the additional bells & whistles.
It's the perfect classic sofa for those who want something super comfortable and affordable without thinking too much – and it's available in most countries around the globe!

Find custom slipcovers for your Ektorp here!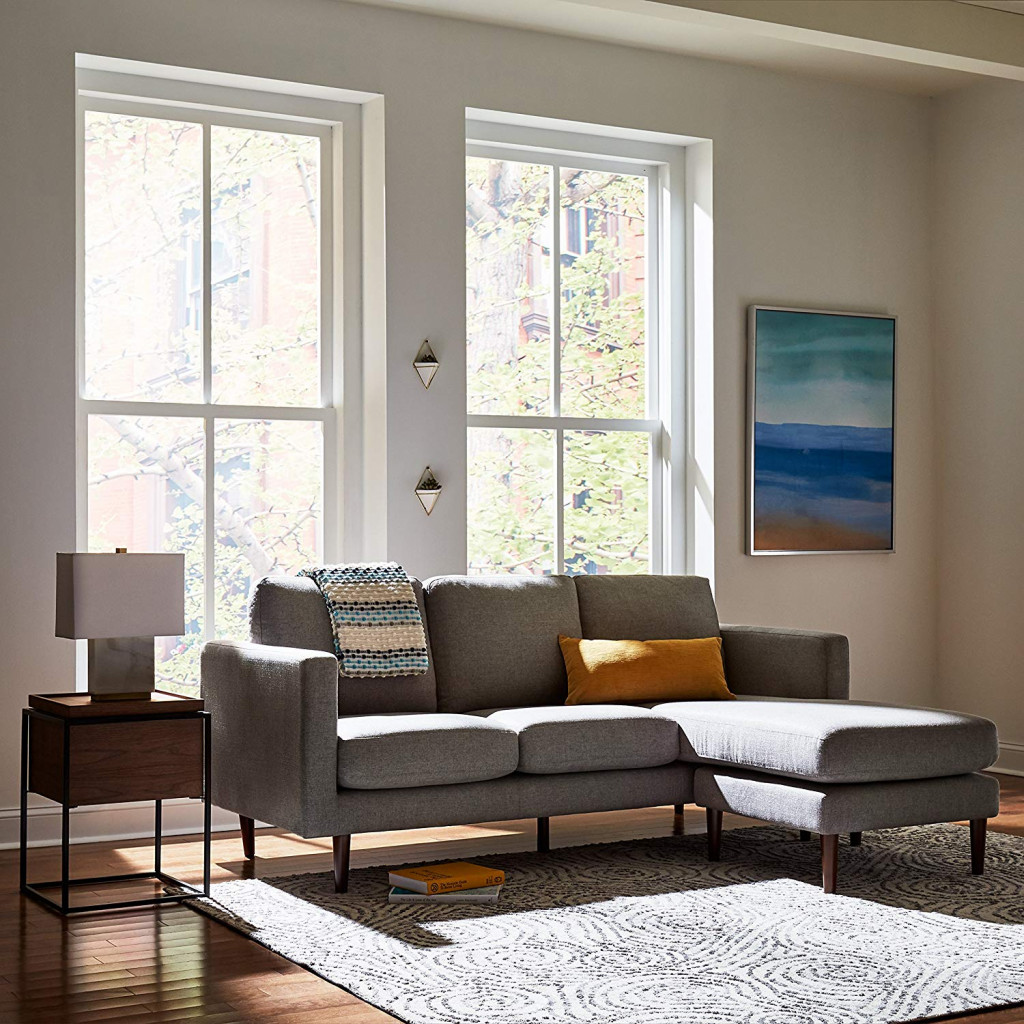 It's 2022 and the era where buying furniture online is commonplace, which is exactly where you'll find the Rivet Revolve Modern Reversible Sectional Chaise Sofa.
A great contender for the perfect "apartment-sized sectional", this sofa makes an interesting addition to the list, being part of Amazon's own upcoming furniture brand.
What makes this great?
Measuring just under 80 inches (203cm), this little couch will fit into just about any living room, no matter how small. Easy to order and boasting a budget-friendliness (roughly $900) that rivals the upper ends of IKEA, the Rivet Revolve's quality you get is quite frankly hard to beat.
For starters, the couch is very comfortable, featuring supportive cushy cushions. They have a medium firmness that you can sink into but still get out of easily. It's also wonderfully built, with a sturdiness that will last for years.
Tie all of that with a mid century-style minimalism and you get a wonderful couch for a small, modern home.
In short, the Rivet Revolve Sectional is almost perfect, putting many of the more established sofa brands to shame for a fraction of the price.
But while this small sectional sofa doesn't have many flaws, it's not for everyone. In an ideal world, the couch would have washable slipcovers to simplify cleaning. This one doesn't so be careful dirtying it or prepare to scrub.
There's also the obvious fact that it's small – you won't be hosting parties on this thing.
On top of that, it is unfortunately not very "moddable", offering no option to grow it according to your needs. This of course may change down the line if Rivet sells more sections to expand their sofa, but right now the only thing you can shift around is the position of the chaise.
All in all, this little apartment sofa is a huge hit, attaining an overall review of 4.4/5 from the hundreds of Amazon buyers.
Of course, ordering furniture without trying it first is always daunting, but hopefully a good enough case has been made to jump in on the Rivet Revolve.


The Lounge II by Crate & Barrel is the best large sectional sofa.
Priced at almost $3450 for the two-piece loveseat sofa and chaise, this couch is certainly not cheap. Does it deserve top spot in this category though?
Yes it does. Here's why:
Branded by Crate & Barrel themselves as "oversized modern seating", the Lounge II delivers on that promise, and more.
The sofa itself is huge and feels it; that's not just because they offer plenty of modules to expand it to whatever size you want.
Despite measuring 124x64x25 inches (315x162x63.5cm), the real secret to how big this couch feels lies in the seating depth. It's much deeper than typical with a depth of 29" (74cm). Yup, if the name of the chair wasn't enough of a giveaway, it's meant to be lounged on. As in, you would be hard pressed to sit normally. In fact, your legs may not even touch the floor. It will make you feel like a kid again.
At this point, it should be mentioned that since this is the best large sectional review, we are talking about the standard Lounge II.
If the prospect of "lounging" doesn't excite you, the good news is that the Lounge II petite has a much shallower seat depth for a more balanced seating experience. And they are both so, so, so comfortable.
That's right, the Lounge II was made specifically to prioritise comfort. It's low, it's deep, it's inviting and it comes with beautiful, thick fabric. All of this on a couch that's already on the softer side with equally soft back cushions make for the ultimate napping couch.
Pile in and sink in, it's great as a makeshift guest bed or for cuddling on movie nights. That's really all there is to say about it.
So, if size-appropriate isn't the word of the day and you don't mind splurging (and waiting) for one of these, then you'll be getting what you pay for. That says a lot given the price is $3,000 and up for fabric versions and over $5,000 for its leather variant (though we recommend a different couch for best leather sectional).
It's an investment. After all, C&B doesn't skimp on the production process and the sofa is made in America from kiln-dried hardwood. That is quality stuff that should hold up for years.
In conclusion, the Lounge II is a safe choice. It's flexible and modern design make it suitable for most homes; it's simply top quality and perfect for a large sectional.
Check out the rave reviews on the site and various blogs or drop into a showroom and see if you like it.

Find custom slipcovers for your Lounge II here!
The best cheap sectional is the Honbay convertible sectional sofa.
Priced incredibly at $420 at the time of writing, it costs almost half of typical entry level sectionals. This price of course is subject to the third party selling price on Amazon so don't be shocked if it fluctuates.
Cushions are on the firmer side but still decently comfortable. They are slipcovered in rather soft fabric and have zippers to remove them for washing, which is a convenient surprise.
Size-wise, the sofa isn't very big at all and is more suited to small living rooms… and people. It can still comfortably sit two, though those more vertically gifted may find the lounge too short for them to fully sprawl out on.
As a sectional, there isn't much to write home about as it isn't modular, though the footstool is movable and the cushions can be removed and shifted about. This means you can position lounge cushion on whichever seat you want on the sofa. They can also be flipped around to hide stains.
Basically this is a very cheap sectional that has really managed to stretch what you get for the dollar.
Make no mistake when reading this, "better than expected" is the word and this is unexpectedly good for what you pay for in the comfort and durability departments. In fact, it's rated quite highly on Amazon.
But there's only so much you can stretch money and it's no competition against other value-for-money monsters that are priced a couple of hundred higher like the Rivet Revolve and IKEA Ektorp (both mentioned earlier in this article).
So if you can afford to pay the extra, those two would be recommended.
Ultimately, if you must have a cheap sectional or want this as a secondary to your existing couch, consider getting the Honbay, it's sturdy enough to last a couple of years without rough use.
Just make sure to read the reviews first to know what you're expecting.


The Sven sofa is amazing.
Mid-century styled and packing some incredible comfort, Article's Sven presence is striking. Deep and inviting, this sectional's one-piece seat cushion is made with just the right firmness and prevents remotes, snacks, (and you if you're taking a nap) from being swallowed up.
The 7(ish) inch down-filled back cushions have a spring to them. They also come with some cylindrical pillows for back support.
What puts this sofa in our top list however, is how well it hits above its price tag. Costlier than IKEA for sure, but justified. It looks as good as many of the upscale brands with longevity that even surpasses some of them. Comfort is on par too.
It does this all while being a couple of hundred cheaper than the "premium brands" which makes it a great choice for a mid-priced sectional sofa in all its variants.
But the leather is what makes the Sven really shine.
It's by no means cheap, but paying $3,299 for a leather sectional sofa in full-grain aniline leather tanned in Italy is a steal. Yes, that is basically the most expensive leather and that kind of premium will cost you a lot of money for a similar thing from established well known brands.
One word of caution is to know exactly what you're getting in to dealing with this kind of leather.
Not a fan of leather sofas? That's fine too. The other variants are also very well received with great workmanship.
Downsides? Well, there are some. Firstly, this set is great all around, but isn't very customisable with little to no choice of buying additional sections to expand the sectional.
Also, being upholstered, this isn't the easiest couch to maintain, which is especially true for the velvet material (though we do create machine washable slipcovers for the Sven).
Stains can fortunately be cleaned almost in entirety with upholstery cleaner. The leather variant is also much easier to manage. But still, you have to question if this is what you want for a household with rambunctious kids or pets.
Additionally, the back cushions for the Sven are debated somewhat as while most find them fine, there are also a handful who think they are too soft. Also, they need to be fluffed pretty occasionally in order to maintain their shape, which feeds into the maintenance aspect.
Ultimately, it comes down to personal preference but if you're particular about this, it might be best to avoid this sofa or find a way to stuff the cushions yourself.
One last "issue" would be the fact that the leather variants may not look as advertised on the site. This is due to them needing time to age and develop their patina. This takes time and is the hallmark of quality leather, but for Svens that don't see much use, it may feel like an eternity. (Consider getting a darker shade in this circumstance.)
Overall, Article has seen some pretty great reviews for their furniture, and the Sven is one of their most popular for good reason.
With an extraordinary return policy, beautiful colors, lots of variants and a non-exclusive price tag, the Sven is our pick for the best leather sectional sofa, as well as the best mid-priced sectional.
Customizing your sofa material and making it last
Sectional or not, the look and feel are crucial in the choice of any sofa.
Found a model you adore but aren't quite ready to pull the trigger?
Matters involving insufficient material or colour choice can be overcome using third-party sectional sofa covers. Tailor made to fit perfectly, we offer more ways to build the sectional exactly according to your preference. We even make bespoke slipcovers for several of the sectionals on this list!
Plus, the slipcovers also have the added benefit of being machine washable for easy maintenance. Use them as an alternate pair of covers when one is being washed, or as a more economical option to extend the life of sofas with damaged and faded covers.
And now you know everything there is to know about choosing sectionals. Happy hunting!
If you're thinking of changing up the look of your sectional sofa, take our fabric samples for a test run to see which suits your home and lifestyle the best. You can order up to eight free fabric samples!