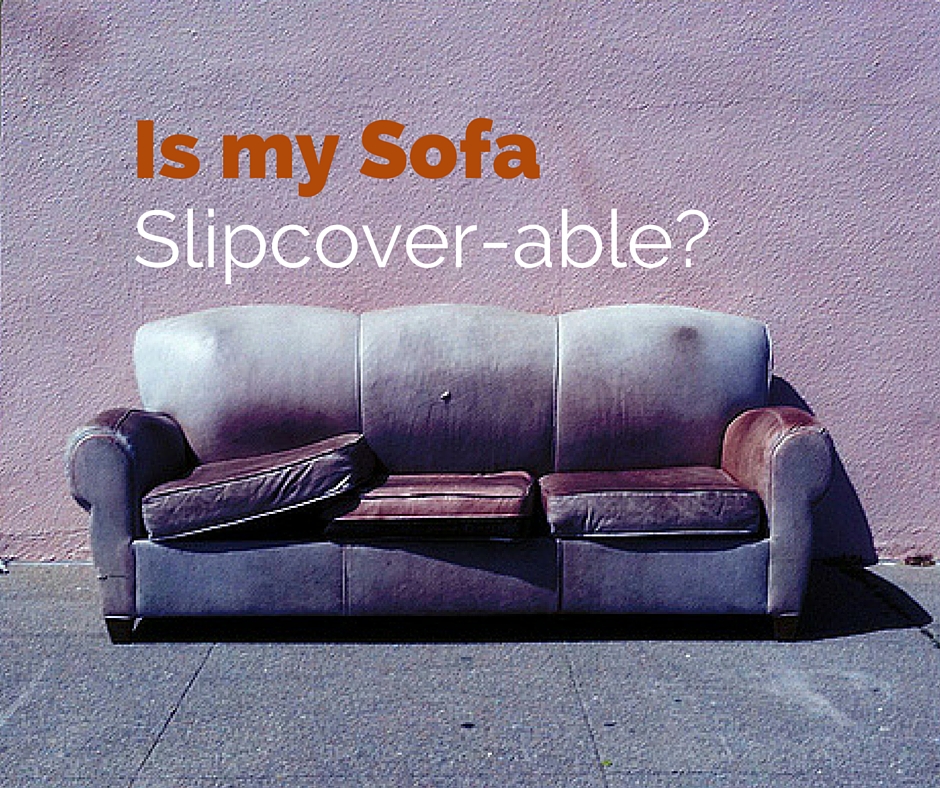 What's the best way to recover a sofa?
So you may or may not have come across the idea of a slipcover after going through several furniture catalogs online, and now it has become a personal mission to find out how and why custom handmade slipcovers can possibly add another few good years to the life of your beloved sofa.
How does a slipcover work? How do I know whether my sofa is slipcover-able? All the cans and cannots will be explained here in this nifty little blogpost.
Types of Slipcovers
There are two main types of slipcovers:
A universal slipcover; usually a one piece stretchable fabric that goes over your entire sofa;
A custom slipcover tailor made to fit your sofa as snugly as possible.
Universal slipcovers usually come in plain, solid colours and are easy to put on. Compared to a custom slipcover, it's much cheaper for obvious reasons. With a universal slipcover you'll notice that it's "stretchy" and it usually comes with an elastic band at the bottom to hold the slipcover in one place and any excess can be tucked away.
It's quite easy to purchase one from sites like eBay, Amazon, Walmart etc or on shelves off TJ Maxx or Marshalls. Because of its flexibility, a loveseat universal slipcover would fit most two seater sofas, despite the differences in armrest and back shapes.
Having said that of course, you pay for what you get as you realise that these universal slipcovers aren't exactly the most attractive things to put in your living space. Oftentimes, they feel thin and slippery as well.
On the other side of the spectrum, a custom slipcover could come in several individual pieces (depending on the sofa). It has a neat and precise form, made of real substantial sofa fabric and an overall look that will more or less turn out like the above example. And yes that is indeed an IKEA Ektorp with in one of our signature pure linen sofa covers.
If you want a custom slipcover for your sofa, but aren't too sure if its shape and structure allows for it – fret not as we'll guide you here as to which sofas can be slipcovered, and what can't.
Sofas that can be Slipcovered
1) If your sofa already has a slipcover,
Then it's usually an obvious sign that your sofa can be slipcovered, and most likely you can get your slipcover just about anywhere!
Many IKEA, Pottery Barn and other branded sofas are slipcover-friendly but once in a blue moon there will be a very intricate-looking and complex sofa with a very unique slipcover which is nearly impossible to replicate. But this is very uncommon indeed – 99% of the time if your sofa has a slipcover, it's fairly easy to make a slipcover for it 🙂
Not sure? Just ask us in the comments or check out the brands we make covers for!
2) If your sofa is upholstered,
Don't give up if your sofa does not have a slipcover! Many upholstered sofas can in fact be slipcovered. It mostly depends on the complexity and the shape of the sofa, but if the sofa is generally symmetrical and the armrests aren't too rounded it should be A-okay!
For best results, the back and seat cushions should be completely detached unless you want to attempt to remove them yourself. In a nutshell, if each piece can have its own individual slipcover, the more tailored and fitted the outcome would be.
3) If your sofa is mostly seat and back cushions,
These are the best kinds for re-slipcovering! As long as the wooden sofa frame is still structurally sound, you can get an almost instant makeover as only the cushion inserts need new covers (and maybe new inserts). As mentioned earlier, the more individualised the pieces – the better the look.
However there are circumstances where the cushions are attached and not removable – these can get a little tricky. The same thing applies for the normal sofas as well where the back cushions are attached to the sofa frame; making slipcovers shouldn't be too hard for it, but making beautiful slipcovers for that sofa would be another case altogether.
Sofas that cannot be Slipcovered
1) Wingback / Camel-Back sofas and chairs

Continuing the discussion of making beautiful slipcovers, this second part is quite relevantl.
If you noticed, wingback chairs can actually have slipcovers, albeit not very common. However, due to its construction and the overall shape it proves to be a little bit more cumbersome to make especially via an online service with just measurements alone, which is why this is something we leave to local upholstery services.
Typically slipcovers for these types of sofa should be locally made, otherwise an alternative would be to have the sofa re-upholstered. Of course, slipcovers will always have the added benefit of being removable and subsequently easy to wash, giving them more years to spare than upholstery.
Any seamstress would also know that the main caveat with making slipcovers for these sofas is the fact that many measurements need to be taken in order to get the most tailored look. The rationale behind this is simply because the more curved features and elements there are on a sofa, the more measurements would be required to ensuring the most fitted look.
2) Recliners / La-Z-boy
Reclining sofas are just a big NO if you're looking to get a custom slipcover for a recliner (aka La-Z-boy).
Sure, when we think of the term "slipcover" we'd imagine something that just goes over it and that's completely fine – getting a universal slipcover from Kmart or Marhsalls pretty much covers it.
But if we're looking to making it pretty then I'm afraid it's going to be quite difficult. The construction of a recliner chair is unfortunately too intricate. Given that the arms, back and seats are all attached to the sofa – I'd have to say it's fairly impossible to make a slipcover for it, and I don't use the word "impossible" loosely.
In terms of investments, it's probably best to proceed with a new sofa if the recliner has to meet its unfortunate end.
Brand X?
Not sure if you can get a slipcover made for your branded sofa? Based on the above, as long as your sofa model can be slipcovered, it is likely that we have already created a slipcover for the same model you're sitting on!
In fact, though we're best known for creating gorgeous custom IKEA slipcovers, we've also worked extensively with sofas across all the major sofa brands. This includes Crate and Barrel, West Elm sofa, Restoration Hardware, Rowe, Muji, Pottery Barn and the list goes on.
Basically if it can be slipcovered, we can make a slipcover for your sofa 🙂
Of course if you're not sure what kind of sofa you have, do feel free to drop a few photos over to info@comfortworks.com.au.
Need help in taking photos? Here's a short guide:
Final Takeaway
Hopefully our blogpost/guide has given you a better idea and understanding of which sofas can or can't be slipcovered. And why a slipcover you ask? Well, it's a simple alternative to upholstery (which is so so expensive) or tossing out your beloved couch for a new one.
It is the best way to give the sofa a few more years, change up the look, and save costs to both your wallet as well as the environment.
If you hadn't already known, you can always visit us to find a slipcover that's customized just for you. Or just drop us an email and we'll help you out 😉
Till next time!
Photos courtesy of:
Universal slipcover photo: http://www.aliexpress.com
Wooden Sofa with cushions: http://thisforall.net/wooden-sofa-designs-pictures-in-traditional-indian-style/54
Wingback chair photo: http://www.decorpad.com
Reclining sofa photos: http://chapar.co/17109/microfiber-reclining-sectional-sofa/best-ideas-microfiber-reclining-sectional-sofa-with-modern-sofas