Over the years, we have worked so much magic with IKEA sofas all over the world, trying to make them as unique as they can be. Over time, we even picked up a few tricks to make our slipcovers truly designer-looking. It wasn't long until they were articulated into proper sofa hacks.
Of course, the whole point of a good hack is that it would have to be;
1) easy to do, and
2) cost-saving.
From a 2-minute transformation to a proper DIY, here are some of our best IKEA Klippan sofa hacks that we thought you'd enjoy.
TABLE OF CONTENTS
1) Our DIY Chesterfield Hack
It all started with the coming around of St Patrick's Day (and not to mention 2017's Pantone colour of the year) that made us decide to bring in a hack for all lovers of the colour – Green.
And what better way to do it then to showcase it using our Classic Velvet Emerald slipcovers, upgraded with brand new legs and some Chesterfield-inspired sofa tufting?
The Inspiration
A few of us here really like the Chesterfield sofa and were thinking, "Wouldn't it be really cool if we could hack a sofa like the IKEA Klippan into a Chesterfield?"
However; considering that the Chesterfield's trademark look is precisely due to its round arms (something that we can't really create) and tufting (something we can definitely do), we continued searching and eventually found something more realistic to hack.

A square-arm sofa with a very modern and minimalist look, something we knew we could hack up very easily.
Thus began our journey. Here are the before photos:

The Prepwork
First and foremost, here are some tools that you'll need:
– 1 x Comfort Works Klippan Slipcover (Assuming you already have an IKEA Klippan)
– A tufting kit (twine, needle, scissors, matching buttons)
– Pencil for marking
– Ruler
– A willing friend/partner who can help you
Next, you'll need to decide on how much tufting you want to do. We did initially want to tuft the entire sofa; back and armrests – the whole Chesterfield shebang.
It only took us a minute to realise that a minimalist look would go best with its square arms; so we settled for 8 buttons in the end.
And, using my expert mathematical skills, we figured a 15.6cm gap between each button would work the best (specifically for the IKEA Klippan loveseat, and not the 4-seater!).
The Fail
Before we move on to the full instructions, here are some things you SHOULD NOT do (because we did and realised we had made a mistake).
Basically, when measuring and planning for the best way to get 8 buttons placed equidistant from each other -don't do it from the back of the sofa!
Our mistake was that we had marked and measured from the back instead of the front, where we were supposed to put the buttons on.
Here are some photos documenting our silliness nonetheless:

The Hack
Lesson learned: Instead of marking where you want the buttons to be at the back, mark it at the front on the slipcover – a white chalk from the tufting kit would work.
(we didn't take pictures here because we wanted to jump straight into tufting)
Surprisingly the board used in the Klippan wasn't as thick as we imagined, so the needle poked right through fairly easily with some elbow grease.
Once the needle's through, tufting it with a button becomes the easy part.
If you're wondering how this works – check it out in this tutorial:
The tricky part would be tying it to the back of the sofa, so it's important to make sure you use about an arm's length of twine to get it to the other side and onto the springs of the Klippan sofa.
The best part is that if you don't like how deep the buttons are tufted into the cushion, you can adjust them by moving the string accordingly – you will need a friend on the other side to push the button in deeper for a more obvious tuft.
And yes we've tested – the springs are thankfully safe, and will not break upon sitting.
You can also see how uneven my "arm's length" was throughout the process but hey it worked out fine at the end!

Here's how the front looks:

It gets easier once you get the first and second tufts done; you'd have completed it before you knew it.
Well okay, so it did take us about 2-3 hours in total at the end as we had to figure out the measurements first, make a mistake, and then get the job done.
The Reveal
And there you have it, the IKEA Klippan sofa hacked with our Classic Velvet Emerald slipcovers and tufting buttons.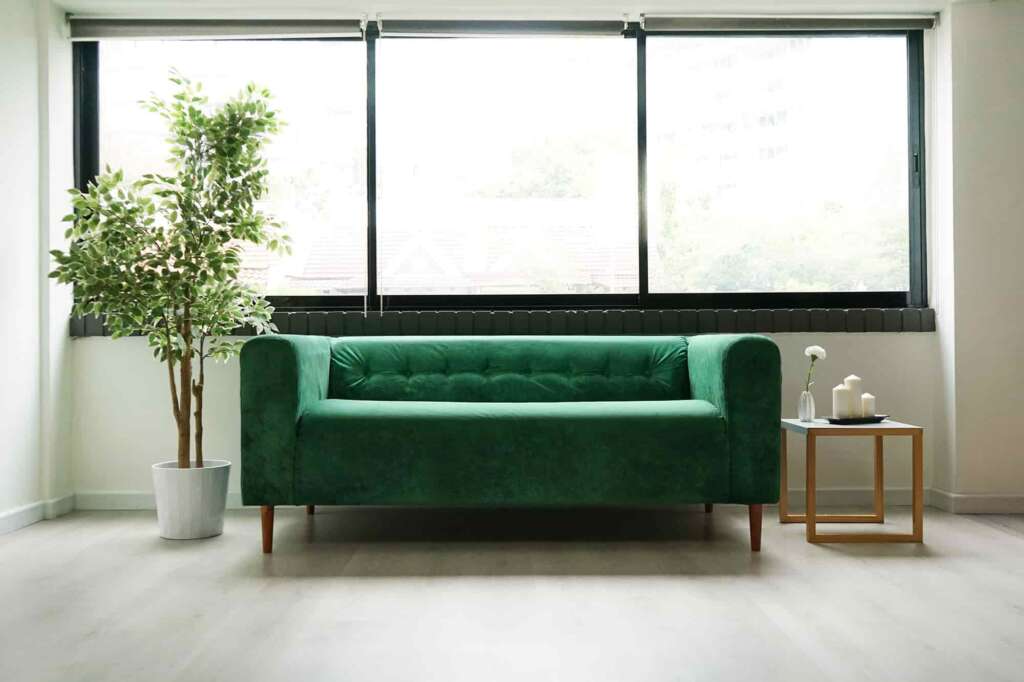 It looks pretty damned premium and very "un-IKEA", doesn't it?
2) Our 2-Minute Makeover Hack
Now this is for those who want a real change without all the extra steps. We get it – you have a Klippan and you don't want to go too crazy with modifications or jump through hoops just for a new look.
So here it is – we promise it literally takes about a minute or two to pull off (or rather, put on).
The Inspiration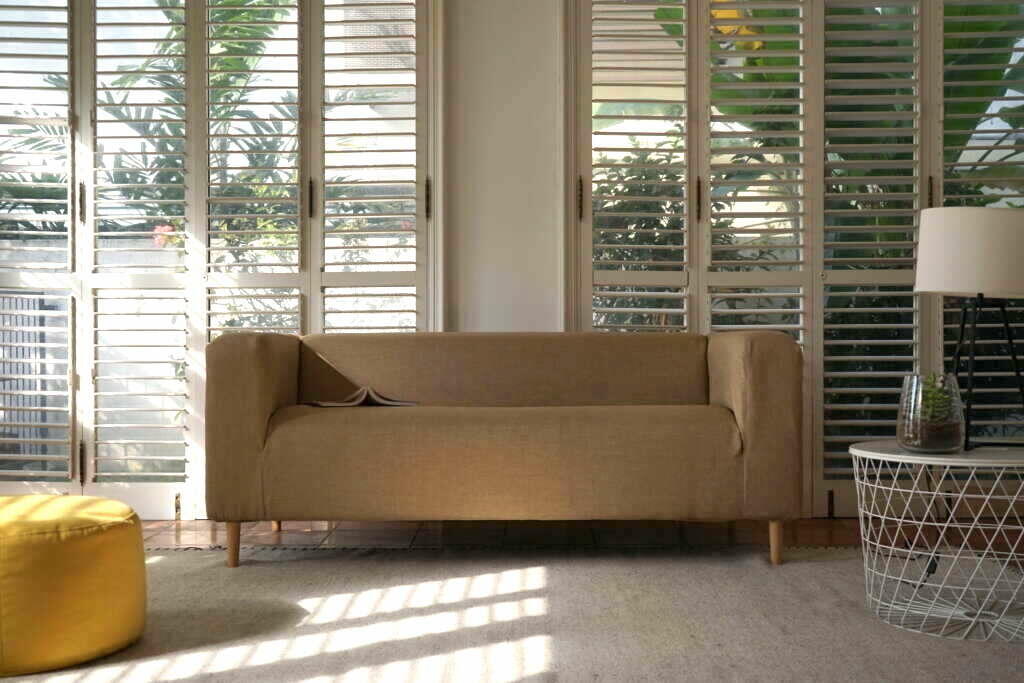 Did you know that the IKEA Klippan is one of the most famous sofas in the world? We did. In fact, we had always wanted to make something truly special for it – since most places like Amazon and eBay sell the same old boring (not to mention flimsy) replacement covers.
Since we're all about customisations, we thought of how we could improve some of its most entry-level qualities;
1) its lack of comfort, and
2) its ultra "vanilla" style
Given that the Klippan has absolutely no cushions to work with, we decided to give its minimalist design a little kick. It wasn't long until we came up with a bold and luxurious new look for it along with a huge comfort upgrade. We even doubled its practicality! The best part about it? It was just too easy.
The Prepwork
Remove your old IKEA Klippan covers (that is, if you have them on!)
The Hack
The older Klippan sofas have a relatively smooth and slightly round design all over (very 90's, we think). Its legs are totally practical, but let's face it – they have no aesthetic value whatsoever.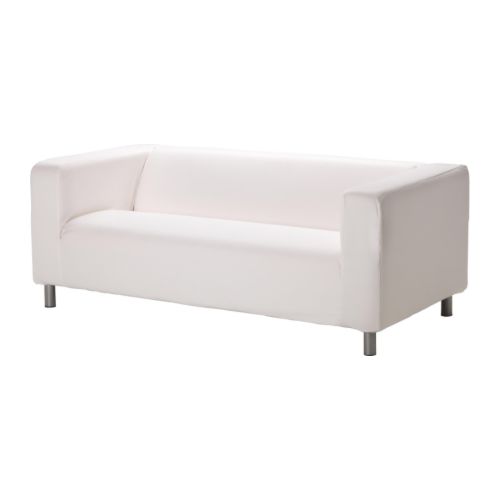 All it needed was a new design – and it could be as simple as putting on a slipcover. So that's exactly what we did; we dressed it up in rich premium velvet and gave it french seams to match. We even extended the skirt of the slipcover all the way down so that it hides the plastic legs.
The Reveal
And, voila! Can you tell this is an IKEA sofa?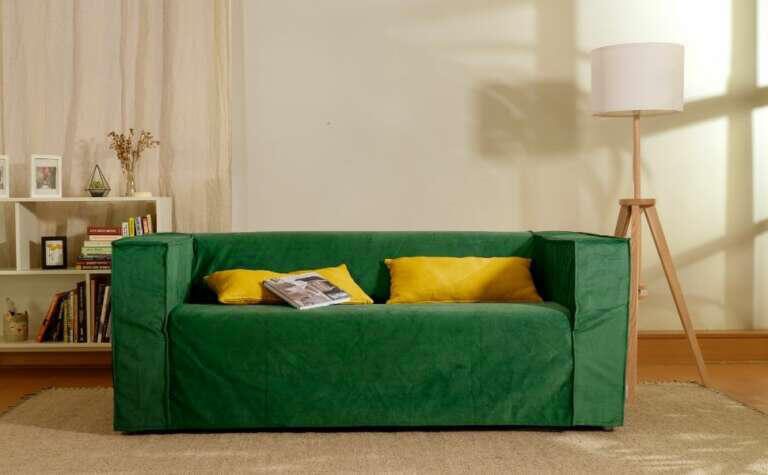 With the smooth clean lines of the french seams along its long-skirted covers, we managed to mask the rounded edges of the Klippan and make it look sharp, sleek, and more square-edged.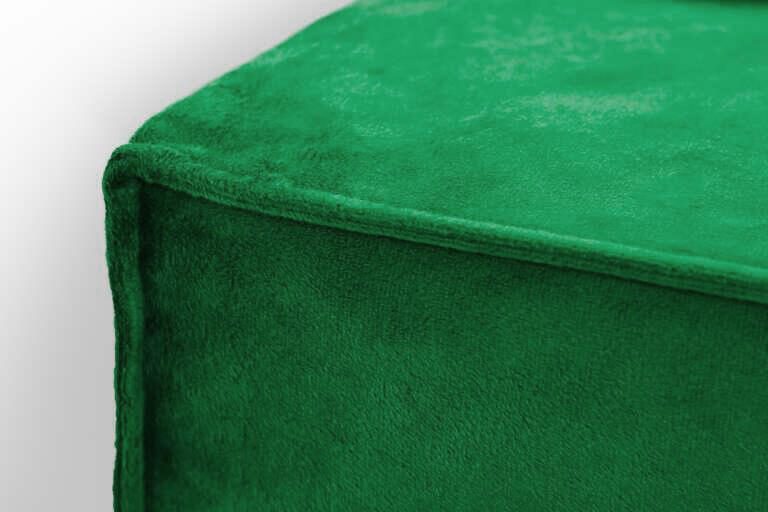 The buttery soft texture of our Classic Velvet makes it feel like heaven to lie on. It totally makes up for its stiff base and back. The rich, bold colours of the fabric really makes the entire sofa stand out from all other Klippans.
And as for practicality; the velvet naps are incredibly tight – which makes the cover perfect for households with kids and pets since it is difficult to scratch up. It stays in place perfectly with minimal tucking needed (it even has straps so that you can keep the covers fastened on). If you get it dirty, just pull it off the couch and toss it into the washing machine!
Here's a video of our "designer" Klippan covers in action;
Isn't it funny how a single piece of fabric can turn your sofa from entry-level to classy, and make life at home so much simpler? The best part of this slipcover; it only cost US$159 and you can even get it on Amazon and Etsy.
Ps* It also comes in 2 velvet colours – Emerald green and Cobalt blue !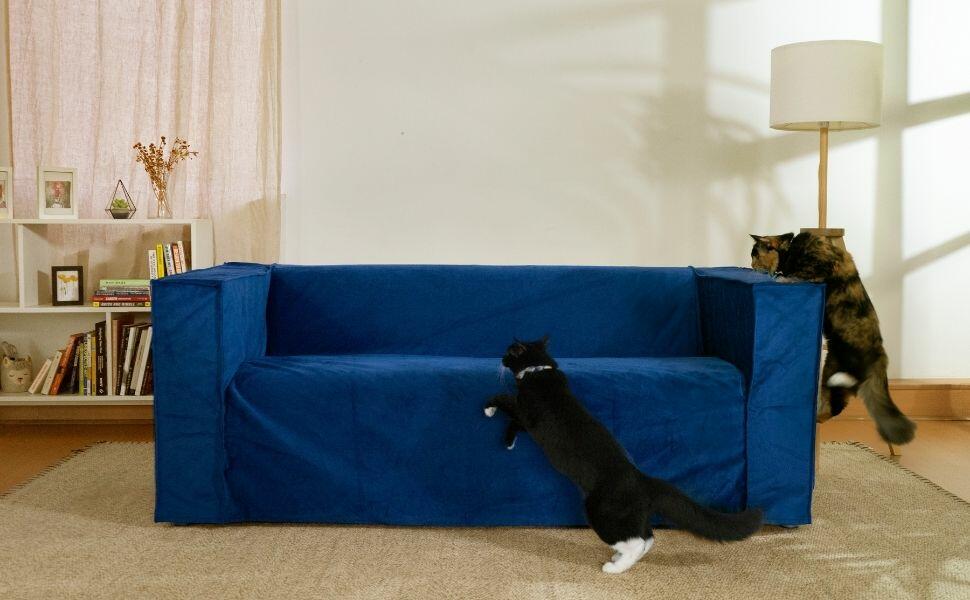 With its hack-ability, it's no surprise that this would be one of IKEA's most popular sofas –check out our IKEA Klippan review here.
Want a super quick, no-headache, complete Klippan makeover? Here's where you can get one for under US$150!