"How long does a new sofa last?"
It's the golden question that any homeowner should ask before pulling the trigger and axing their trusty old sofa.
As the most used and oftentimes most expensive piece of furniture, picking a sofa that not only looks good but will age alongside you is the best investment you can make.
Unfortunately while most owners expect that their swanky new couch should last them between 7 to over 30 years, the reality isn't that pleasant.
In a survey by Rowe, the average American sofa is only 6 years old. That means sofas are either not built to last anymore, or people simply are throwing their old ones out.
Why would anyone throw their perfectly good sofa away? It's a mystery.
What's certain is that what was once a "buy it for life" kind of purchase is now only expected to last under a decade. They just don't make them like they used to.
Worry not, with some pointers on what to look out for in picking a sofa that's built to last, your next one may even make it all the way to the antique store. Fingers crossed.
When it comes to determining the lifespan of a couch you'll need to keep one thing in mind – it will last until the first major component wears out. After that, you'll need to decide whether to fork out for a sofa pick-me-up or throw it out.
Getting right into it, here are the most important things that will determine the lifespan of a sofa:


The Frame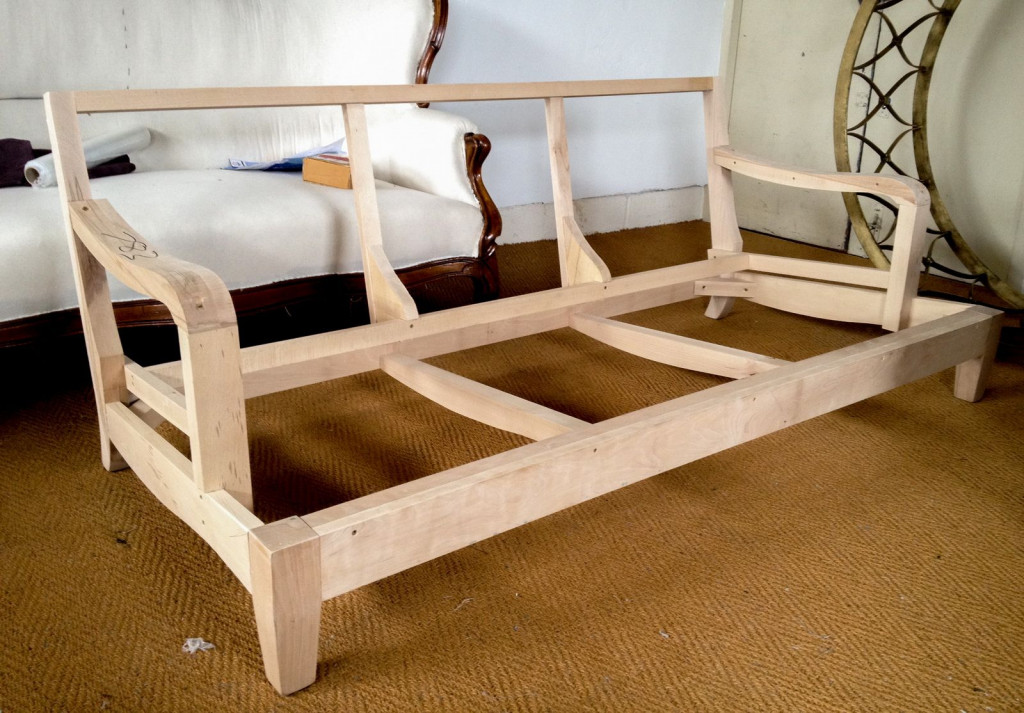 If you've ever plopped down on a sofa only to be greeted by a loud squeak, creak, or a crack, you'll appreciate how important it is to have a sturdy frame. Any high pitch sounds emitted from your couch are bad signs indicating structural flaws.
It's the sofa's way of crying out in pain…
Unless you're a master in the DIY department, there's nothing you can do to save your couch if the frame goes. Spend extra time to find furniture built on a great frame if you want it to stick around for some time.
When it comes to picking a sofa frame that will hold up through the years of rough use, get a frame that is either made of hardwood or metal.
Hardwood
The ancient sofas that you may have seen lurking in the corner of antique stores are almost always constructed from some kind of hardwood. It's the secret to why they last so long.
Whether the frame is made from kiln-dried hardwood or engineered hardwood, they are both great choices that will likely outlast every other component of the sofa.
It's a better alternative compared to particleboard. After all, using solid wood is much denser and guarantees a more durable (but also heavy) frame.
To name a few, some of the best hardwoods that you should be looking for in your sofa frame include Oak, Maple, Birch, Mahogany, Walnut, Bamboo and Cherry.
Metal
Metal is often overlooked as a material for the sofa frame. It's because metal frames aren't common, given that producing them requires more specialized machinery.
In reality, metal is equally durable or even more so than hardwood. The benefit to metal frames are that they don't snap like wood, especially if the wooden frame in question has poorly constructed joint areas.
There's only one real downside to metal frames, and that's the fact that they can sometimes warp and bend over time for those who abuse their sofa.


As you can see, when it comes to finding the right material for the sofa frame, there isn't all that much to think about.
To get one that has the highest chances of surviving the ages, avoid sofa frames made from particleboard. They are made from shavings and chips left over from the woodworking process.
Particleboard framed sofas (like many of the IKEA sofas) are the cheapest and least durable. But they do have their place in homes where the sofa only sees light use. Or if you're renting and expecting to move out soon.
Ain't nobody who wants the hassle of hauling a giant, heavy sofa down and up the stairs.
Also, while it's rarely advertised when doing your online sofa shopping, do consider the joinery technique used in the sofa frame. It's another area that can cause troubles.
After all, there's no point investing in hardwood if the joints snap from a poor construction. Speak to your friendly neighborhood showroom expert and they might be able to give you this information.

The material on the sofa
With a good frame to support the sofa, you can rest easy that the kids won't be sending it to a quick death in one of their trampoline games.
What might not last as long, is the fabric that goes onto the sofa and cushions, which is going to be either leather or some type of fabric.
What should you be looking at when picking a material that will stand up to years of wear and tear? Let's find out:
Fabric vs leather
If you're looking to get the longest lasting sofa possible, choosing one that comes in quality leather is a great idea. It will always outlast it's fabric counterparts.
That is, unless some terrible accident befalls it. I'm looking at you, cats!
Classy and luxe, there are very few downsides to leather if it is within your budget. It ages like a charm and is a very easy material to maintain.
When dealing with leather, you'll want to make sure to avoid "genuine leather" and "bonded leather". Just like how particleboard is made, these types of leather are created from glued together leather scraps.
Chances are that anything made of this stuff will disintegrate and fall apart in less than two years and ruin the sofa. These low quality "leathers" are how flaky sofa horror stories come about.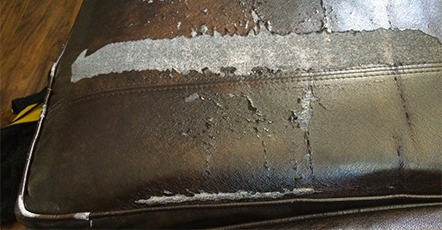 Remember that synthetic leather aside, the only leathers that you'll want for your sofa are full grain or top grain leather. Get those with a semi-aniline coating while you're at it!
That way, a wipe-down whenever cleaning is needed and some occasional leather conditioning is all it will take to keep your leather sofa clean, pristine and lasting a lifetime.
Fabric
Unlike leather, there are many more types of fabrics to choose from. The main factor to look out for in a fabric is its Wyzenbeek double rub count (or Martindale count in the EU).
It's something that is rarely advertised but a knowledgeable salesperson should be able to provide the scoop.
The double rub count is important because it measures how many rubs it will take for a particular fabric to start looking dated.
The higher the count, the longer your sofa will look pristine because you know… the fabric is what everyone sees.
When picking a sofa, aim for a Wyzenbeek double rub count of 20,000 or more to ensure the natural wear and tear that come from using the sofa won't wear it out too fast.
A general rule of thumb to picking durable fabrics is to go for synthetic fabrics like polyester, olefin and microfiber. These fabrics are durable, hold up to stains well and don't fade easily.
Fade resistance
PSA to anyone that has some form of textile in their living room – keep them out of direct sunlight! That goes for the couch as well if you want it to keep looking as lively as possible.
In fact, keeping your sofa out of as much indirect sunlight as possible can also increase its lifespan… but that's drastic.
Why are we treating the couch like a beloved vampire? Because in the process called photo-degradation, light (UV light in particular) causes the breakdown of dyes.
That goes for the dyes in both leather and fabric sofas as well. And of course, the sun is the number one culprit of photodegradation.
If you can't help but place your couch somewhere that receives lots of sunlight, the best option would be to pick fabrics that are as fade-resistant as possible. Once again, synthetic fabrics will be your best bet here.


Is the sofa upholstered or slipcovered?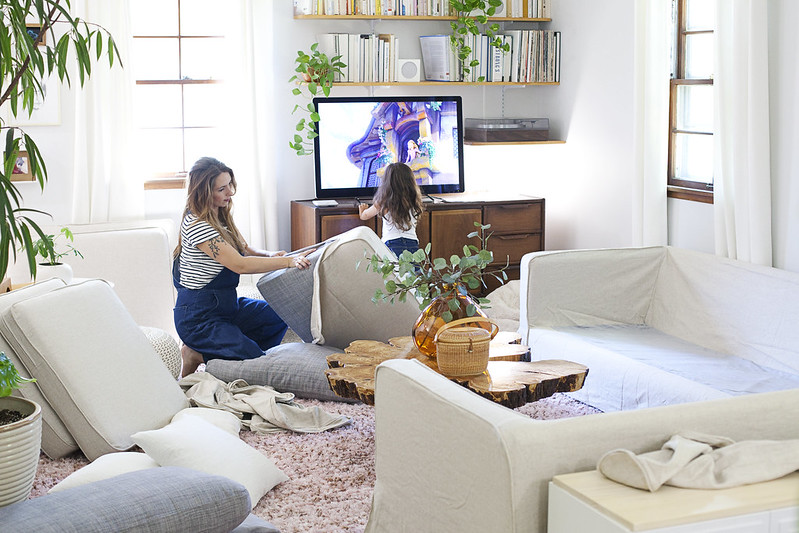 If you've ever owned a slipcovered sofa then you'll already know how great they are. Other than most of them being machine washable and easy to maintain, replacement covers will also extend the life of a sofa.
Realistically, when the sofa fabric is torn or worn out, the only option to fix it is to get a new slipcover or reupholster it. The only problem with reupholstery is that it usually costs a bomb, sometimes even as much as the sofa itself.
On the other hand, if the sofa came slipcovered, you can expect to pay much less to get a new slipcover for it. It depends on the sofa's brand, but expect the cost to be 50% or less of what the sofa originally cost.
Bespoke slipcovers made by third parties (a.k.a us) are another option that can be custom tailored for upholstered and slipcovered sofas alike.
Depending on where you bought your sofa from, the slipcovers we make can be far more affordable (and better looking :)) than those from the original brand.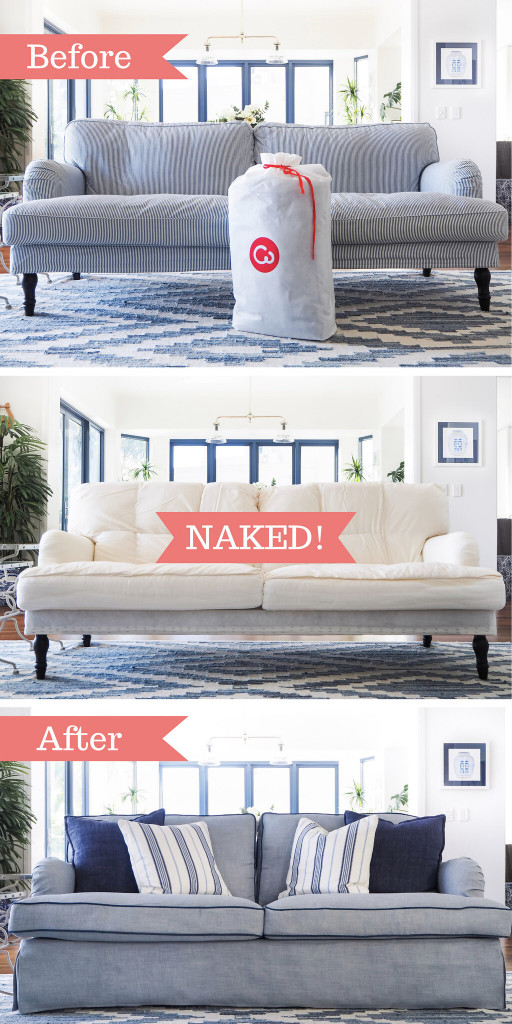 Remember that since a slipcover rejuvenates the fabric/leather portion of the sofa, they will work best when the frame and cushions are still holding up. They are the best option when it comes to extending the life of sofas with dull, faded or torn fabric.
And speaking of the cushions, what's inside them anyway?


What's in the cushions?
If you're hunting for a new couch because the old one has frumpy and depressed cushions, then you're in the same boat as many others.
That's right! The number one reason sofa owners are breaking up with their sofas is because of saggy cushions.
It makes sense – couches are as much about the look as well as the feel. And who wants to sit on cushions so "un-supportive" that they swallow you up.
Like in the case with the sofa fabric, the life of a couch with cushions that have lost their "oomph!" can be extended by getting them restuffed at an upholsterer.
This is going to be an expensive process so it's always best to pick cushions made to last from the get go.
Here's the number one thing you need to think about when picking cushions.
Density, density, density
The vast majority of modern couches tend to use some sort of polyurethane foam for the insides of their cushions. The density on that foam will be the biggest factor in determining how long the cushions last.
If a company skimps out and uses cheap foam, you can expect the cushions to give out in 5 years or under. It will start losing its comfort way before that though.
Oh, and you won't be able to request a warranty on these either as the warranty always excludes "wear and tear" from the list of things claimable.
It's no wonder so many people are discarding their sofas!
Anyway, to pick a long lasting cushion you'll want to make sure it contains high density foam, which shouldn't be confused with firm foam. Beware, lots of buyers choose firm foam thinking it will last longer but this couldn't be further from the truth!
Actual high density foam (not the ones marketed as "high density foam") will have a density of 2.0 and up, as opposed to the standard 1.8 density used in budget couches. Of course, better and longer lasting foam will naturally be more expensive as well.
But if you do snag a sofa that has cushions with thick foam cores (5+ inches) and a density of 2.5 and above, rest assured that they will last you long enough to get tired of your sofa.
Think somewhere along the lines of 15+ years, before they need to be restuffed.
Since this information is rarely given, you'll need to grill your local salesperson. While you're at it, bring the whole checklist of other things you might want to ask as well!


Conclusion: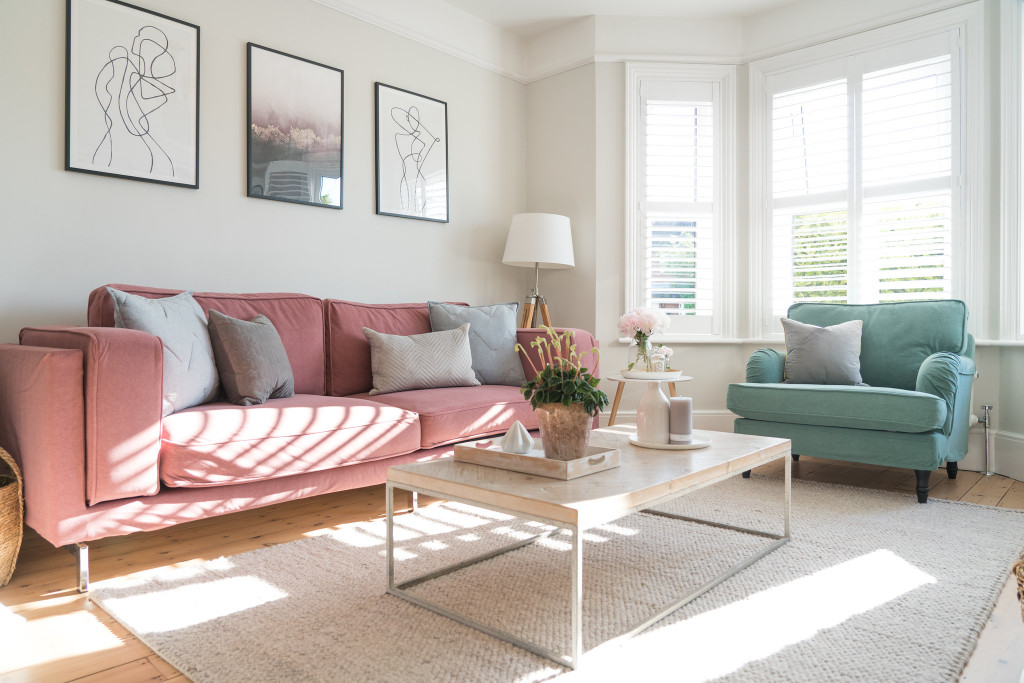 Sofas aren't made like how they used to be, everybody knows that. You could even say that the current sofa industry is all about who can produce the best looking sofas at the cheapest price possible – nevermind what's underneath. 
That's the reason why so many people are even looking to antique and thrift stores to buy their next couch for the long term.
Even so, it is still definitely possible to get a couch with an incredibly long lifespan. You just have to know what to look out for. 
To help you pick your next sofa, we've even written an article of the list of best commercial sofa brands on the market right now. It will give you a place to start your search, before you interrogate every salesperson you meet in your hunt for a good sofa.
Or… if your current sofas ailments are just fabric deep, you might just consider giving it another chance and rejuvenate it with a slipcover for another round of faithful service. Because who knows, that old sofa may just outlast any new one you might find on the market 🙂
Either way, hope you enjoyed reading this post and are now ready to pick your next heirloom-worthy couch. Happy hunting!


Thinking of throwing that old sofa away? Hang on! First examine if a slipcover would save your sofa. If it would, then consider getting one to breathe a new life into your trusty couch. It's better for your wallet, better for the planet and definitely better for your old sofa.
Interested? Check us out on our website and the list of sofa brands we make designer level covers for: