At long last, your old couch is nearing the end of its lifespan. You've had a long run together but it's now time to say the goodbyes. It's time to find a new companion to fill that blank void in your living room. Or maybe you're just looking for an extra sofa for your house.
Either way, getting a new sofa can be a tiresome process, and an expensive one to get wrong. From price to logistics, there's a lot to think about. And one of the most important elements to look at is brand.
Brand is what separates good purchases from the "I wish I could return this" accidents. If you can't trust your sofa brand, how will you have peace of mind that you're getting quality furniture that's made to last?
Worry not! We're making it easy for you with a list of top quality sofa brands, at every price point:
We've arrived at this list by paying special attention to several important factors.

Price vs performance
A must-have consideration for those who don't care much for the extra "flavour" given to a sofa by way of ornamentation, unique design and even historical significance (you'll see why later).
At the end of the day, many of us want a couch that is functional and looks decent. Which is why the sofa brands listed here are only those that provide great value to the customer by way of material, construction quality and, of course, price.
Availability
What's the point in putting in effort to find your dream sofa, only to find that there's no way to get hold of it?
While there are many smaller independent manufacturers that also offer exceptional quality, we've decided to stick with the more major brands because they are more accessible.
They are also more recognisable for those wanting to tell their friends where the couch is from, and often deliver on a global scale.
Extra perks
Free shipping, easy returns, warranties, and showrooms to get some real life touchy-feely action. These extra bits of goodness aren't for nothing.
It's hard to imagine buying a sofa without the assurance from some of these perks. Of course, it's rare to find a brand that passes with flying colours in every one of these aspects, but the more the better.
So we've taken this into consideration as well. After all, the best sofa brands should also have the best sofa shopping experience.
That's it. Congratulations on reading through! With that out of the way, we are now ready to dive into the list of the very best brands you can get your sofas from.
Best budget sofa brand: IKEA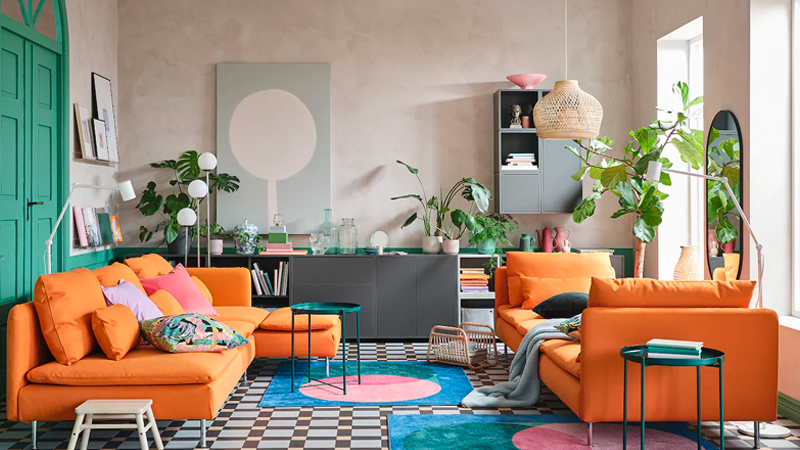 Surprise! Was there any doubt that the furniture giant almost synonymous with quality entry-level furniture has top spot in this category?
There's a whole culture that's built around IKEA, from IKEA-inspired living rooms, to IKEA sofa hacks. And for good reason.
They simply deliver amazing quality and service for the money, which is expected from the revolutionaries who proved that cheap furniture can be stylish. Of course, their sofas are great as well.
So how did they become so great at making quality affordable furniture?
Simply, it's because they can make them at a low cost – they don't have to skimp on good materials to pass on the savings to you.
IKEA has spent whole truckloads of money investing in ways to reduce production cost and were the first to control the whole of their production process on a global scale. From design, manufacturing, marketing and shipping, they do it all themselves.
Their sofas, like the rest of their furniture, are more about function than ornamentation, which cuts some of that cost further.
There's lots to love besides the appealing price tag as well – IKEA has made it easy to buy from them.
Other than being a very accessible global brand with online delivery and numerous physical outlets, IKEA also lets you get familiar with their products by allowing anyone to walk in and test them out.
You can even buy their sofas, change your mind and be taken care of with their amazing return policy.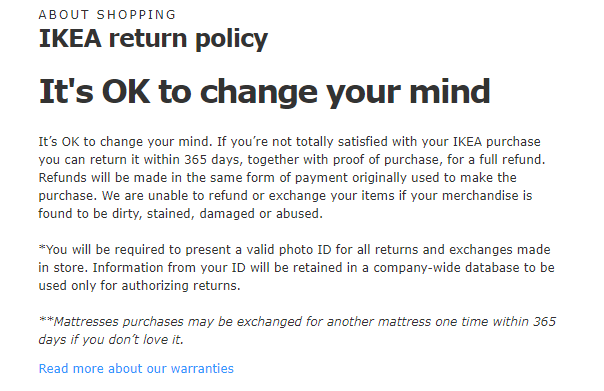 See how easy they make it to choose them? That's without even mentioning the fact you can get their products flat packed and ready to assemble, which is another feather in their cap.
I mean, there's nothing more disappointing than finding the perfect sofa only to find out it's not able to get into the house…
Because of all of this, IKEA has won the hearts of sofa shoppers in every budget – even those who can afford much more. But of course, their brand and products were never made to be or be associated with any form of "premium"-ness.
Function above everything else, which is all many people want for their sofa anyway. Spend much more on luxury material and shiny things and you'll be able to find a grand-looking couch from somewhere else.
It is slightly unfortunate for IKEA, which tends to be associated as a brand for students or young adults. But if you're in line with their ethos of simplicity and function then check out some of their couches. They are impressive for the cost.
Our favourite sofa from them is the Ektorp, which could be the world's most popular sofa… since it's IKEA's most popular sofa (and IKEA being IKEA).
In fact, we have an Ektorp in the office which has been extensively used and lovingly dressed up in our custom slipcovers.
Find your IKEA sofa slipcover here
Best budget sofa brand (honourable mention): Amazon Rivet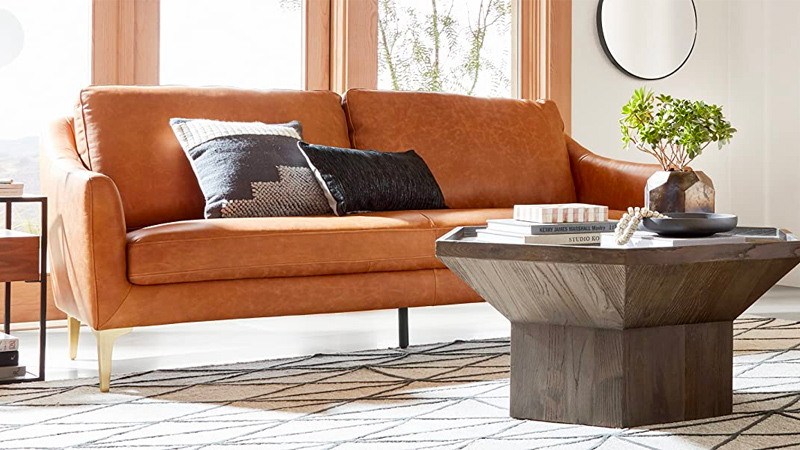 Surprise, surprise… this time really! How many people have even heard of Amazon's furniture line?
While they may not have had as much time to gather status under the spotlight (they were launched in 2017), this is a brand that you don't want to let fly under the radar.
For reasons similar to IKEA, Amazon's Rivet provides great quality furniture at budget costs. A completely online sales platform, and ownership of their delivery networks mean they save huge costs. No trumped-up delivery costs for them and no physical store costs means you won't be paying for these things either in your final price.
But what makes Rivet worth looking at if there is already IKEA?
While they both make affordable sofas, Rivet specialises only in mid-century modern-style furniture. They look really good as well. (One might mistakenly think you got your furniture from West Elm instead. Fingers crossed.)
Sofa-wise, Rivet has a great selection of good-looking choices to pick from and the reliability to deliver on their promises, warranties and sales support. Because after all, it's Amazon behind the company.
So if you're looking for another entry level sofa brand that does quality sofas without the chunky price tag, then check them out. You'll even enjoy free shipping with Amazon Prime, 30-day free returns and limited warranties with them, on top of the all too familiar Amazon delivery experience.
The only negative here is that you won't be able to try out the sofa before buying it, which is undeniably important.
But hey, it's the 21st century and online shopping is everywhere. Perhaps it's not such a surprising thing to order your couch online anymore.


Best mid-priced sofa brand: Room & Board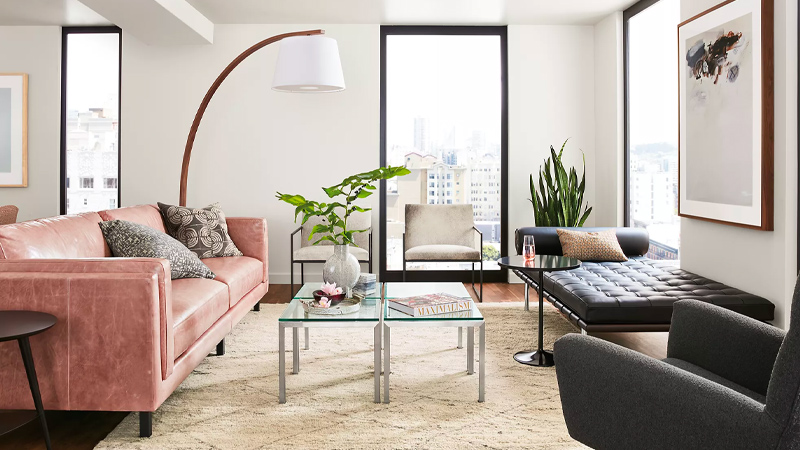 Creators of furniture suitable for more modern looking homes, Room and Board are known for their sleek-looking sofas.
The combination of crisp, beautiful lines on their sofas and a great selection of higher end fabrics make them one of the go-tos for shoppers looking to invest a little more for their sofa.
Their sofas look good and they are well-made. And if there's one thing that's said over and over again about Room & Board sofas: it's that they'll look good as new after years of use.
That's what you can expect from a company that puts the customer first.
One thing R&B doesn't do is let their production standards slide. Their sofas are assembled in the US using kiln-dried hardwood for the frame. Thick upholstery fabric and resilient foam cushions to top it off are all the goodies needed to construct a very long lasting sofa. Most of their sofas even offer down-filling for their cushions for that extra bit of comfort.
The price for their average sofa? Roughly $1,500–$2,000, which is impressive for what you get. Even more impressive is that they offer extraordinary customer service throughout the shopping experience.
Wonderfully trained sales personnel, great delivery and return policies, on top of great post sales support – you've found yourself a brand that inspires loyalty. One look at the massive crowds that gather for one of their rare sales is proof enough of that.
If R&B has proven something, it's that price is not the make or break factor in sofa shopping and sofas don't have to be budget in order to succeed. Customers are happy to pay for luxury as long as they are getting a sofa that justifies the extra. And with Room & Board, that is most certainly the case.
FInd your Room & Board sofa slipcover
Best part? You can walk into one of their many showrooms today and test their sofas out yourself!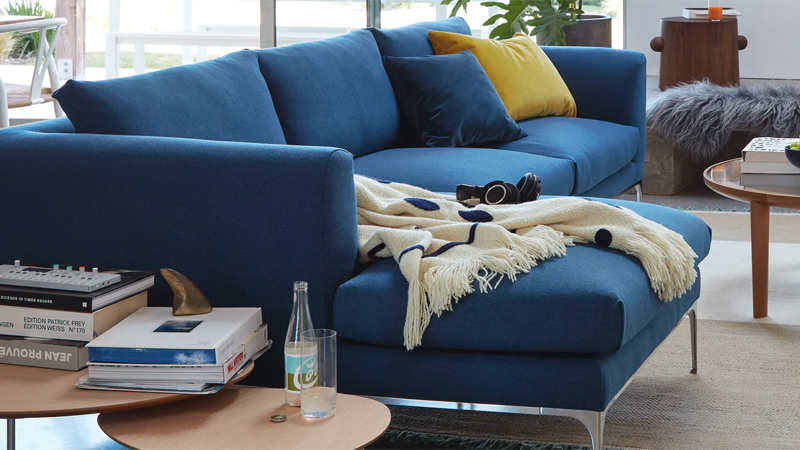 Someone has to say it – Design Within Reach isn't exactly within reach for most of the sofa hunters out there. Unless you can justify spending ten thousand dollars or even more on a sofa that is.
I'm kidding of course. Not all of their sofas cost $10,000 plus… only some of them. But if you're going to splurge on a sofa, it might as well be good. And DWR offers great quality even compared to other brands in the "designer furniture" category.
Be prepared to pay a minimum of $2,000 for any of their sofas.
For sofas at this price point, it's not just about quality and looks. Instead, they tend to have some artistic significance to them as well. Alongside the likes of Herman Miller, DWR specialises in making reproductions of mid-century pieces from famous designers.
Looking through their gallery-like showrooms, you'll find several authentic, licensed replicas of iconic furniture like the Eames Lounge chair and the Noguchi Table.
Naturally, signature pieces like the Eames chair above cost an extra premium. The Eames chair is sold for almost $5,500 in its most affordable version.
Which is why DWR started and presently still mainly caters to interior designers and architects. Though anyone nowadays can buy their furniture if they can afford it.
And boy is it a goodie to own one of their sofas, which are of course constructed impeccably as well. All of them are designed and manufactured in either Europe or the US from top quality materials and construction. They are more or less expected to last a lifetime. That being said, this is a purchase you most certainly don't want to make without trying it out yourself first.
So head over to your nearest showroom and marvel at the beautiful designs. The salespeople are very knowledgeable and helpful as well. They may even let you onto when the next sale is being held.
Overall, it's hard to argue that any sofa from DWR is "value for money" even despite them producing well-made sofas. You're very obviously paying extra for the brand. But if you love the history, authenticity, and gorgeous designs that they offer, then DWR may just be for you.
Or if you simply want to make the mouths of your designer friends water. Either way, check out their offerings and wait for one of their frequently held 15% off sales if you're interested.
Best leather sofa brand: Article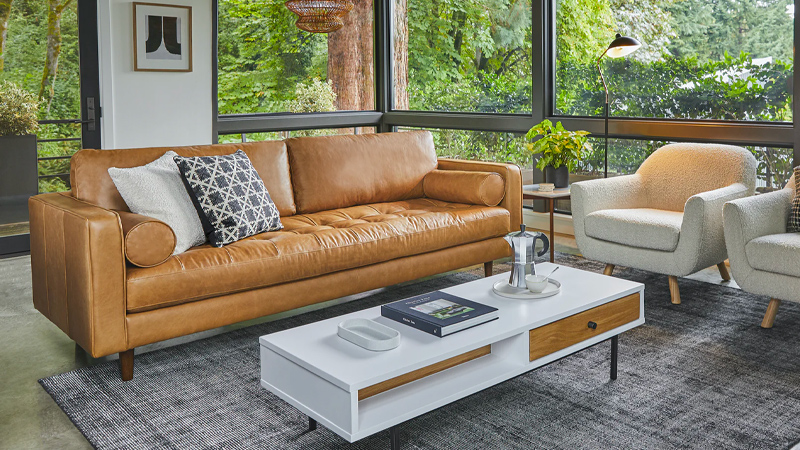 If you're thinking it's impossible to get a well-made leather sofa with the highest quality leather at an affordable price (affordable for leather, that is), look no further than Article.
One of the top 500 fastest growing companies in Canada, Article has proven that the days of walking into a brick-and-mortar shop to purchase your sofa may be coming to an end. That's right: if you want an Article sofa you can only order it online. They have no showrooms for you to test their sofas out.
That's crazy! Leather sofas are wallet busters. Would someone really pay nearly $2,000 for a sofa they have never sat on, or even seen with their own eyes?
In Article's case, yes. They have proven to be a top quality furniture brand and scanning through their reviews will tell you that. After all, the only way a furniture brand that only markets digitally can succeed is by winning over their customers.
Article knows that all too well. Check out their online platforms and you'll find a host of user-generated stories, experiences, and reviews of their couches.
The $50 CA/US delivery and almost unbelievable return policy definitely helps in making sure their customers only have good things to say.
What sets Article apart from most other furniture and sofa companies is that they have cut out as many costs as possible in their direct-to-consumer sales approach. No showrooms and no commission-based salespeople mean that they can set prices competitively, without skimping on quality.
The competitive prices apply to all their furniture by the way, not just their leather sofas. But while on the topic of their leather sofas: they are a steal!
Imagine getting a full-sized sofa upholstered in full-grain aniline leather tanned in Italy for under $1,800. Holy! In the world of sofas, that's basically the most expensive kind of leather; the kind that wears in beautifully and develops a vintage patina over time.
On top of that, many of their sofa seats and back cushions are down-filled which makes them extra comfy to sit and lounge about on (but also maintenance heavy since you need to fluff them).
These premium materials from another brand will cost you big, so if there was ever a time to make an irrational big ticket online purchase (like a sofa you've never sat on…), it might be now.
Find your Article sofa slipcover
Some of the favourites among Article's leather sofas are the Sven sectional sofa and the Timber sofa. Check them out on Article's main website!


Getting the sofa of your dreams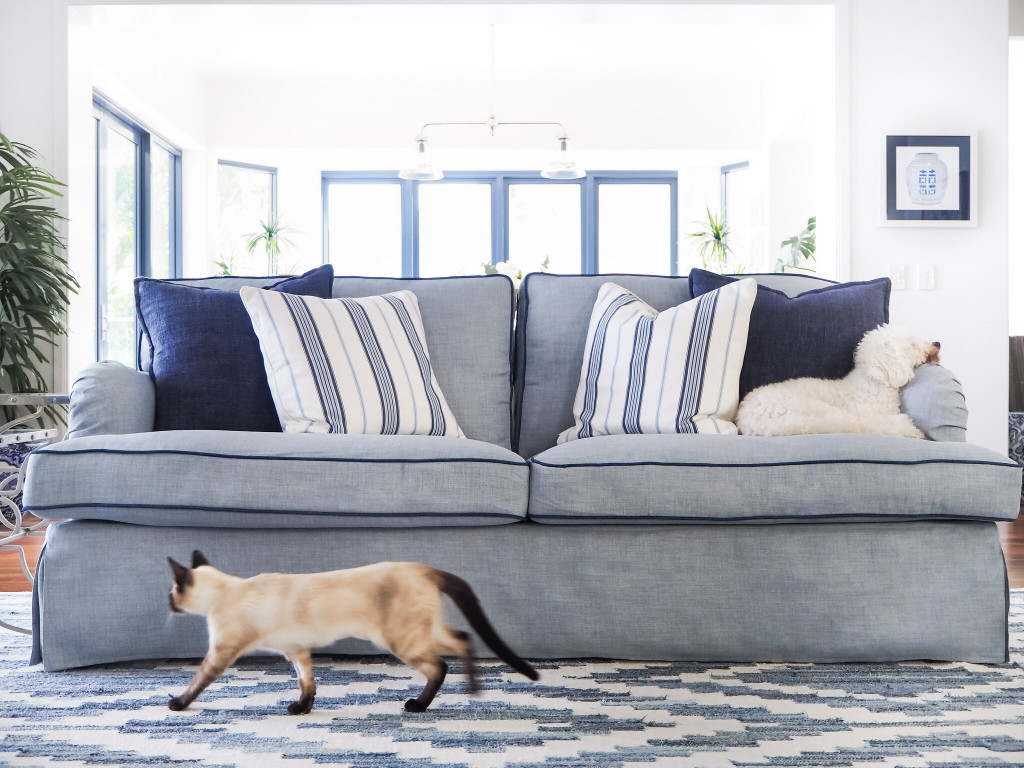 Found a brand on this list that pulled on all the right heartstrings? They're the perfect mix of affordability, customer friendliness and can actually deliver to where you live – only that their sofas don't quite jive with the rest of your interior.
If only they made sofas in your favourite fabric and colour, you'd have been sold.
… There's a way around that. Custom slipcovers will let you design your new sofa just the way you want, and protect it from any unfortunate accidents waiting to happen. They just slip onto your sofa and are made-to-measure to fit to a tee. No need to worry about losing those lovely clean lines.
Some brands like IKEA even give you the option of buying the sofa without covers so you can design it yourself!
This way you can triple your selection, and have the option to switch up the look whenever you want. And it doesn't stop at materials and colour, but changes the style as well.
Turn a would-be modern sofa shabby chic to go with your farmhouse look. Like this IKEA Soderhamn for example: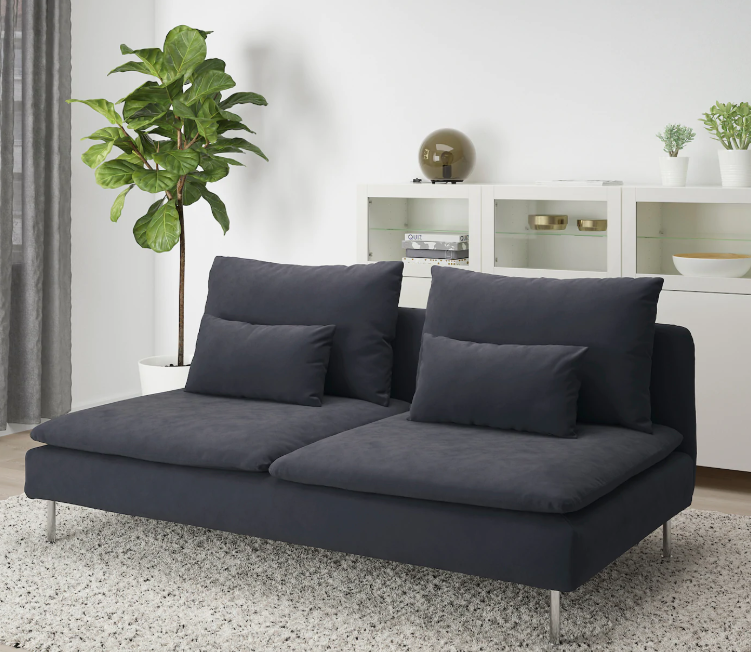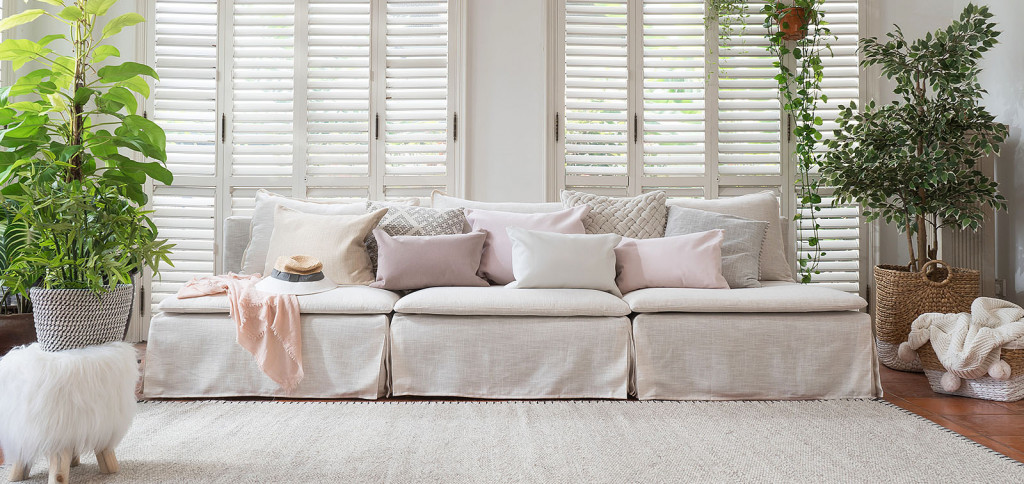 Best part is that they are machine washable (except for the leather ones).
After all, you can't live in peace with your new sofa while worrying that the latest in the series of crayon on sofa artwork will destroy it.
So who said we can't have good things? Check us out to design the new sofa of your dreams!