Welcome to the ultimate guide and resource for the IKEA Goteborg sofa – find sizes, dimensions, reviews, slipcovers, assembly instructions and more here.
Maybe you are searching for the perfect sofa bed and need a little help. Maybe you've already decided on the Goteborg, found one on Craigslist and need more information. Or maybe you already own a Goteborg and your house guest decided to spill coffee on its hard to find slipcover. In this cheat sheet, we'll help you with all of that.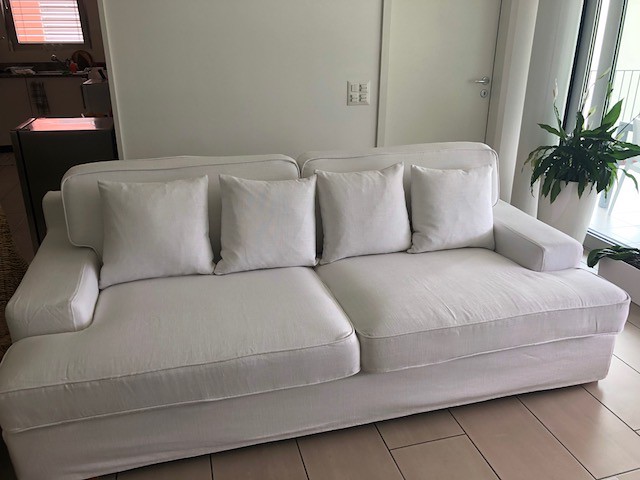 If your questions aren't addressed here, feel free to contact our support staff at info@comfortworks.com.au.
Status Check.
Status: Sofa no longer available from IKEA (Discontinued)
Slipcover: Custom slipcovers for 3 seater available from Comfort Works
Measurements: W220 x D107 x H64 cm
Cool Factor: Wide deep seating, suitable for lazing around on a Sunday afternoon
Ugh Factor: Quite bulky and low armrest, aesthetic wise not as appealing.
Our Review.
The Goteborg has wide deep seating which would almost guarantee a comfortable spot for lazing around, but it's rather bulky and box-ish.
It is currently unavailable in IKEA stores around the world as it has been discontinued. If you're in need of a replacement cover, Comfort Works still makes slipcovers for the IKEA Goteborg. For more customisation options, get in touch!