TABLE OF CONTENTS
1.Intro
2.First impression & history
3.Technical details
4.Design
5.Comfort
6.Verdict & slipcoverability
Intro
The IKEA Beddinge sofa bed is as plain as it sounds, it's merely a sofa bed that lives up to its name. It's better known to us as the "click-clack" sofa bed. The reason it's called that is because of the sound it makes when you adjust the IKEA Beddinge into either a sofa or a bed.
Don't get it? Watch the video here to see how it produces the sound:

First impression & history
First released in 2010, the IKEA Beddinge sofa bed is sometimes known as a futon because of the way the same piece of mattress can be converted into a bed. The Beddinge wasn't a popular sofa bed of IKEA's and it has already been discontinued a few years ago. I haven't been able to experience the Beddinge myself, but there were a lot of mixed reviews about this plain Jane futon that I'm about to talk about in this article.
Technical details
The IKEA Beddinge only exists as a 3-seater sofa bed. Its dimensions are as follows:
Width: 200cm
Depth: 104cm
Height: 94cm
Many people who bought this sofa previously didn't know how to assemble it because the sofa parts can look quite similar, thus making it hard to distinguish and install. However, this assembly video from IKEA is useful should you get your hands on a second-hand IKEA Beddinge sofa bed that needs to be disassembled and reassembled.
Design
The Beddinge is one of the plainest-looking sofas in IKEA. It also has no armrests. No matter how you look at it, it probably serves its main purpose as a sofa bed more than looks. There's no style or character to it so the Beddinge could be good for all kinds of interior design or it could suit none at all, depending on your sense of style.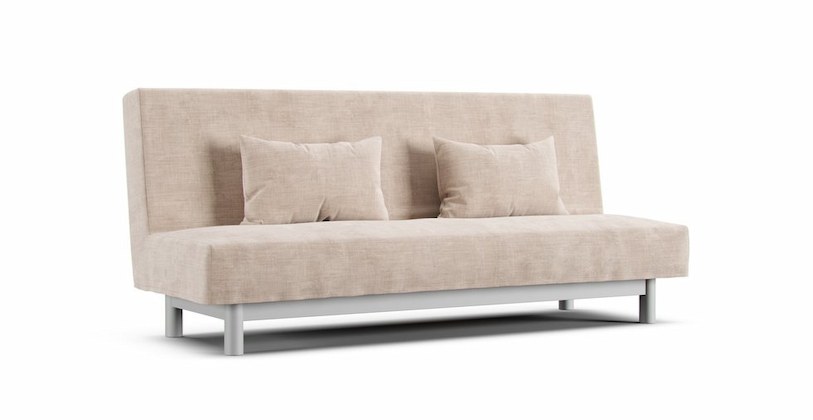 Comfort
The user reviews are on both sides of the spectrum, so there isn't really a balance.
Positive reviews
There are users who have been using the Beddinge for many years and they say that it's really good as a bed with firm cushions. Some also recommended adding a memory foam or mattress topper for more comfort just because you can feel a rise where the back cushion and the seat cushion connect. Additionally, it holds weights quite well and is a "bang for your buck" sofa bed.
Negative reviews
On the other end of the scale, some people have mentioned that they bought it for about a week and it broke at the part where it folds. The wooden pieces have fallen out after a month or so as well. When you unfold it and it becomes a bed, you might also sink into the centre after a short time of using it. User screams: "Do not purchase!"
There are also comments about how it's not a good sofa because shorter people are not able to bend their legs if they want to lean against the back cushion. And if they bend their legs, then they can't reach the back cushion for support.
Verdict and slipcoverability
Because we've got two very extreme ends, so we say the Beddinge sofa bed would either make it or break it. Pick a side!
Maybe you plan to get a second-hand IKEA Beddinge. If so, we'd say you are going just for the price and not so much the comfort. If you're really careful with it, perhaps it could last you another 2-3 years. It's better off as a spare bed than a sofa for daily lounging, in our opinion.
How about going for the ever-popular IKEA sofa bed such as the Friheten? Check out our detailed review of the IKEA Friheten.
Rating:
Design: 2/10
Comfort: 4/10
Price: $$ (out of 5)
Good news for the Beddinge supporters (or those who have to live with it): Comfort Works offers IKEA Beddinge loose fit slipcovers in various fabrics and colours. So, if you decide to still keep this sofa bed, try putting on a new slipcover to see how it could make your Beddinge look better than how it came!