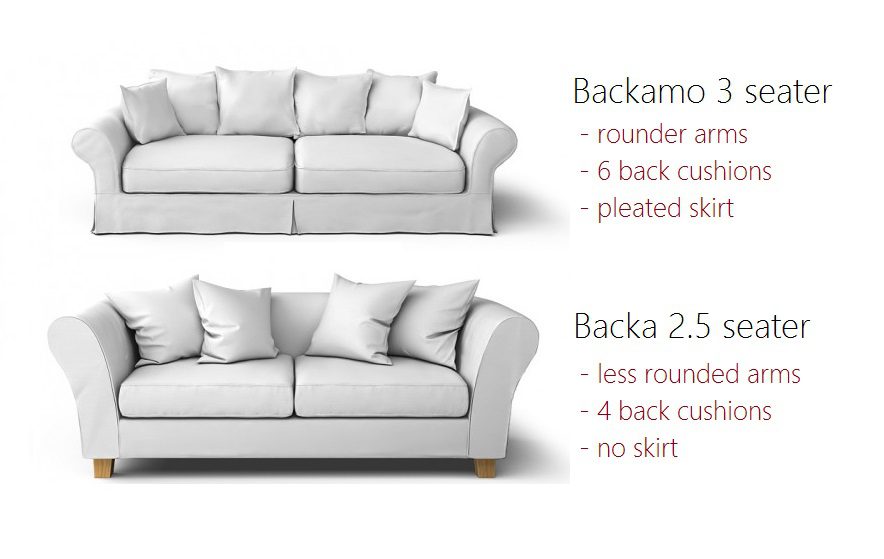 Backa vs Backamo: Differences? Can their Covers be Swapped?
If you're wondering if your Backa 2.5 seater sofa covers can fit your Backamo 3 seater or vice versa, then you're at the right place.
Alternatively if you just want to know what's the difference between a Backa 2.5 seater and a Backamo 3 seater because they look so damn similar, we'll be able to tell you everything you need to know in this one blogpost.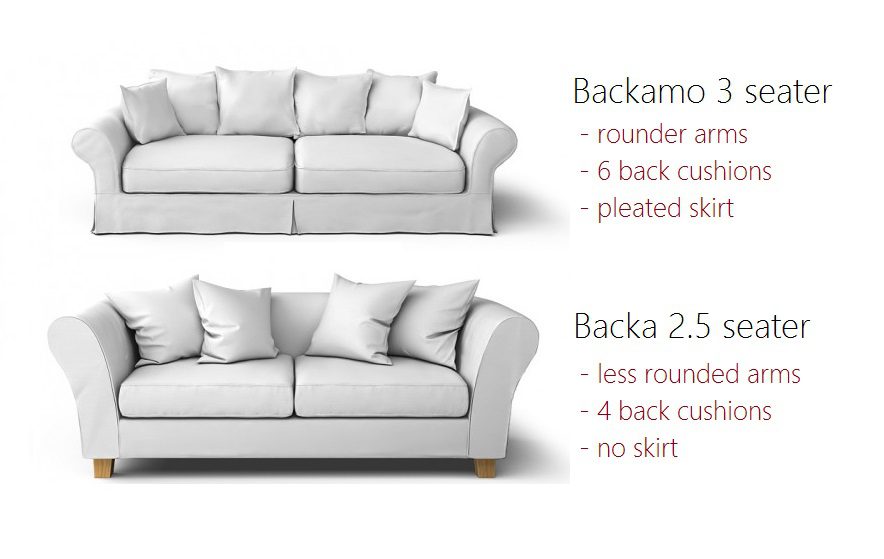 Both models have been discontinued for quite some time already, so you won't be able get replacement slipcovers from IKEA anymore but you can definitely get them from us here:
*Note: Our Backa 2.5 sofa covers are made with pleated skirts like the Backamo 3 seater by default as we think it just looks more sophisticated overall – it's still no problem if you wish to flaunt your sofa's legs, just drop us a note and we'll do it for you 🙂
At a quick glance, the Backamo 3 seater and Backa 2.5 seater are very similar in shape and size with their rounded arms, straight back and throw pillows functioning as back pillows. As you can see from the above image comparison though, the Backamo can be easily differentiated by its original slipcover that comes with pleated skirting. The Backa on the other hand, has no skirt nor pleats to begin with.
Sofa Dimensions and Measurements
The Backamo 3 seater (as the name implies) is slightly larger than the Backa 2.5 seater despite the slight illusion given from the above 3D images.
The Backamo 3 seater measures at an overall:
– Width: 212cm x Depth: 94cm x Height: 73cm, while;
The Backa measures in at an overall:
– Width: 196cm x Depth: 94cm x Height: 73cm.
Another easy mode of reference would be to check out the seat cushion measurements:
Backamo 3 sofa seat cushion dimensions: 83 x 72 x 16cm
Backa 2.5 sofa seat cushion dimensions: 76 x 79 x 14cm
So to answer the question, "Can a Backamo 3 seater slipcover fit a Backa 2.5 seater sofa cover and vice versa?"
The short answer is no – see image reference below.
The result would be as expected, the entire sofa cover would be a good 15cm or so wider and the seat cushions would be somewhat loose or awkward fitting. Not to mention, you'll be missing (or gaining) an extra 2 back pillow covers should you ever get the wrong model.
Once again, if you ever need help identifying a sofa – do shoot us a photo at info@comfortworks.com.au and we'll always try to help you out, pinky promise!