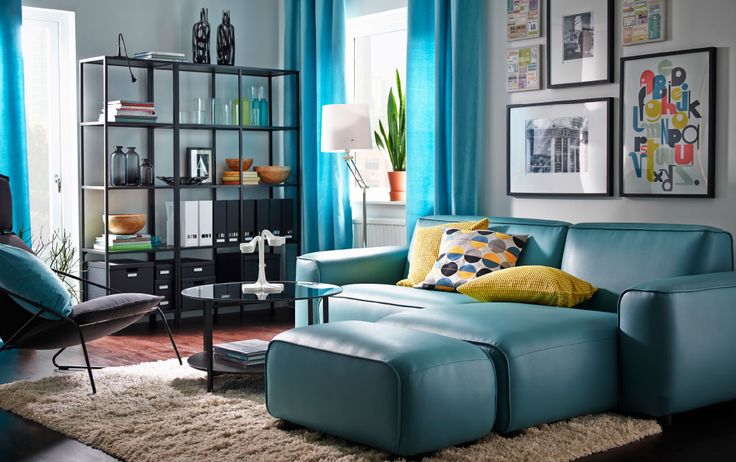 The Dagarn IKEA Sofa Review!
We'll be reviewing this cute little number today – the IKEA Dagarn Sofa. Let's find out whether it's worth the money, shall we?
Aesthetics
First of all, I'd have to say that not everyone agrees with this sofa. Based on the few people we have at the office, it's been pretty much a sound "It's so cute!" or "Oh my God what's that". I personally think it's alright and if you're going for a retro-futuristic look, it might actually work out quite well in the basement. But if you're going for a sustainable look for the rest of your life – probably better to get something more neutral.
As of now, the Dagarn only comes in two sizes – the sofa, and the loveseat with chaise. It also only comes in two colours, the Kimstad Black and the Kimstad Turqoise.
At a single glance, the Dagarn really doesn't look that bad at all – it has very rounded edges, which is what makes it retro, cute and cosy looking all at the same time. Contrary to our review of the Kivik series, the Dagarn gives a pretty Dagarn good first impression.
On second sight though, this is probably not a sofa you'd want to put in the middle of your room as the back has cording that isn't symmetrical.
So if you're OCD like me, I'd probably think of another sofa. The funny thing is that this asymmetrical piping is only on the sofa, and not the loveseat with chaise!
Comfort
I'm not sure why they put the Dagarn next to the Leather Kivik, but it was very natural for me to use it as my main sofa reference for comparison. The Kivik had always been comfy for me hands down, and sitting on the Leather version didn't make a huge difference. The faux leather was soft on the Kivik while the Dagarn seat cushions were very hard and comfortable.
It was a very acceptable height for me (5 ft 5″ / 165cm) however, as my legs could comfortably reach the ground while my head rests on the back cushion frame – so it's good for a quick nap.
In a small sense I probably wouldn't put this in my home, but it's something I might put in the waiting room of a clinic.
Functionality
Given that it is faux leather made of 70 % polyester, 30 % cotton and 100 % polyurethane coating – spot cleaning something like this would be incredibly easy. But with any IKEA showroom, you know that it's bound to get some stains on it somehow like so:
Eww indeed. Of course, if you were to wipe the spills immediately there shouldn't be any stains but unfortunately – not every mother has that kind of luxury!
Where cleanliness is concerned, it actually gets worse and I'll spare readers from more unappetising pictures. Essentially because the corners are so rounded, the crevices are incredibly hard to reach and clean – meaning all those dirt, dust, coins, gummy worms are inevitably going to end up getting stuck in the sofa itself. The sofa is completely upholstered, so it's also not as simple as taking out its covers to wash it.
I'm sorry to say this, but it just isn't Dagarn practical enough for me.
Price
Lastly and most importantly, the sofa is priced at US$599 while the loveseat + chaise is going at US$699. Personally I feel that it's quite affordable for something in bycast leather, but weighing everything out I'd rather go with the Norsborg IKEA Sofa for the same price. Read our review for the IKEA Norsborg here.
Conclusion
Here's the breakdown:
– Aesthetics: 6.5/10
– Comfort: 5/10
– Functionality: 4/10
– Price: 5/10
Overall, I personally wouldn't put a Dagarn sofa in my own home but might consider it for office use. In the long term though, I don't think it'll be able to stay clean for several years of normal household usage.
But that's just what I think 🙂
Agree, or disagree – let me know in the comments below!
Image credits:
Featured image taken from IKEA US