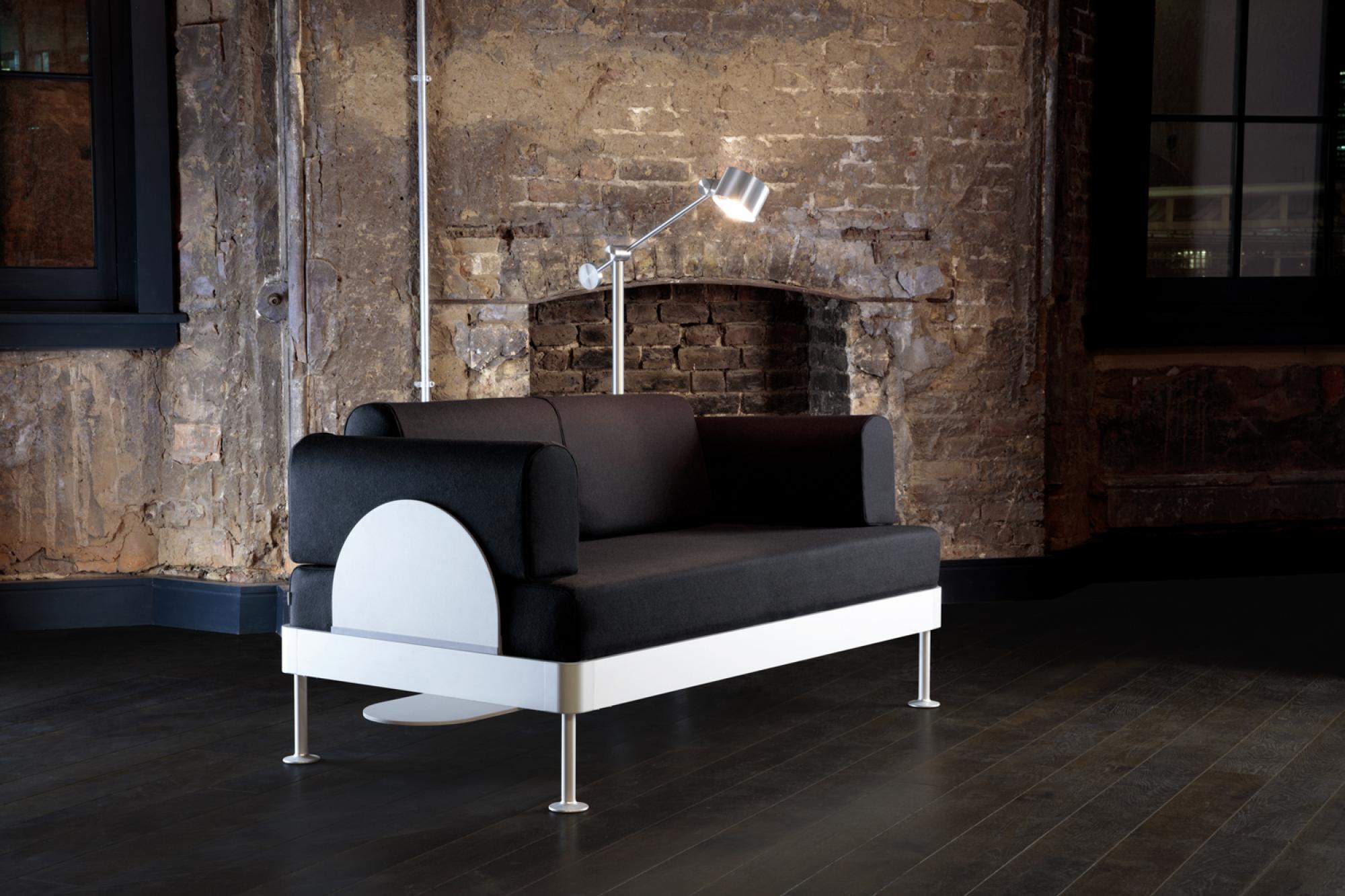 IKEA Delaktig x Tom Dixon Modular Review
Tom Dixon has collaborated with IKEA to design a new modular sofa called the IKEA Delaktig. The collection is named after the Swedish word Delaktig which means "Improvement", slightly different to its typical city-specific nomenclature.
The goal that Tom Dixon had in mind while designing this sofa was to create something that can be customised and changed throughout the years, hence the name.
"Don't chuck Delaktig away if you're finished with it – turn it into something else, something new. Or save it for the children, so they can bring it with them when they move out."

-Tom Dixon
Endless combinations and possibilities
This modular sofa starts off as a single bed with aluminium frame. You can add-on pieces such as a lamp, a side table, a headboard/armrest or even a magazine rack. All of these pieces are easy to attach by clamping, slotting or bolting on to the base frame.
The collaboration was an open project which 75 master design students across the world had to come up with their own Delaktig add-ons. IKEA will be adding these to the collection in the future.
These add-ons transform this simple bed into a sofa, a workplace or an entertainment spot. The hacks are available from IKEA while others can be found from Tom Dixon but all are designed to add to the original base.
Sounds like we're kinda spoiled for choices there.
Hack-ability Verdict: 8/10
Comfort is key to the IKEA Delaktig
In terms of the comfort level on this model it is solid and fairly comfortable. The base is made out of dense Polyurethane Foam, which is the same material as a standard IKEA mattress.
Having spent a few nights on an IKEA mattress, I can safely say you can get a good night sleep on this. For long term use as a bed, adding a comforter and a few pillows for some extra comfort will do just the trick.
Similar to the IKEA Flottebo, having the option to add on as many or as few cushions and backrests is a huge plus as you can transform it into a chaise lounge or sofa. This makes it not just a great bed or sofa for almost any occasion!
Fair warning though, the structure is in no way similar to a traditional lounge sofa. If you love the feeling of sinking into you some nice soft back cushions and resting your arms on some padded armrest, this isn't the sofa for you.
Comfort Verdict: 7/10
Sleek Aesthetics
I'm not going to lie, when I first saw this piece I was not the biggest fan. Similar to my personal reservations with the Flottebo, I found the piece looked quite alien and uncomfortable. However I do admit that after I put a little more thought into how it could be styled in modern and contemporary living space, I think it could look super sophisticated and minmalistic.
This designer inspired sofa definitely does not look like an your typical IKEA sofa. It's use of the aluminum for the frame gives the sofa an 'industrial chic' look. Put the piece in a room with some dark wood floors or exposed beans to really complete the look.
The real win of this sofa is that you have the ability to add on all the pieces you would like. This option allows you to constantly change and redesign your sofa, just like our slipcovers 😉
Aesthetics Verdict: 8/10
Creativity Comes at a Price
If you have a smaller budget for your sofa, then I wouldn't necessarily choose this modular piece. IKEA has several sofa beds that come with all the pieces you will need at a much lower price. However if you're after a designer piece of furniture that is modern but don't want to spend a fortune, then this is perfect for you.
The Basics
The starting price of the 2 Seater-base is AU$655 and this is just a mattress on a frame. While the price of the 2 Seater with backrests and armrest is AU$1,035.
The Fun
The best part of this sofa is the unique add-ons you can place on it, however they do add up quite quickly – making it pretty expensive at the end. From IKEA, there are the additional units such as a backrest cushion for AU$90, while the floor lamp is at AU$129 and the side table is AU$70.
If you're based in the UK or EU and wanted to take this piece to the next level and are willing to splurge, you can order the more designer aluminum add-ons directly from Tom Dixon. The Magazine Rack is currently GB£100 and the Boom Light is GB£285.
Personally, I'd keep it simple.
Price Verdict: 5/10
Our Verdict
The Delaktig's unique and sleek design is not everyone's cup of tea. However, if you have ever dreamed of owning a Tom Dixon piece, then this is perfect.
Or if you just want a sleek minimalistic looking piece of furniture that will be sure to you be the focal point of your room, you will love this well engineered modular.
Overall Verdict: 7/10
IKEA currently sells this piece in three colour options Grey, Blue and White – pretty standard, but very practical colours.
Here at Comfort Works we are working on acquiring a template to make the covers for this model.  So you can have over 70 more different colour/fabric options for your truly one of a kind piece. Make sure to be on the look out!
Pictures Sourced from: