Not sure if you should get this sofa? Take a look at our updated IKEA Färlöv sofa review in 2022 before you make your decision!
If you're too lazy to read, watch our video about the IKEA Färlöv instead:
TABLE OF CONTENTS
1. History, status check & technical details
2. Design & aesthetics
3. Comfort
4. Price
5. Slipcoverability & hackability
6. Overall conclusion
7. Assembly guide
History, status check and technical details
Launched in 2017, the Färlöv family consists of 4 models at the time of writing – the armchair, 2-seater sofa, 2-seater sofa bed and 3-seater sofa. The sectional seems to have been discontinued at this moment. As of now, the Färlöv is still available in the US, Great Britain and Australia.
The Färlöv is actually quite a huge sofa, with the 2-seater being 85 ⅞" (218cm) wide and having a deep seating of 25 ¼" (64cm). If you are planning to get it, you'll have to take into consideration the size of the sofa that may not fit your space. The Färlöv is also a low-sitting sofa, so if your house is one with a low ceiling, the Färlöv should fit right in.
Design and aesthetics
The IKEA Färlöv sofa has been said by many to resemble sofas from high-end brands such as the Pottery Barn York Slope Arm slipcovered sofa collection and Restoration Hardware's Belgian Classic Slope Arm Slipcovered collection. But, it comes with a price that's 3 to 4 times cheaper! One feature that makes the Färlöv stand out is its beautifully sloped arms in comparison to many of IKEA's boxy sofas with straight arms.
The IKEA Färlöv sofa is available in 2 kinds of fabrics and 4 colours. The first fabric is yarn-dyed with natural hints of flax so it gives more texture to the fabric. Although crisp, this material can feel scratchy to the skin for some people. The colours available for the Flodafors fabric are white and grey. The second fabric is velvet that has a soft surface, dense pile and reflective shine. This one comes in dark grey and dark olive-green and is a more comfortable fabric to lounge on.
Rating: 8/10
Comfort
While the sofa may be firm during your first few "sittings", the seat cushions eventually soften a little over time. Similar to the Söderhamn, it allows you to sit all the way back while you enjoy a book, but it definitely isn't as soft as the Söderhamn. Despite that, the Färlöv is still very good for lounging, even if you're in the taller group.
Rating: 8/10
Price
Currently, the Färlöv 2-seater is priced at GBP329 in Great Britain, starts at AU$449 in IKEA Australia and US$799 for our American friends. Meanwhile, the Färlöv 3-seat sofa starts at US$949 in the US, GBP295 in Great Britain (crazy discount for the Flodafors White cover!) and AU$749 in Australia (only available in Djuparp Dark Grey).
It's incredibly affordable compared to the Pottery Barn and Restoration Hardware sofas mentioned in the previous section. If you're a fan of the modern farmhouse trend but not about the price of luxurious sofa brands, then pick the Färlöv already!
Slipcoverability and hackability
With the limited slipcovers from IKEA, we bet you'd like more choices. Take a look at how you can transform the plain Färlöv by simply using slipcovers. Whether you want a snug fit or long skirt, the choice is yours. Did we already mention that you can choose from more than 70 fabric styles for your Färlöv (and other IKEA sofas) upgrade?
You could totally put a Pure Linen slipcover with pleated skirts on the Färlöv for a farmhouse look. Additionally, the sofa legs have the same old bolt size that's used in many of the IKEA sofas, so it'll be easy-peasy to swap out the sofa legs for something cuter. Done and dusted!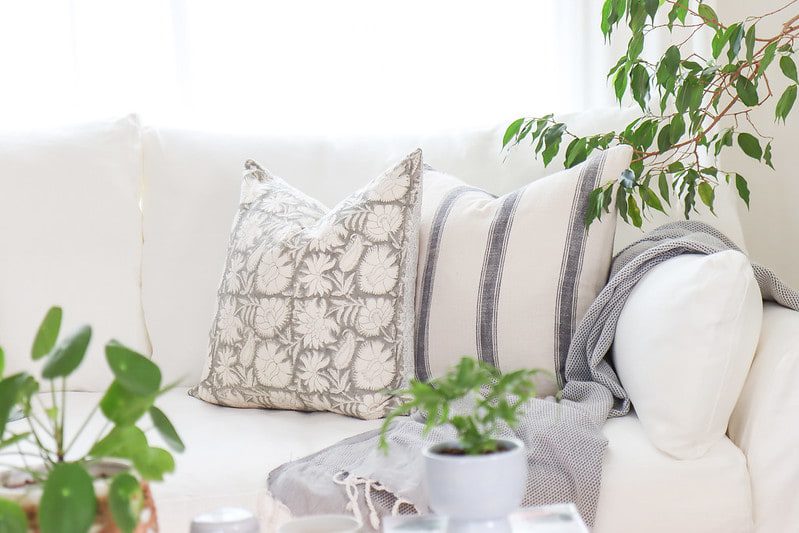 Overall conclusion
The Färlöv series from IKEA is for those who want to graduate from the basic Ektorp. While it's a little pricier than many other IKEA options, its traditional shape is timeless and slipcovered style makes it easy to keep clean and really go the distance.
Verdict: 7.2/10
Assembly guide
Have you checked out the IKEA Färlöv sofa yet? Share your thoughts with us in the comments!