Cat houses. Two words are all that's needed to prove that we are living in the 21st century.
They shelter, they warm, and are a tribute to the Internets ruling class.
A monument to equality with dogs who have had houses all this time.
More importantly, it's cute to say your cat has its own house.
They seem to know it's for them and will move right in- if they like it.
But, how do we know what works and what doesn't?
Imagine splurging and setting up a beautiful home for your cat. Next thing you find it inhabiting the nearest shoe box.
True story.
Like us, they are curious little creatures who enjoy the most random things. That's likely why we love them so much.
Not sure where to begin choosing a cat house? We're here to help!
We have curated a list of the best cat houses for any circumstance. They are tried and tested to be hits with the majority of felines.
Fingers crossed they won't end up fighting over them.
Here they are:
But, here are some things to think about before diving into the list. Feel free to skip it if you're not interested. You can read the strengths and weaknesses of these houses below.


What to consider:

Cat houses aren't just wonderful devices that help you locate your cat.
They are safe-zones to retreat into and should be comfortable enough to stay in for a long time.
Of course, comfort is not the full story.
So what should we consider when choosing the perfect cat house?
Price:
Cat houses don't have to cost a fortune to be effective. 
They can range from $30 for basic, comfortable lodging that your cat will love to under $200 for heavy duty outdoor cat shelters with all the bells and whistles.
Size:
The houses don't have to be big either. 
It's no secret that cats enjoy small spaces more than they should. 
Remember, we're talking about the kind of animals content living in a box. Confined spaces are warm, cozy and are perfect for drawing cats in. 
That said, buying a cat house without considering its dimensions could be a mistake. Grab that measuring tape and your cat if it lets you to make sure it fits! 
Aesthetics:
The perfect cat house wouldn't be perfect if it sticks out like a sore thumb. 
Think about where to place the cat house and how it will look before pulling the trigger. 
Some houses (think cat condos) are also bigger than you may expect. Be sure to allocate enough space prior to the purchase.
Function:
Indoors or outdoors? Cat house or cat tree? 
There are so many choices that serve different functions. Amusement, weather resistance, heating, insulation, safety and portability are all factors.
Think about what purpose you want the kitty house to serve to find the perfect cat house.
Maintenance:
You'll need to clean your cat house too. Easy dismantling and machine washable bedding would help save time and effort.
Cat friendliness:
Everything about a product may seem great on paper. But just because we like it doesn't mean the little fur ball will. 
It's best to go with choices that are proven to be loved by cats. These take into account a cat's natural instincts. 
Much like us, they look for comfort, sturdiness, shelter, warmth and most importantly, safety. That's why they naturally perch themselves high up. 
It's also why many outdoor cat houses are built with two doors. One for escaping from potential predators like coyotes. 

Got all that? Great!
With that in mind, here's the list of best cat houses for any situation.
Let's get to it.

Simplicity is what you get with the Kitty City Cat Cube.
It's reasonably priced ($31), easy to assemble and quite sturdy. This box is no pushover.
No literally, it's not light enough for your cats to topple it. Cats on the chubbier side can lounge on this with no problem.
At the same time it's not heavy enough to sacrifice convenience which is possibly the best feature of this cat house.
Able to be taken apart and moved in under 2 minutes with no tools, this box is portable.
Top that off with comfortable removable machine washable cushions make this box a hit for those seeking function over form.
But will it be a hit for your cat?
Most likely.
And that's the best we can do with cats and cat houses. They do have their own preferences.
Chances are that it will be a hit. It's a hit on Amazon with many cats taking to it.
Maybe it's the box shape that trigger a cats instincts, but who's complaining? The shape makes it a great space-saver, and comes in a sufficiently conspicuous color.
Accommodating up to two cats, throw in a blanket at the bottom to reduce the chances they will fight for the top spot (the one with the cushion).
The only gripe with this is that it smells until aired (which could take 1-2 weeks).
Other than that, it's great.
You'll be wondering why there's a need for anything more.


Need THE weatherproof solution for your little outdoor friends?
The Kitty Tube is the best there is.
This is the Ferrari of outdoor cat houses. The third generation igloo-looking plastic shelter has seen many improvements over the years.
It's more or less perfect at what it does – sheltering against the elements.
You'll know what it's built for by just unboxing the thing.
It's heavier than you might expect, but the hard element-proof plastic shell is guaranteed never to chip, crack or fade.
The insides are lined with insulated foam that's moisture proof, mold proof, mildew proof and bacteria proof. Good thing it isn't cat proof as well 🙂
Pair this with a heat retaining smallish enclosure (which still fits 2-3 grown cats) and you get the ultimate outdoor cat bunker.
If it ain't freezing, you won't even need the heating pad.
It's also cool enough during the summer thanks to the strategically designed vents.
It's been well-thought-out, right down to the maintenance aspect. The foam is pee proof and the lid can be taken off for easy-breezy cleaning.
Will it see use?
Most likely, people love it. But it's an unfortunate waste if your cat is the shoebox type.
Being so good at what it does have some drawbacks.
The small design of the only entrance helps retain heat, but may make your cat feel cornered and unsafe.
This is despite the entrance bring too small for predators to enter.
So, you may want to leave the lid and entrance flaps off until they get used to it.
Otherwise, there are no real downsides besides the premium price. It's the best when it comes to insulating your cat from mother nature itself.


The Feandrea cat condo is grand-looking and feature rich, like a luxury Airbnb. It's all you need to give your fur babies a taste of the high life.
Towering at 68 inches (173cm) with soft plush fabric, it's like opening a can of tuna with Hobbes around. No coaxing needed.
The Feandrea does require some assembly, as it comes with numerous parts that'll take about an hour to set up.
Unless your cats mess with it before you're done, which is pretty common.
It's also on the heavier side which is excellent.
Why?
It's sturdy as a rock and has a huge base that won't budge.
It's ideal for nimble nibblers and chonkers alike. That's what you need in a cat tree.
You can trust that it won't give way or topple over. More importantly, your cat can trust it which means it'll see good use.
In fact, they'll be sprinting up and down the numerous platforms.
The bonus is having a cat bowl placed near the top, keeping other pets from stealing food.
The towers are also lined with scratching pads. Hopefully, they'll be enticing enough to stop your cats from tearing up your other furniture.
It's also modular so you can get a couple to mix and match and create kitty city!
If you need something big with no space concerns aimed at full-grown cats, this is the cat condo you've been looking for.
And true to its description of "cat condo", it works even better for those with many feline friends


Best Heated Cat House : K&H Outdoor Kitty House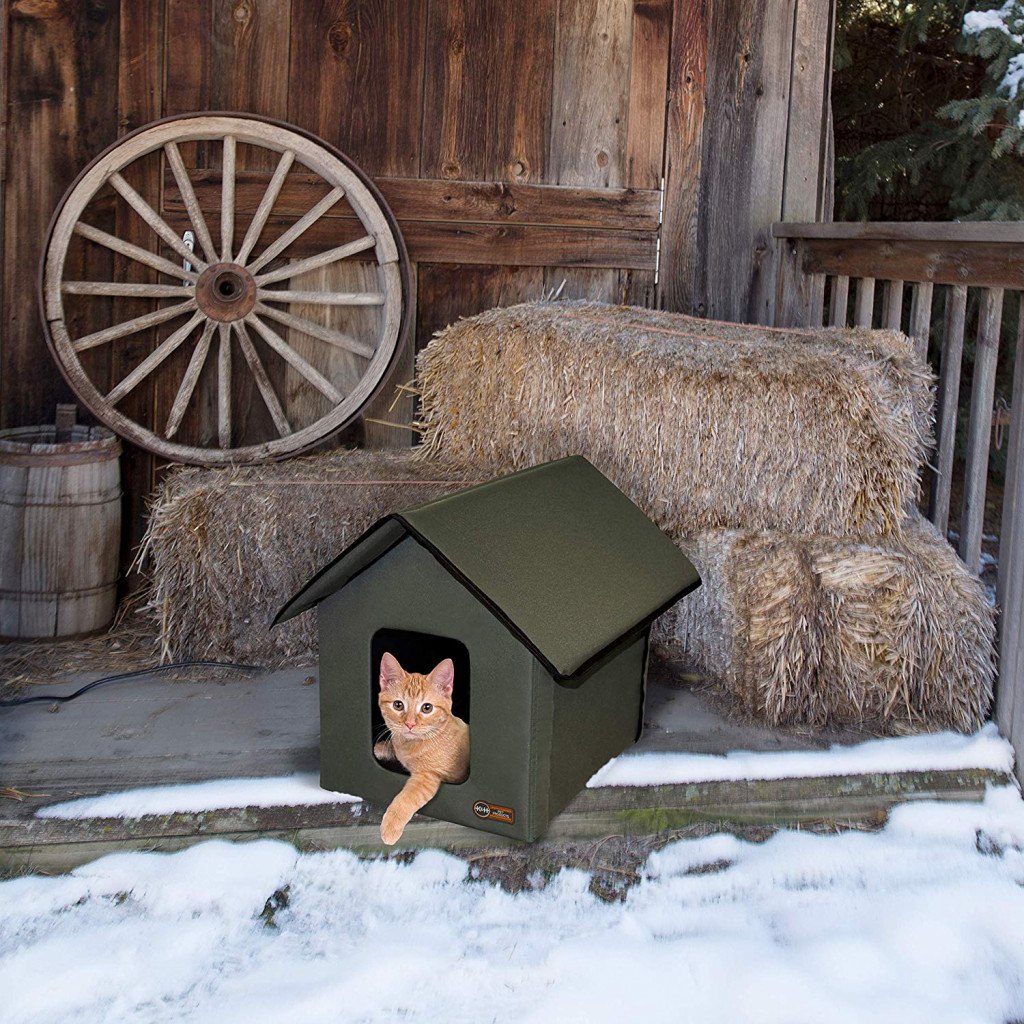 Want to get adopted by your friendly neighbourhood feral? Look no further.
Tried and tested, the K&H Outdoor Kitty House is famous in the cat house world.
It is the most purchased and reviewed cat house on Amazon, likely to be an instant hit with cats.
Simplicity is its strong suite. It's intuitive and can be setup in under 5 minutes.
It also looks like a cat house, which is adorably cute and adds points.
Function wise, it does everything it's supposed to. Where it shines is outdoors, for feral and outdoor cats.
It's designed for safety. With two exits, your cat could escape from potential predators.
This is important because if your cat doesn't feel safe, she won't use it.
That's why they like to perch themselves high up which could be an idea to further increase the appeal of this cat house. Place it up high.
Additionally, the cat house is small and cosy with insulated material to fend off the cold. The velcro-able (yes, now a word) door flaps further help with this.
The heating pad is a bonus.
It's designed to be irresistible, especially during the colder months, which is the best time to bring it out.
Just don't be surprised if you find feral cats inhabiting it.
Would we recommend this to everyone?
No. There are a few reasons why a different heated cat house may be a better choice.
Firstly, the heating pad has a sensor will only activate if something reasonably heavy (roughly 10lbs/4.5kg) is placed on it.
It's for fully grown cats and will take your cat some time to figure out as well. It won't initially know that the little cottage is a little warm wonderland.
Although this is marketed as an outdoor cat house, it's only weather-resistant. It's not weather-proof.
Therefore, water soaks into the base of the house. Maybe pulling a trash bag over would help?
Therefore, this cat house is best used under a roof. I guess that's to be expected since it needs to be near a socket.
If it weren't for that it could be the best outdoor cat house for the price as well.


Suitable for cats and smaller dogs, this pumpkin is too cute to ignore.
Accidentally stumbled upon searching for the best cat house, we couldn't help including it in this list.
I'm not going to lie, this is a cat house built with humans in mind. You may end up loving it more than your cat does.
That said, the pumpkin is plenty comfortable for our feline friends, made from plush fabric with a washable pillow.
Indoor cats will appreciate the cave-like interior. It's spacious enough for small to medium size cats to fit. 
It's so adorable, perfect for those who are suckers for functional foodstuffs – like this cat toast pillow.
To top it off, it's one of the cheapest options on the list ($30). 
So if you're not sure what cat house to buy… I'm just saying, Halloween is just around the corner.