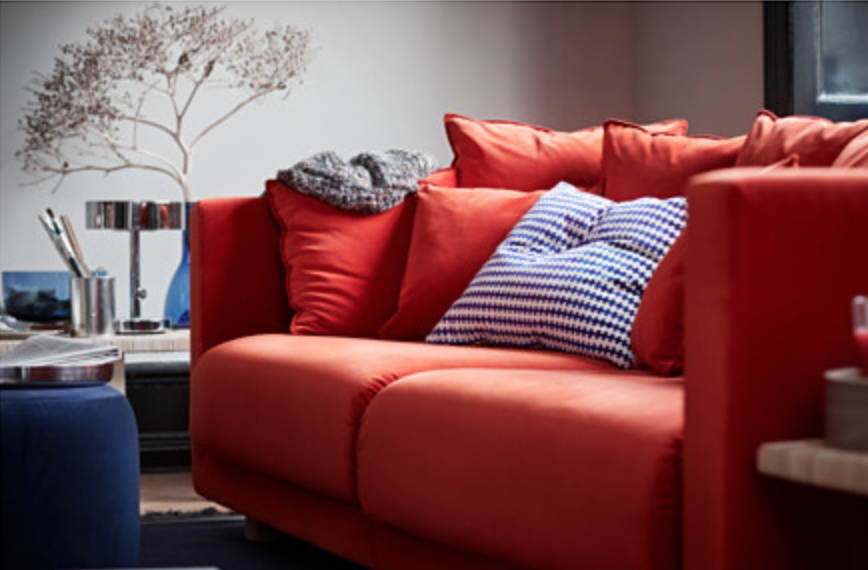 Stockholm Sofa 2017 Review
Are you familiar with the Stockholm series from IKEA? If your answer is yes then I'm sure you'll know that it's the most exclusive range of sofas of the company. And this year they have launched another version of this couch: the Stockholm Sofa 2017.
Fun Fact: The first Stockholm sofa (as far as we know) was a 3.5 seater that was part of 2 large sections, and was replaced sometime around 2014.
"The STOCKHOLM 2017 collection means wellness, quality and comfort". – Viveca Olsson, IKEA Creative Director
So once again, we went to IKEA to try, test and evaluate this new bad boy for you. If you are thinking about buying this new sofa, this is the perfect blog post for you.
Have in mind that this collection also includes cushions, coffee tables, cabinets; But we will just be focusing on the sofa and the footstool. Because at the end of the day, these are the furniture we are specialized in.
OVERVIEW
The Stockholm 2017 collection has been available in IKEA since April 2017 and Ola Wihlborg has been the designer in charge of the of the sofa and the footstool/ottoman design. He has tried to make the sofa the most practical possible, affirming that one of the parts of the design process was taking the sofa home to see if it worked in a real home. Interesting, right?
"I wanted to design a big sofa, one which can be used by the whole family at the same time". – Ola Wihlborg, Designer
This newly updated sofa collection counts with a 3-seater sofa, a 2-seater sofa (just available in some countries) and a footstool. You can see all the designs up next:
COMFORT
This sofa has an incredible touch when you sit on it or put your hand on it, a warm and comforting sensation runs through your body. Feels like velvet actually but if you check, it's a (77%) cotton and (23%) polyester blend.
The seat cushions of this sofa are also perfect! Very comfy, with a nice cushion filling which is very soft, but at the same time very tight, so you won't sink into the cushion when you sit down. Specifically, they are filled with high resilience foam and polyester fibers which provide comfortable support for your body and easily regain their shape.
The armrests, however, are a different story. They are very tall and hard, so they aren't very comfy or useful. But it's true that with the width of the sofa, you won't even notice that. Because imagine that you want to take a nap. The sofa is so long, that you can lie perfectly and don't need to support your head on the armrest.
The only thing we don't like about this sofa is that it's very deep. When I tried to sit on it, it was impossible to put my back on the backrest and have my feet on the floor, and this is pretty annoying. I suppose that's what the 10 cushions are for, but they very uncomfortable for me.
Nonetheless, we really recommend you to try this sofa before your purchase it! Maybe it's big enough for a nap and be seated just a few minutes, but not if you want to have a lazy evening of movies and pizza on your sofa. Just my two cents.
Verdict: 5.5/10
AESTHETICS
The range of colors for the IKEA Stockholm 2017 and the footstools is not very varied. It just comes with three colors: orange, dark blue and dark gray. But we have to recognize that the velvet of this sofa has an elegant and shiny touch that we love.
The sofa just stands out on its own the moment you enter the IKEA sofa section. Maybe it's because of its sturdy, elegant and large structure? Or maybe we are facing the first paranormal phenomenon of IKEA?
You can check the three different colors available up next:
Hope these pictures help you see the differences between the three colors available for this sofa and discover more about the design and aesthetics of the Stockholm 2017 sofa.
Verdict: 7.5/10
PRICE
Well, well. Here is the interesting point of this sofa. Because everyone knows this is one of the most exclusive couches of IKEA (hence most premium).
At Comfort Works, we believe that what's 'expensive' or 'cheap' is simply subjective. It always depends on the quality you want the product you buy to have (normally if it's more expensive the quality it's better). You pay peanuts, you get monkeys.
That's why we've created this price table. You'll be easily able to tell if the price is good (or not) for you:
For us, the price for a 3-seater sofa is not very affordable. We understand that it's a very luxurious sofa but really, you can find very similar or even more comfy sofas (this was too deep) with better prices.
At IKEA itself, a 3 seater Kivik sofa costs only $549 and you can customize it with a velvet slipcover for that price. The funny thing that I should have mentioned earlier was that the armrest protectors don't even cover the armrest entirely — now why make something that doesn't work?!
Verdict: 7/10
DURABILITY
The best thing about IKEA sofas is that they always come with a 10 year guarantee. It's true that the velvet fabrics aren't as durable and resistant as other fabrics so maybe, it'll be a good idea to protect this sofa with a sturdier replacement cover?
On the other hand, it is true that the sofa has a very strong structure. The sofa legs are made of solid oak and the main frame of a combination of different materials like solid wood, so it's actually pretty strong and has a resistant structure.
To increase the durability of the sofa just turn the back cushions so they wear evenly and last longer, as they're reversible and have the same fabric on both sides. It's smart – all sofas should be made this way!
Verdict: 7.5/10
HACKABILITY
One of the good things about this sofa is that it can be customized. Yes! Because just changing the color of a few cushions you will have a more modern and unique sofa (you can try with our Pillow Covers). Also, it's possible to make a cover for this sofa. This is the best way to personalize it and protect it from daily wear and tear. Contact us on info@comfortworks.com.au for more information about this.
Verdict: 8.5/10
OVERALL CONCLUSION
Well, the truth is that we really like this sofa.
It has an incredible design (better in real life than in pictures), it's solid and durable with extreme comfy seat cushions.
But (yes, there is a big "but") – it's very deep. We can't understand how IKEA could allow this design because we found it impossible to sit comfortably on this couch, even with the 10 back cushions.
So in general, this sofa has a very good score, but we won't buy it. Mainly because we love to sit on sofas! They can be elegant, marvelous and beautiful, but if you can't sit comfortably – then what good is a sofa?
Final Verdict: 7.2
What do you think? Do you agree with us? We will love to hear from you in the comment section of this blog and in our social media. We have accounts on Instagram, Facebook and Pinterest. Just follow us and let us know your opinion.
Also, if you want more information about the past Stockholm collection you can read our IKEA Stockholm Sofa Guide & Resource Page. And remember that you can always personalize your sofa with our sofa covers. 😉
If you've found this review helpful and want to find out more about other IKEA sofa models, click the button below for the best IKEA sofa reviews!