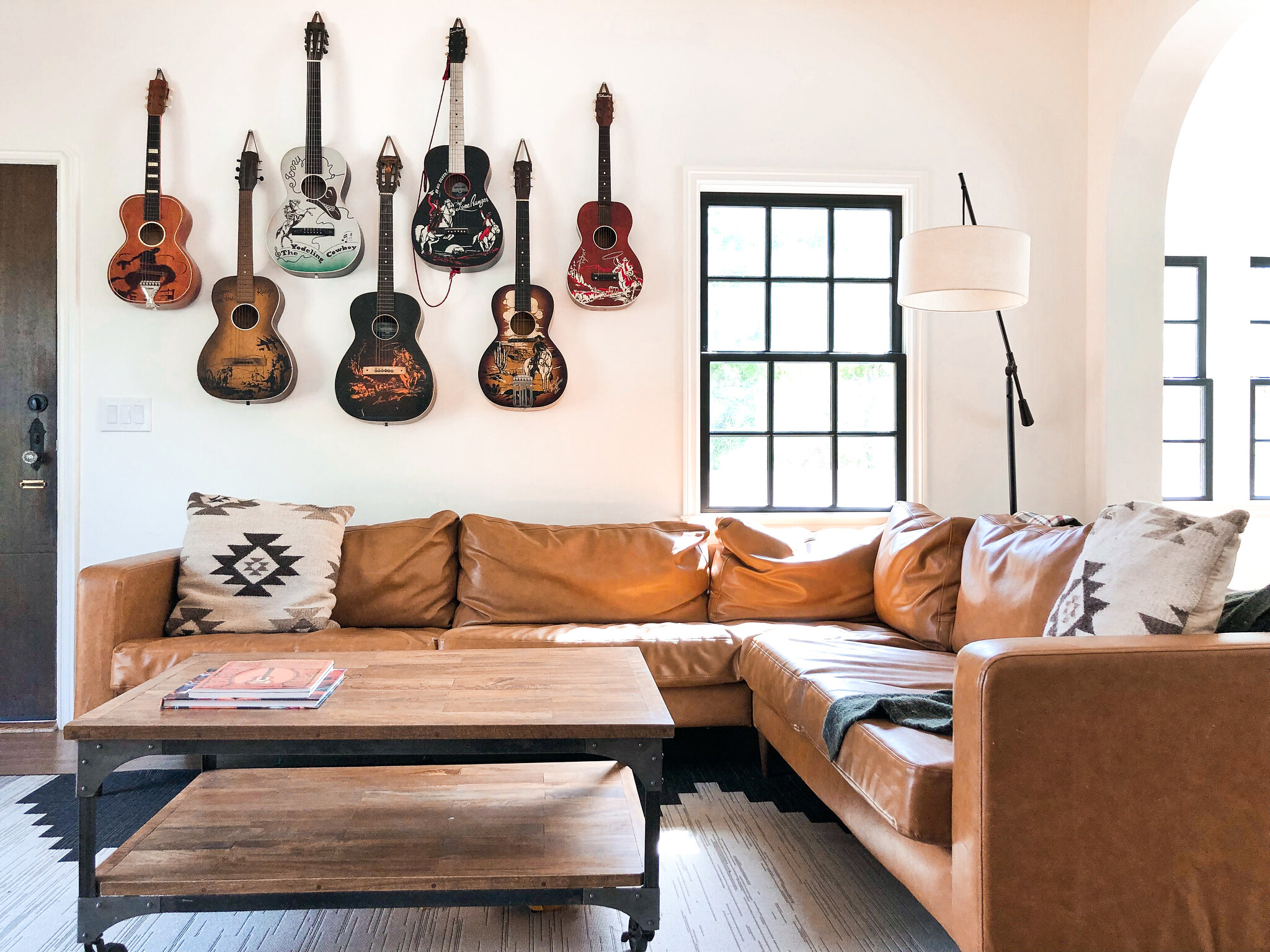 Choose the best & most comfortable leather sofas of 2022
Leather sofas – there's nothing quite like them when it comes to infusing character into the living room. Classy, easy to maintain and luxurious, leather has always been one of the first choices when it comes to choosing a fancy sofa. 
Some don't like the look of leather as they feel it gives off a rather masculine feel. But we think leather has a place in any living room and as a material, it has no real downsides.
The only problem with leather sofas? They are so.friggin.expensive; so you do not want the costly mistake of picking the wrong one. 
Rest assured, I'm here to help you pick the perfect leather sofa! One that is high quality, from reputable manufacturers and tailored to your needs.
Stick around to learn:
Ready? Sit tight, let's dive right into the list of the best and most comfortable leather sofas for 2022!

How to pick a leather sofa
Go for high quality leather
The difference between a good leather sofa and one doomed to be next year's landfill comes down to quality.
Sure the construction of the sofa plays an important role, but when it comes to the horror stories you hear about leather sofas literally crumbling and flaking, the cause is most likely surface level. 
There are plenty of marketing tricks that brands play, one of them being the term 'genuine leather'. Take it from us: this means poor quality leather. However, even that is not as bad as 'bonded leather'. Stay away from bonded leather: it will disintegrate on you sooner than later. 
With bonded leather, it's only a matter of time before this happens:
Even faux leather is a longer lasting and less troublesome alternative.
Remember, when it comes to real leather sofas that last, what you want is full-grain or top grain leather.

Pick a suitable leather for your household
The way leather is coated (or not coated) is important. Is it minimally treated to preserve maximum breathability and the ability to patina over time, or is it coated ever so slightly to be more spill and stain resistant?
You may have come across terms such as coating, aniline and semi-aniline in your own hunt for a leather sofa. What do they all mean?
Semi-aniline leather has had a thin protective coat applied on the surface of the leather. This kind of leather is more resistant to stains and is generally a better choice for messy homes.
Full-aniline leather has no top coating, so keep it away from the coffee and red wine. It offers the best breathability and will develop a beautiful vintage patina over time as it is exposed to body oils, wear & tear and sunlight.

Leather is not cat friendly
There's a rumour floating around that leather furniture is perfect for homes with cats. Something about them not wanting to scratch materials that aren't textured and offer no place for them to sink their claws into.
Well, millions of cat owners and their shredded leather sofas would sadly disagree.
The truth is, each cat has its own preferences. Some scratch on wood, some scratch on rope, and some scratch on leather. Sure, cats that behave can jump up and down a leather sofa without leaving permanent scratches. But if they are actively trying to claw it then you'll be stuck with a luxurious scratching post.
So if you're not sure if your cat has expensive tastes, avoid leather. If you're looking for a cat-proof sofa, try a couch material expressly designed to be cat-proof instead, like our bespoke sofa covers made from claw-proof velvet.

Congratulations on reading through! With that out of the way, you are now ready to hunt for your dream leather sofa. Let's dive into the list of the very best leather sofas you can get your hands on today. Starting with:


Note: The Morabo is known as the Landskrona in some countries but they are practically identical. Though, the Morabo is slightly taller to accommodate the Western market and has slightly wider armrests.
It's almost difficult to make any best sofa list without featuring at least one sofa from IKEA. They are so competitive when setting prices for their furniture. The IKEA Morabo is no different.
At just $799 for the standard 3-seater and $1,399 for the sectional with the chaise lounge, it's hard to believe that the Morabo is even a real leather sofa.
Well it's not! Not completely, at least.
Part of the reason why the Morabo can be found at a price that is thousands of dollars cheaper than other famous branded sofa manufacturers is due to the fact that only the contact areas are upholstered in real leather. That includes the inner armrests, seat and back cushions.
The rest of it is made of faux leather, or as IKEA puts it: "a coated fabric that has a similar look and feel to leather".
But for many leather sofa hunters out there, that's enough. The non-contact areas are hardly likely to be damaged while the places that do see traffic still provide the comfort and easy to maintain benefits of real leather.
It's the best mix of function, affordability, and comfort.
Speaking of comfort, the Morabo has an unusual mix of relaxed and loungy seats with cushions that are on the firmer side. But yes, comfortable overall; you can expect it to break in and get even more cushy over time.
To make things even more competitive against the leather sofas offered by more "luxurious" brands, IKEA uses top-grain semi-aniline leather on the Morabo. The same good stuff that's also found in Crate & Barrel, West Elm and even Design Within Reach leather couches.
That's a sure sign this sofa will be sticking around for awhile as opposed to disintegrating into leather crumbles after a couple of years. Since it's semi-aniline, that also means that the leather will hold up to most spills and will not stain easily, making it a good choice for homes on the messier side.
At the end of the day, the Morabo is a great leather sofa for the money, though it's not for everyone. Especially those looking for a fully leather sofa.
But if you're simply after something that looks amazing, is comfortable, will last year on year and comes in great leather, it's almost impossible to argue against the price of this sofa. Plus, you get all the other sweet perks that come with shopping at IKEA.
Find custom leather slipcovers for your Landskrona here!
From global accessibility, showrooms to test their sofas out, flat packed furniture that can actually fit through your doorway and an amazing return policy, there are many reasons for even those on a higher budget to consider the IKEA option.


The Lounge II is a favourite in the sofa world. Crate & Barrel themselves describe it as "modern oversized seating". And in leather, the Lounge II is one of the best leather sofas for families.
Sitting on the Lounge II is like sitting on a giant cloud. If that cloud was carnivorous and made of leather. Carnivorous because this sofa literally swallows you up – it's that soft. Boasting plush and spongy cushions, the Lounge II was made to be snuggly. You can dive and sink right into the inviting cushions… in comfort (not suffocation).
It is also huge, much like a giant brown sofa island. It can definitely accommodate the entire family with room to spare. And if it somehow doesn't, you can always turn it into a sectional. It is one of the few modular leather sectional sofas. 
Simply buy as many additional Lounge II parts as you need to create the ultimate grand leather sectional. A sofascape truly fit for a sultan.
The secret to why the Lounge II looks and feels so big without hogging too much of that precious living room real estate is because of a ginormous seating depth. At 29" (74cm), this sofa offers some of the most relaxed seating ever.
It will be a struggle in itself to get an upright sit let alone touch the floor. Honestly not very unexpected given that it is lovingly called "Lounge II".
As a family-oriented sofa, the Lounge II is only available in semi-aniline leather. Crate & Barrel have also played it safe and offered a limited colour palette of dark hues to better hide any unfortunate accidents. So unless something terrible happens to the couch, and you look after it well, expect the Lounge II to age in just the same way you found it.
If you're excited by the prospect of having possibly the comfiest couch in existence, there's good news. Crate & Barrel have many global showrooms you can walk right in to test it out for yourself. 
That's right, global.
Outside America, Crate & Barrel also operates in Canada, Colombia, Costa Rica, Mexico, Peru, Philippines, Singapore, Taiwan and the United Arab Emirates. Finally an option other than IKEA for those who live outside the US and Canada! 
In short, despite how exaggeratedly relaxed it is, I can't see a reason why anyone would hate the Lounge II. It will make you feel like a kid again 🙂
And if you're worried about how the sofa itself will hold up: don't be. Crate & Barrel have a great reputation for making quality furniture. Testament to this can be seen in their manufacturing process.
Find custom leather slipcovers for your Lounge II here!
They still manufacture in America using kiln dried hardwood as the frame of their sofas to ensure that the insides hold up well. The Lounge II is no different, but be prepared to pay for that quality – it costs $3,299 for the standard 83" sofa. 


Best mid-century leather sofa: Article Timber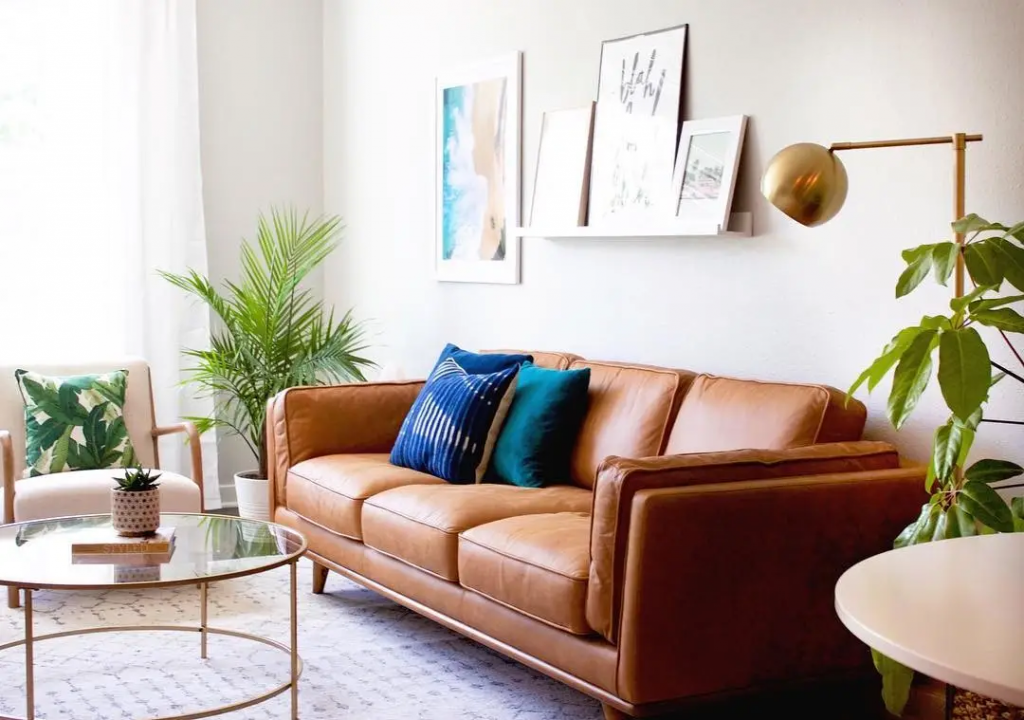 Article's Timber sofa is one of the best leather sofas for the money. It is gorgeous and classy, sporting delightfully tapered legs and a beautifully finished wooden panel. This sofa screams mid-century in all the right ways. 
It also uses some of the highest quality leather found on sofas – full grain aniline leather tanned in Italy. Mhmm, if vintage, patina, and well worn are the words of the day then this is the leather you'll want.
What this means is that with the proper care, the sofa will grow on you, changing its hue over time and age finer than a barrel of whisky. That's the beauty of aniline leather.
But a leather couch isn't just about the quality of leather it uses, and fortunately the Timber sofa is a hit in the comfort department as well. 
A mix between deep and upright sitting paired with a low-ish back make the Timber… an unusually balanced sit. The secret behind this weird combination of loungy-ness and attentive seating is due to the slightly firm but giving seat and back cushions. Not too much to make it sag though, which is great.
This on top of plushy soft down-filled back pillows make for a couch that you can sink into slightly without being gobbled up – a favourite for cat naps. Those over 6ft will also be pleased to find that it is long enough to sprawl out on and then some.
So how much does all of this cost? Well, this one might surprise you – it costs just $1,999 with free shipping if you live in Canada or America. 
No way! A full sized leather sofa that is thousands of dollars cheaper than several of the other competitors on this list?
What's the catch? 
Good news – there is no catch. The quality of the Timber is top notch and the leather is impeccable, all with good construction that will last the years. The only thing that you can't do is to test the sofa out. 
The secret behind Article's astonishingly low prices for their sofas is the fact that they are a direct to consumer business. That means no showrooms, no commission based sales personnel… and no testing their sofas. This also means that the final price of their sofas don't include these things as well.
While it may sound crazy to order a sofa (and an expensive leather sofa no less) online with feel unfelt, Article has a reputation of producing quality furniture. A quick brand search will unearth a ton of positive experiences.
Of course, testimonials from third parties aren't a substitute for seeing and feeling the sofa yourself but you're just going to have to trust them and pull the trigger if you want some of their furniture. 
Before buying, just remember that the Timber is only available in aniline leather (their Charme leather) and while it may age like a charm-e, it should definitely be a choice that's saved until after the kids grow up and the pets learn to behave. 
Find custom leather slipcovers for your Timber here!
Though we at Comfort Works do make tailored slipcovers that can help protect your leather sofa until it is ready for reveal, all while looking designer level stylish.


Best sectional leather sofa: Article Sven
Another Article sofa in the same list?
Yup, Article is just that great when it comes to the value for money you get with their leather sofas. We've gone over this.
If it wasn't because of how gorgeous the Timber sofa is, it would be the Sven that takes its place for best mid-century leather sofa. They are both Article's signature sofas after all.
So what makes the Sven special? Well for one, the Sven chaise sectional looks better than its Timber counterpart (at least I think so).
While they are both classic mid-century, the Sven has those beautiful tufts on the bench seat cushion and chaise lounge. The use of a single bench cushion is also extra comfy to sprawl out on like a cat rolling around and prevents crumbs, remotes and yourself from getting wedged in between. 
Besides aesthetic differences, the Sven is also a softer, squishier couch. 7 inch down-filled back cushions have a spring to them and are not the firmest.
While they are still supportive, some find these cushions too soft, especially considering that they start to look rather frumpy if you don't regularly fluff them.
Still a very comfy couch though, perfect to burrow in and get very relaxed on. The included cylindrical pillows for back support are also appreciated as a way to get a more attentive sit.
The most important difference between the Timber and Sven is that the Sven is also offered in Article's Oxford semi-aniline leather. Other than the additional purrdy colours to choose from, this means that the sofa will better stand up to stains. (Just don't expect much of a rich patina to form on the Oxford leather.)
This protective option is great for households with kids and pets… or just really messy people. Though the Charme full aniline leather is also an option for the Sven if you're able to keep the sofa out of harm's way.
Downsides to the Sven? There are some.
As previously mentioned, there are some complaints of the cushions getting depressed over time.
This doesn't happen too often and most owners still love their Sven but the bigger and wider cushions filled with lots of down do make it more likely to sag. Because of how soft the down cushions are, it also means you need to regularly fluff it.
Still, at $3,299 for the sectional the Sven is a steal. Top grade leather, free shipping plus a great return policy make the Sven a bargain that's way above its price range. Unlike the Timber, it is also suitable for all households with the option for semi-aniline leather.
Find custom leather slipcovers for your Sven here!
Just remember that this is not a modular sectional so you cannot expand on it with additional parts. If you're looking for something like that, you might consider Crate & Barrel's Lounge II instead.


Sleeper sofas are not easy to get right. Anyone who has had the "pleasure" of spending a night on one will tell you that. 
More often than not, they are clunky and uncomfortable, with metal bars that stick into you while you wonder how to deal with the next day's sleep deprivation. 
But as it turns out, there is a well known brand that already offers a sleeper sofa that is both comfy in its sit and sleep. And it comes in leather.
The brand is Room & Board, and they are very popular amongst sofa hunters who are looking for something a little more "grown-up" than IKEA. What separates them from other brands in the price range is their top of the line customer experience. 
Seriously, they provide amazing customer support both before and after your purchase and are more than happy to help you with just about everything.
Moving back to that leather sleeper sofa – theirs is one of the best you can find!
The unassuming Berin is a minimalist piece with a modern design that fits into most rooms. There's also the full-sized mattress that lies within.
What makes the Berin sofa truly special above the sleeper sofa competition is the fact that it uses the famous Tiffany 24/7 system. The same one that American Leather (also famous for sleeper sofas) uses. (That's because the Berin is actually manufactured by American Leather… for R&B. It's a long story.)
Anyway, what this system means is that the mattress lies on a retractable tri-fold platform instead of metal bar support. Bars that poke into your spine: none.
Overall it's a much sturdier and comfortable feel, made even more impressive by the fact that the system is spring-assisted meaning anyone can transform it from sofa to sofabed, effortlessly.
Yes, even grandma can operate a sofa weighing over 200lbs (90kg) with the right tools 🙂
These features coupled with extra thoughtful additions such as zippers that secure the mattress to the frame, and the ability to stow away the mattress with the sheets attached for ready use make the Berin a great experience.
When not transformed into its bed form, the Berin is a pretty neat sofa in itself. It's not the most comfortable sofa ever (sleeper sofas tend not to be), but it is still very pleasant to sit on. Down-filled cushions help soften things up for a supportive yet not too firm sit.
The mattress on the other hand is on the firm side which is great for that aching back, but definitely not for everyone. If your guests prefer something softer, having a gel mattress topper at the ready would solve most problems.
That being said, the Berin definitely does have its drawbacks. At over 90kg, this sofa is not meant to be moved often, though it can be disassembled to make things lighter. Plus, after disassembly, it can be moved and fit through just about anywhere. 
The other not so great aspect about the leather version of the Berin is that it costs $5,799 for the 76" queen sized sleeper. Yikes.
Even with the massive selection of funky colored (think yellow chartreuse) top-grain aniline or semi-aniline leather they use – that is craaazy expensive.
But given the lack of good alternatives, and the fact that Room & Board are the ones behind the Berin, it is definitely one of the best options for a leather sleeper if you want something good.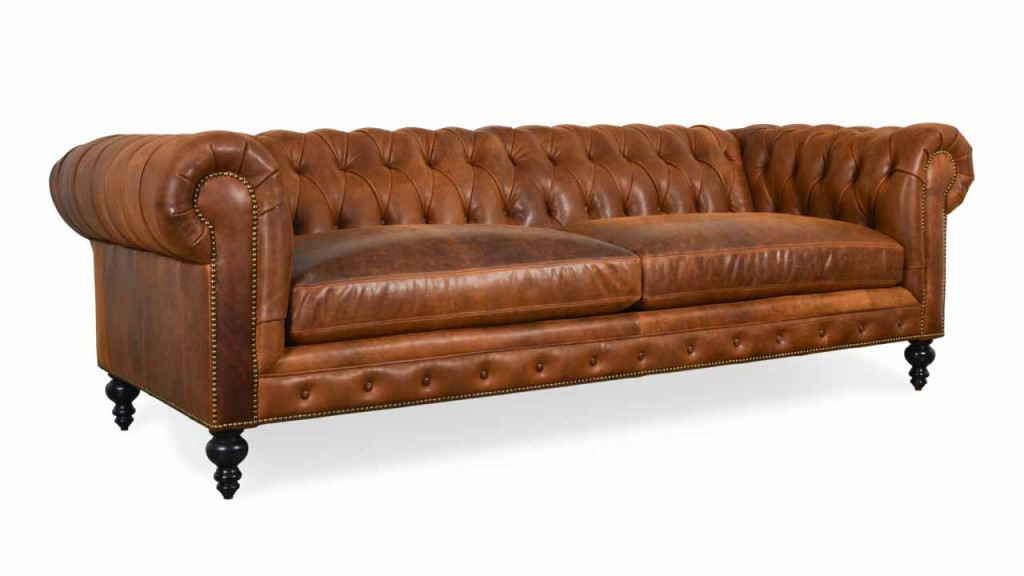 If you're regularly on the prowl for good bargains at antique and thrift stores, you might have noticed lots of vintage leather sofas that seem to have lasted generations.
Sadly, the days where sofas were a "buy it for life" thing are long gone – they simply don't make them like they used to. But one company still does.
Cococohome is a brand that flies under the radar but shouldn't – and no, that name isn't a typo. Cococohome actually stands for Comfortable Couch Company and they make sofas real good.
Of all their Restoration Hardware-esque looking pieces, their Chesterfields are a kind of specialty. If you're looking for a striking conversational piece – this is the one. And Cococohome is your choice for where to get it.
Hands down one of the most iconic sofas of all time, the Chesterfield is a throwback to the 19th century whisky and cigar lounges… and sometimes mancaves. Yet despite how ostentatious it looks, don't be fooled by its appearance.
This tried and tested design makes for a comfortable couch. In fact, it was practically invented for the middle class of that era because they wanted something exquisite and comfortable at the same time.
So what makes one from Cococohome special? Simply put, they go all out to create the highest quality piece of furniture your butt will have the pleasure of sitting on.
This means frames constructed from kiln dried hardwood made of 100% American oak (some of the hardest of hardwoods).
This also means a self engineered spring support system (with extra springs); plus cushions made from high density foam, wrapped with softer foam, then encased in down, then upholstered in leather.
The tufts on their sofas are even hand tufted with twine so say bye to any issues of the buttons falling off, which is one of the most common complaints when dealing with tufted sofas.
By the time the sofa is finished, it is this giant heavy construct packed with so much goodness that it will take at least 4 grown men to lift (yes it is that heavy). But oh how beautiful it is.
As for the leather, you will be able to find something that suits you, guaranteed. Their selection is huge. From anilines, semi-anilines, sleek mattes or glossy bold colours – they have everything.
The only thing that really throws a wrench into how great this all is is the ordering process. Never mind many months it will take to receive the couch as each couch is made to order, but the website itself is quite the pain to peruse.
Given the many different kinds of leather and the sheer amount of customisation you can pick to get the perfect sofa for you, it would be nice if they at least show a preview of what your end couch might look like. Which they don't.
You'll find the best experience to pick out your perfect couch is to order leather samples to make sure they have what you want, and then take a trip to one of their showrooms in Atlanta, Charlotte or Nashville to get a sense of what each of these customisations look like.
But at the end of the day even if their website is lacking somewhat, their sofas are definitely not. So ladies and gentlemen, if you're looking for the best leather sofa candidate to last you your entire lifetime, this is your best bet.
The Chesterfield design isn't going to be for everyone, so don't forget that Cococohome also does other styles. Each of them with an unbelievable quality (and relative affordability) that is rare to find these days. 
Need further proof? Just compare their classic chesterfield ($3,600) to a similar one from a far more famous brand.


Get the leather look for a fraction of the price with leather slipcovers
Leather is one of the most expensive materials out there. Everyone knows it.
There's a whole lot to love about it too, being easy to maintain and classy as heck. What if there was a way to get these things at a fraction of the cost?
Good news. There is! Introducing vegan leather (a kind of faux leather with no animal harm involved) slipcovers:  
Bet you didn't know there was such a thing. They basically slip on the sofa and can be made for any sofa that can be slipcovered. It also has the same gorgeous looks and easy wipe to clean features of full on leather.
Just don't expect it to patina over time, because unfortunately it doesn't do that. But it is a lot less depressing for the times the cat coughs up yesterday's dinner onto the sofa. Or when little Timmy designates it as a blank canvas to test out his artistic expression… 
So if you've got an old sofa in desperate need of a do over, don't break up with it just yet – consider getting the leather look without the hefty price tag.
You can also buy the leather sofa you really want, and start by protecting it with a fabric slipcover until it's ready to be unleashed. Because we also do that 🙂
Whatever it is, hope you enjoyed this post and are now ready to pick the perfect leather sofa. Happy Hunting!

Want to find out more about how you can turn your old sofa into the leather version of itself? Click through to try out our leather samples for free!