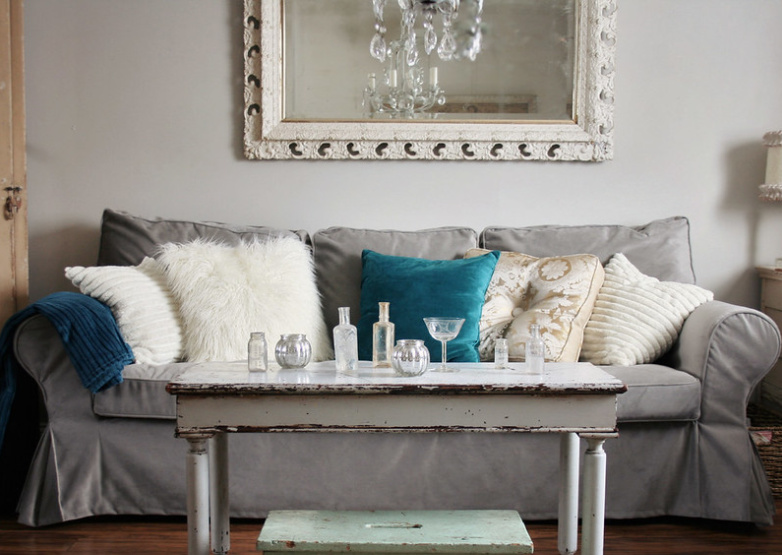 The best and most comfortable slipcovered sofas of 2022 & how to pick them
I'm biased of course (working in a company that sells bespoke slipcovers), but there's nothing sweeter than a slipcovered sofa as the main living room couch.
Most slipcovers are removable, replaceable and machine washable, making them the biggest secret to couch immortality… and general cleanliness.
You won't even have to worry about stains when the cat decides to cough up yesterday's dinner onto the couch. Or the times when little Timmy needs a little blank canvas to test out his artistic expression.
Just a quick trip to the washing machine and you're good to go. How have people not realized how great these are?
Of course some may not appreciate the relaxed style offered by loose covers and prefer the sleeker looks signature to upholstery, but who wants to live in terror over every pasta spill?
Terror for a good reason as well – it will cost a bomb to reupholster. Sometimes as much as the original couch itself.
If you can't get the stain out all that's left is to live with it, or fork out.
But since you're reading this post then you probably already know all this. I won't have to sell you on the benefits of slipcovers.
With that said, let's dive into the guide to the best slipcovered sofas you can buy right now, including:

Best Budget Slipcovered Sofa: IKEA Ektorp
Note: There's a newer, deeper, and taller variant of the Ektorp called the Uppland for IKEA US. It is designed to better accommodate the Western market and is equally inexpensive. Plus it comes slipcovered!


Let's get the formalities out of the way and start with the most popular slipcovered sofa in the world – the IKEA Ektorp.
It's the sofa that no slipcovered sofa list can be complete without. After all, it is IKEA's most popular couch by far.
So what can you expect out of a couch with such impressive credentials? Well actually, not as much as it might be hyped up to be.
The Ektorp is by no means the best slipcovered sofa. It's brilliant at what it does, which is to not blow a giant sized hole into your wallet.
At the same time it also checks all the boxes that ordinary folk will be looking for in a slipcovered sofa.
Replacement covers available? – check.
Machine washable too? – check.
A sturdy enough frame construction and cushions that don't fall apart after a few years – check check.
They've even gone ahead and played it safe with how it feels to sit on. Firm, overstuffed cushions that aren't especially soft or stiff and a seating position that is upright with a tiny bit of lounge.
Hardly anyone could find the Ektorp too deep, hard, soft, or loungy to be a deal breaker. It's just… neutral.
What isn't neutral is how affordable the Ektorp is. At the time of writing, it's $399 for the 3-seater. What. a. Steal.
Things get put into perspective when you compare it against the classic Pottery Barn basic slipcovered sofa which costs $1399 or more. They even look very much alike but the Ektorp is less than a quarter of the price.
And that's what makes the Ektorp the ultimate budget slipcovered sofa. It really is the slipcovered sofa that is accessible to anyone.
To really drive this home, IKEA is a global brand and offers flat-packed furniture. Most corners of the world can order it and bring it through their doorways or narrow stairwells.
Don't forget you can even browse through the local showrooms to get a feel of this couch which is definitely a perk! You get all that plus the benefits of shopping at IKEA such as the 10-year guarantee and easy returns.

All-in-all, while the Ektorp is not the cheapest slipcovered sofa, it's as cheap as you'll want to go. It won't break on you if you don't abuse it and provides everything you'll want from a budget slipcovered sofa.


Best IKEA Slipcovered Sofa: Farlov
We love IKEA sofas, sometimes a bit too much that you'd have to worry that this list was full of them.
Don't worry, this will be the last IKEA sofa on the list – and it's well deserved too. Promise!
One of the best things about shopping for a sofa at IKEA is that you can always "splurge" on some of their higher end products without breaking bank.
Sometimes, you'll even find a sofa that has the looks and feeling of something that you won't immediately associate with a brand like IKEA.
That's where the Farlov comes in. For a full disclaimer, this is my favourite IKEA sofa – especially after slipcovering it in our Madison cotton fabric. It's so comfy.
Anyway, back to the Farlov. The most obvious thing you'll notice by looking at it is that it has an unexpectedly upmarket look for IKEA.
It's the first of their sofas to rock those gorgeous sloped arms and has a clean and modern silhouette. Seriously, it even looks almost identical to the sofas sold by some of the far more expensive brands.
Of course, a sofa isn't judged by its looks alone and the good news is that the Farlov delivers in the comfort department, and then some.
It's large, deep-ish and above all has a single bench cushion that makes you want to sprawl around on the sofa like a cat.
No joke, the space on the bench cushion is almost as large as a single bed after removing the back cushions. It's also soft-ish yet supportive making it a favourite for naptime.
Those sloped armrests are also low enough to prop the lumbar cushions against for a make-do pillow + head rest combo.
Speaking of lumbar pillows, you get two! Since the Farlov naturally has a deeper and loungier sit, these really help to prop yourself up for when it comes time to hold a conversation.
Priced at $799 in its cheapest fabric, the Farlov is definitely one of the more expensive options on IKEA's catalogue but is worth it.
Other than being one of the most comfortable sofas in IKEA (in my butts opinion), you can do so much with it from lounging, upright sitting and even napping.
You can even sit crossed legged or however you want because of it's large seating depth, which is something you won't do very well on the Ektorp.
Being an IKEA sofa, you can expect to get all the perks of shopping at IKEA (flat-packed delivery, showrooms for testing, return policies) and machine washable replacement slipcovers.
Plus, it's available around the world.

For some odd reason though, the Farlov has a far more limited selection of slipcover fabrics/colors compared to several other IKEA couches.
The only options available are safe, solid colors which is a shame since the Farlov would look absolutely premium (read: expensive) in some bold, luscious colors.
Either way, that's the only real downside to this otherwise amazing couch and you should definitely be considering this all-rounder at a bargain price.


Surprise, surprise! It's not everyday that you'll see a sofa from Stone & Beam getting a mention. It's a brand that flies under the radar, but shouldn't.
Stone & Beam is part of Amazon's own furniture line and makes great sofas, which is why it's odd that they've remained on the down-low.
When it comes to their slipcovered sofas, there's an unfortunate lack of options; most of them aren't slipcovered. But thankfully the Faraday does come with one and has some of the best quality at a modest price.
Modest as in you are definitely not paying for the brand name on this one. Currently, it is priced around the $1100 mark for the 89" model.
One look at the Faraday will tell you that it's different. Unlike the hordes of skirted, round-arm Pottery Barn lookalikes, the Faraday has chosen to go unconventional.
It's oversized and has a sleek look that would fit right in with more contemporary homes. You wouldn't even think this was a slipcovered sofa unless you knew beforehand.
With a relatively affordable cost and highly different proportions from any tried and tested design on the market, you may have some suspicions on whether this sofa is any good.
Don't reinvent the wheel on what works right?
Well as it turns out, the Faraday is not only a comfort king but trumps the construction of almost any big brand sofa dollar for dollar.
It's got a frame made of solid hardwood, with down-filled cushions, and comes with very thick cotton-blend sofa covers. Who said you couldn't find a well-made couch on the cheap?
The one thing that throws a wrench into how great the Faraday performs as a slipcovered sofa is the fact that replacement covers for it aren't currently sold. Come on Amazon! Uh, I mean Stone & Beam…
We also do not make covers for this sofa (yet) so it's a good thing the soft denim-like cotton blend is substantial.
At the very least the covers can be washed. Not that Amazon specifically says it can be, though people have been doing it anyway without issue. Best to play it safe and use cold water when washing and drip drying them in shade.
As for whether this is the sofa for you… well, it depends mostly on how you like to sit. It's plenty comfortable with it's softer than average down filled cushions, but the 26 inches of seating depth make this couch all but unusable for attentive sitting – unless you're a giant.
Basically, be very sure that you love your couch relaxed and loungy before even considering this.
If it wasn't for the risk involved in buying sofas that you can't test out, the Faraday would probably be a whole lot more well known. Though, it's the lack of showrooms and salespeople that make the couch so affordable in the first place.
So if that's something you don't mind, you can hop straight onto Amazon and check out with the all too familiar Amazon shopping experience. It even comes with free delivery and all if you're a prime member 🙂


The Crate & Barrel Lounge II has always been a favourite in the sofa world. It's modern, big, comfy, and so very versatile because of its modular nature.
It's among the top contenders for best family couch.
Unfortunately, there is one slight issue – it doesn't come slipcovered. But! In some weird twist of fate it's littler cousin (the Lounge II petite) strangely does get the slipcover treatment.
That's the star of the show today.
As the slightly less oversized version than the original Lounge II, the Lounge II petite still shares most of the defining characteristics of Crate & Barrel's favourite sofa.
That means it's also a pretty deep seating couch. If the name "Lounge II" wasn't enough of a giveaway, this couch is meant to be lounged on.
Nevermind the fact that it's the petite version because at 24 inches of seating depth, some might be finding it hard to get their legs on the ground.
The fact that it has cushions that are all the way on the softer side add to that feeling of being engulfed by the sofa. It's like getting sucked into a giant snuggly cloud.
A cloud that also has the added benefit of being expanded on by buying additional modules to turn it into a sectional… cloud. That's right, the Lounge II offers some of the best modularity to turn it into the ultimate slipcovered sectional sofa.
Chaise lounges, corner modules, single seaters and the entire works – all slipcovered. You just name it!
So if you're looking for a large deep and soft slipcovered sofa that also can be turned into a sectional – you won't find a better option.
To make things even better (and weirder), the Lounge II petite has been built outdoor ready. To show they mean business, they even use Sunbrella-acrylic fabric on it alongside water-repellant and mold resistant cushions.
The frame itself is also constructed of marine grade hard plywood.
It's a mystery who is actually searching for a super-loungeable slipcovered sofa for outdoor use but here it is anyway!
In the end, there's no real downsides to the Lounge II petite if you're the type that prefers relaxed and soft sitting. The fact that it is one of the only brands to offer a truly modular slipcovered sectional makes it all the more enticing.
Since Crate & Barrel is behind this sofa, you can be guaranteed a solid construction and decently priced replacement slipcovers for it (they cost approximately ⅓ of the price of the sofa).
On top of being durable and fade resistant for the outdoors, the covers can also be machine washed following Sunbrellas cleaning guidelines.
Expect all that quality to come with a substantial price though. In the case of the Lounge II petite, it will be $2,300 and above for the standard slipcovered 83" sofa.

Despite being one of the priciest options, I would still recommend this in a heartbeat, especially when you consider that Crate & Barrel is pretty much the only high-end, commercially famous brand that has a presence in several countries around the globe.
It's a great place to shop if you've got the budget to splurge on something fancier and of higher quality than what you'd find at IKEA.
As of now, they have showrooms in America, Canada, Colombia, Costa Rica, Mexico, Peru, Philippines, Singapore, Taiwan and the United Arab Emirates so don't forget to head on over and testing it out before committing to the Lounge II petite!


It's difficult to make a list of the best slipcovered sofas without covering the most famous farmhouse slipcovered sofa of all time. Of course, I'm referring to the Pottery Barn Basic sofa.
The number of times this one sofa gets used as a comparison against other round arm slipcovered sofas is… pretty much always. Think of it as the benchmark for the look and feel for these kinds of sofas.
It's just that famous. Not too surprising since it was Pottery Barn which popularized the design.
Over the years, many brands have created their own "clone" of this sofa, some with far more competitive prices for the quality. I mean,starting at a $1399 price minimum you'd expect the PB Basic 60.5" sofa to at least come with a hardwood frame or be made in the USA, which are unfortunately both no's.
Scrolling back, you'll find that the Stone & Beam Faraday has a better build quality at a far more affordable price.
But enough with the downsides, everyone knows you pay extra for the Pottery Barn brand name. So what gives this sofa a spot on the list?
For starters, the PB Basic is a tried and tested couch that is beloved by lots of satisfied shoppers. It's comfy, traditional, slipcovered and gives off that rustic and cozy cottage feel that many of those searching for a slipcovered sofa so desperately want.
The fact it's from Pottery Barn will likely make your friends green with envy as well (if that's your thing).
What you will be able to get out of this sofa that isn't present in its competitors is the option to go extra small. Small as in the loveseat is just 60 inches wide.
If "apartment-sized slipcovered sofa" is the word of the day, then this is the one you'll want. Nothing else comes close to how tiny the width of this sofa is.
Nothing else from a decently reputable brand that is.
As for the feel of the couch, the PB isn't all too much different than the other round arm sofas on this list. It's got an upright sit with some lounge and neither too firm nor too soft cushions.
The comfort levels however are definitely beyond that of the IKEA Ektorp which is it's most direct rival. Down-blend cushion filling makes a lot of difference in the comfort department, especially if you're planning on using it for long stretches of time.
On the other hand, even with the down filling the comfort of the PB isn't anywhere near 4 times that of the Ektorp (like the price is), making this sofa a tough one to recommend to just anyone.
But if you're desperate to conserve space, the PB Basic might be the only option available. It's still a good small and slipcovered sofa for those who can afford the extra. 
Thankfully, the build quality is above the likes of IKEA sofas as well. 
Perhaps one of the biggest benefits when considering the PB Basic is the ability to test the couch before making the commitment. Just head into one of their showrooms and get seated, which is what you'll definitely want to do before splurging on this.
One thing that might not be so obvious when visiting the showroom however is the fact they have a far wider selection of slipcover fabrics/colors than any of their competitor round arm couches. 
A quick mosey through their site will give you all the many ways you can design your PB Basic. And that flexibility in fabrics and colors goes for their replacement covers as well to allow you to change things up once in a while.
It's something to think about especially for those trying to design their ideal living space but are limited by the rather dull options available on the IKEA Ektorp.
Note: Not all the PB fabrics can be machine washed. You'll need to refer to the care instructions at the back of the fabric swatches to find this out.


Bonus: The best personalized slipcovered sofa : Your Current Sofa
Haven't found a slipcovered sofa on this list that suits your needs? Consider simply making your own.
Introducing the best personalised slipcovered sofa – your own sofa… but slipcovered: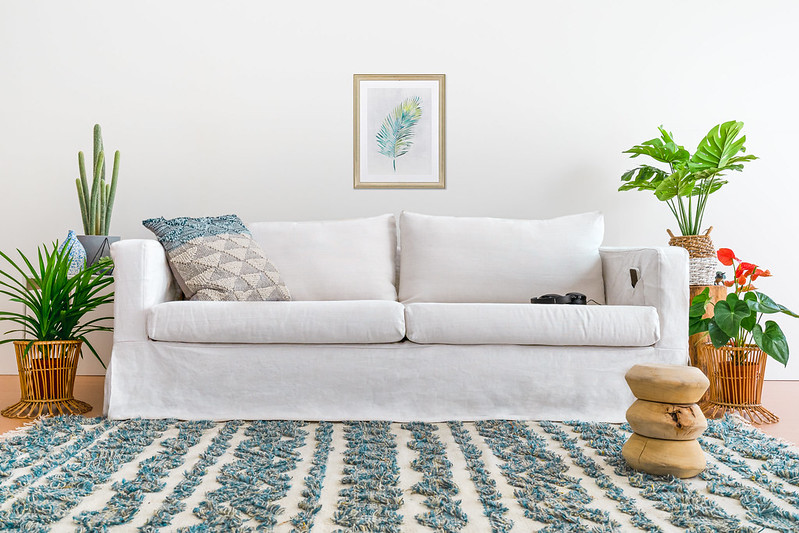 Bespoke covers have been a thing for a while now – we sew them right here at Comfort Works. But did you know that our covers can be made for most types of sofas?
Even for couches that weren't slipcovered to begin with.
And not only are they machine washable (except the leather ones) and replaceable, they are also far more affordable than buying a whole new slipcovered sofa.
Sometimes they are more affordable than a slipcover from the original brand even, which is particularly true for non-budget sofas.
But it gets better! With over 50 fabric and color combinations, you'll be getting choices like no other. And with the option to go different styles like Scandi or Modern, you'll be the one to craft the couch of your dreams.
There's a good chance your old sofa might look even better than when it was brand new: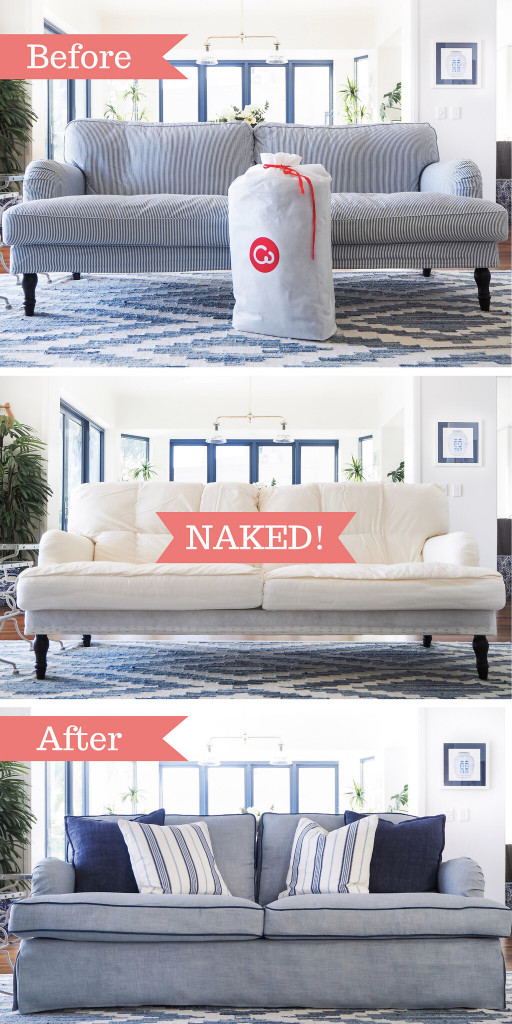 So if you've got an old sofa in desperate need of a do over, don't break up with it just yet – consider getting your own unique slipcovered sofa without the hefty price tag.
Or you know… just buy a slipcovered sofa and use a custom cover on it to get it how you want. Because we do get customers who do that 🙂
Whatever it is, hope you enjoyed this post and are now ready to pick the perfect slipcovered sofa. Happy Hunting!


Want to find out more about how you can turn your old sofa into its slipcovered self? Give us a visit on our main website and discover the brands and sofa models we make bespoke slipcovers for: