Welcome to the ultimate guide and resource for the IKEA Karlstad sofa – find sizes, dimensions, reviews, slipcovers, assembly instructions and more here.
Maybe you are searching for the perfect sofa and need a little help. Maybe you've already decided on the Karlstad and need more information. Or maybe you already own a Karlstad and your house guest decided to spill coffee on its hard-to-find slipcover. In this cheat sheet, we'll help you with all of that.
Launched in 2008, The IKEA Karlstad are one of the longer running sofa series besides Klippan, Ektorp, Stockholm and Poang. Models include 2 seater, armchair, 3 seater, corner sofa, chaise longue and footstool.
As of 2015, the sofa has been partially discontinued in the US (replaced by the Landskrona) and only the 3-seater Karlstad remains for sale. The Karlstad is however still available in all of its configurations in many parts of the world.
If your questions aren't addressed here, feel free to contact our support staff at info@comfortworks.com.au.
Status Check
Status: Sofas and slipcovers are still available from IKEA in some parts of the globe
Slipcover: Custom Karlstad slipcovers available from Comfort Works
Measurements:
Karlstad Arm Chair, SMALL W- 69cm  D- 87cm  H- 80cm

Karlstad Arm Chair W- 91cm   D- 93cm  H- 80cm

Karlstad Chaise Lounge Stand Alone W- 74cm    D- 137cm   H- 80cm

Karlstad Chaise Lounge, Add on Unit W- 74cm    D- 137cm   H- 80cm

Karlstad Footstool W- 81cm    D- 63cm   H- 46cm

Karlstad Sofa bed W- 223cm  D- 90cm H- 80cm

Karlstad 2 seater sofa W- 162cm    D- 88cm    H- 80cm

Karlstad 3 seater sofa W- 202cm    D- 86cm    H- 80cm
Cool Factor:  Good looking, sturdy and comfortable. All at a very competitive price.
Ugh Factor: Not the best looking legs, but easily replaceable.
Instruction Manual.
Want to know how to assemble a Karlstad sofa?
Click on the model below to download their Assembly Instruction Manual.
Our Review.
Retro looking and very minimalist of a sofa from IKEA introduced in 2008 to replace the Karlanda range – the Karlstad can be made even more Scandinavian with custom vintage legs, tufted cushions, or by giving it a long skirt. It truly is the ideal sofa for DIY hacking.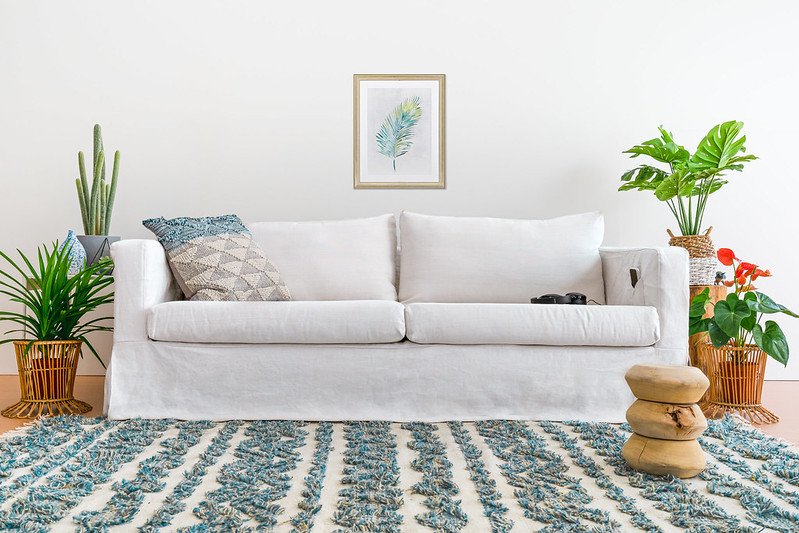 Interested in hacking the Karlstad? Design your own custom Karlstad today!
More Information.
OurMidCentury – Instructions and cost breakdown of getting your Karlstad's seat and back cushions button tufted.
APARTMENT THERAPY – Opinions and reviews of the Karlstad sofa.
The Sweetest Digs – Review of the Karlstad slipcover in nice Taupe Gray.
dooyoo.co.uk – Some user reviews of the Karlstad sofa in general.
Young House Love – Review of the best looking sectionals, including the Karlstad.
IKEA Hackers – How to Petproof your Karlstad sofa using the 'box-in' method.
Productreview.com.au – Reviews of the IKEA Karlstad sofa.